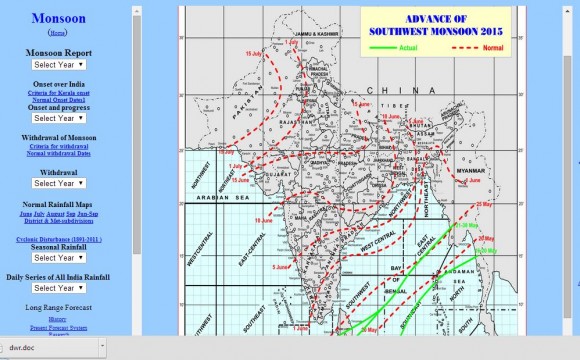 A heatwave affecting much of India during May 2015 has left its mark on the country. Depending on which news source is reviewed, Accuweather places the death toll at 1,400 while CNN places the toll much higher at or near 2,000.
The city of Delhi in Northern India has endured 15 days of maximum temperatures reaching or exceeding 100F (37.8C) with 112F (45C) being reached on the 23 May and 114F (46C) being reached on the 25 May 2015.
The India Meteorological Centre in Hyderabad provides daily weather updates and for the 30 May 2015, it shows oppressive heat conditions occurring across many towns and cities across Gujarat State, Diu, Daman and Dadra Nagar Heveli states including:-
Amreli - 44C reached.
Jaipur - 44C reached.
Kandla - 44C reached.
Bhopal - 43C reached.
Idor - 43C reached.
Across Andhra Pradesh state the maximum temperature reached 47.2C at a city called Jangamaheswarapuram followed by 44C at Kurnool. Other centres had 40 to 44C including 44C at Kurnool and 43.4C at Nandigama.
(Maximums for 30 May 2015).
In Telangana State, the city of Hanmakonda reached 45.5C on the 30 May while Ramagundam reached 46.5C.
Overnight minimums have also been significant and to show this, at 5.30 am at Nagur Sunday morning 31 May, the temperature was 30.6C at their weather station.
In Nagpur it reached 46C on the 30/5/2015 and 46C is forecast for the 31 May, 45C is forecast for the 1 June, 43C is forecast for the 2 June and 42C is forecast for the period 2 to 5 June 2015.
Heatwave alerts are issued for at least 9 states including Adilabad, Nalganda, Medak and Nizamabad.
The weather forecast for Delhi for the next 6 days (1 to 6 June 2015) show maximum temperatures of between 38C and 40C and oppressive conditions at Kolkata (Former Calcutta) with maximums of 37C to 38C being forecast and minimums of 28C to 29C.
The heatwave is taking it's toll and is a fixture of most Indian summers prior to the monsoon breaking. It has become an emergency for a number of reasons with elderly not having access to drinking water or ability to keep cool. A high death toll has occurred due to poor planning and in some cases lack of access to clean drinking water.
The forecast Monsoon map is provided because the heatwave and oppressive conditions will continue until the monsoon from the south arrives. It appears the heatwave has some time to run in some regions until the monsoon spreads across the affected area bringing relief and rainy conditions. The important monsoon break is moving north towards India and based on the forecast plot, relief should be at hand across much of India by mid June assuming the forecast model is accurate.