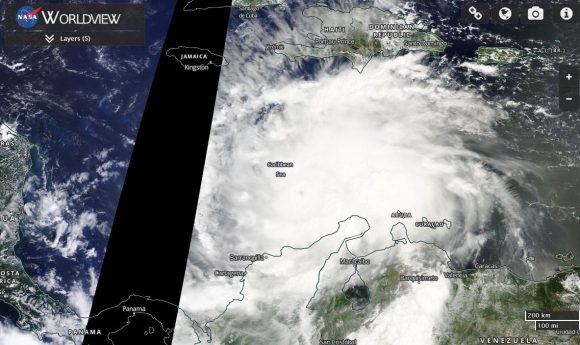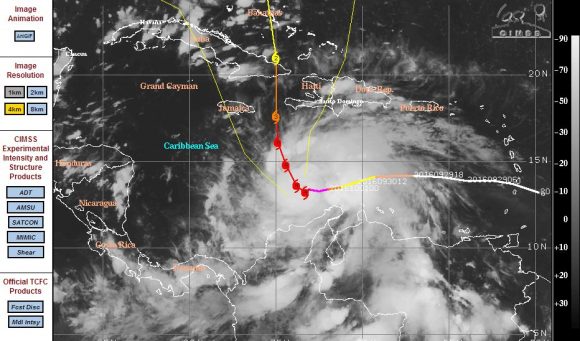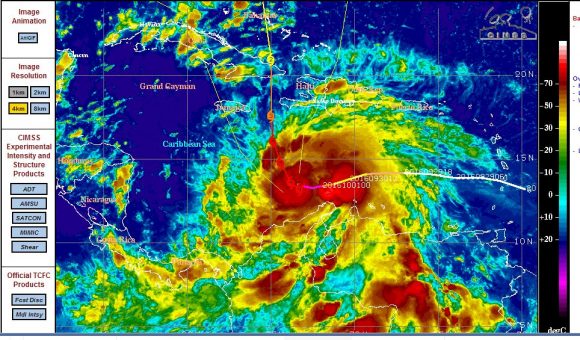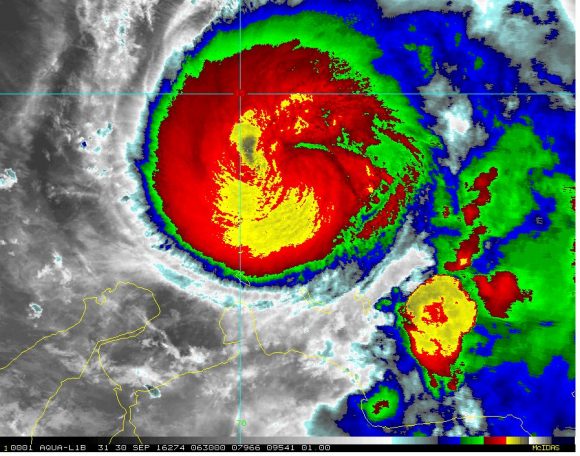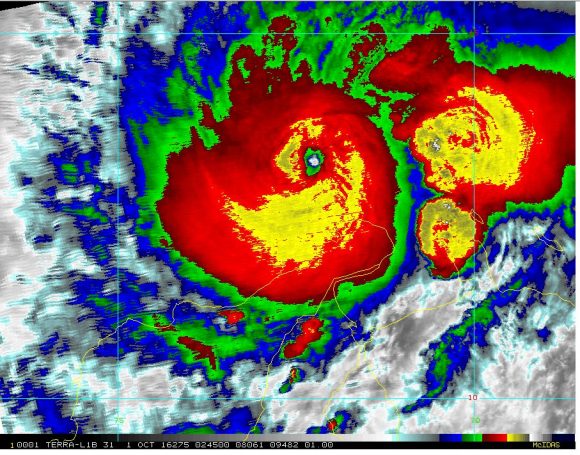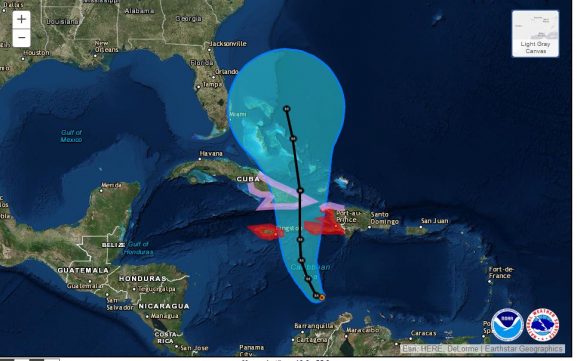 A small but intense tropical storm just to the north of Columbia (South America) within the Carribean Sea transitioned from a Category 1 hurricane into a Category 5 hurricane rapidly. The transition appears to have taken place within a span of 12 hours. The storm has since weakened to a Category 4 storm.
Meteorologists are stunned as this storm developed from almost nothing to a Category 5 hurricane within a time period of 36 hours.
The storm briefly reached Category 5 on the Saffir Simpson Scale with peak winds at the core approaching 146 knots (Approximately 270 km/h). The storm is currently sustaining winds of approximately 130 knots (Approximately 241 km/h) close to the core. It is still a significant storm and a potentially dangerous storm for Haiti, eastern Jamaica and Cuba.
The storm initially tracked west but is now turning northwards and threatening Haiti, Jamaica and Cuba. The storm is currently located at 13.2 degrees north and 73.3 degrees west and expected to maintain its course as suggested by the CIMSS model.
The storm is expected to weaken as it encounters landmasses but once it reaches the Bahamas, the storm is forecast to regain some strength as a Category 3 storm. There is significant uncertainly at the present time as to whether the storm will impact Florida or traverse along the eastern seaboard of the United States and remain off the coast.
Given its strength, it is one storm being watched by NOAA and Hurricane Hunter aircraft are being flown into the storm to allow meteorologists to monitor its progress.
There appears to be an eye wall replacement cycle occurring or trying to occur but satellite photos clearly shows a tiny eye surrounded by deep convection.
Given the strength of the storm, this has potential to be a significant and damaging event especially for Haiti. Forecasts are being made for rainfall of 400 to 625 mm over southern and western Haiti.
A forecast of 250 mm to 500 mm of rain is being made for eastern Jamaica.
Such rainfall would be life threatening with flooding and mudslides suggested.
This is one storm given its behaviour that will receive much media attention across the region over coming days due to its strength.
CREDITS
1 - CIMSS - Forecast track of Hurricane Matthew acquired 2/10/2016.
2 - CIRA - False colour of Hurricane Matthew acquired 2/10/2016..
3 - National Hurricane Centre.
4 - NASA Worldview (TERRA) satellite photo of Hurricane Matthew dated 1/10/2016.
Related Terms: