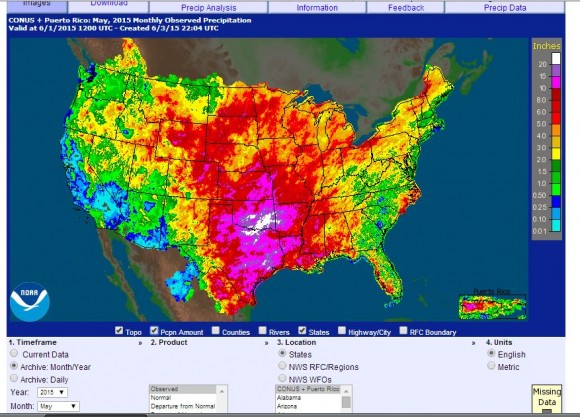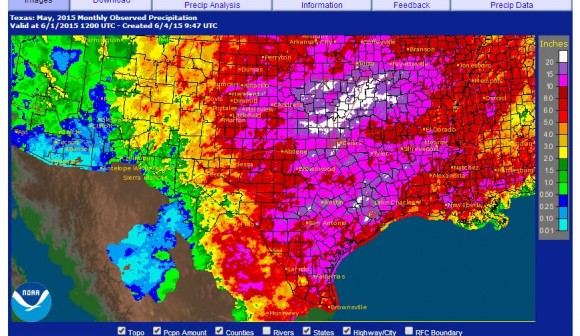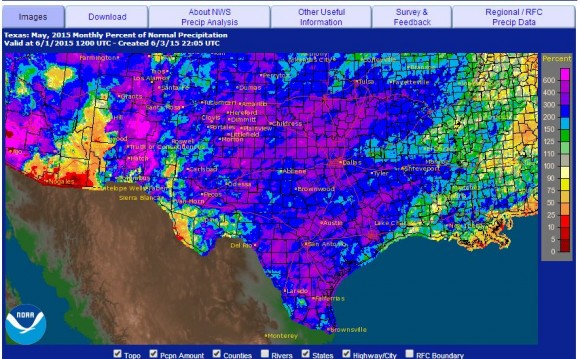 Prior to May 2015, much of Texas and Oklahoma were in the midst of a drought spanning 5 years however fortunes changed during the month of May.
During May, thunderstorms and heavy rain events have delivered as much as 500 mm (20 inches) or more to some areas. Enough rain has fallen to eradicate the worst of the drought leaving only 5% in moderate drought.
The rainfall plots generated on the National Weather Service site (NWS Advanced Hydrologic Prediction Service) for May 2015 identifies some incredibly heavy rain falling across much of Texas, Oklahoma and Arkansas. The heaviest falls have occurred in areas north of Dallas - Fort Worth and south east Oklahoma state. A more detailed plot showing counties and some cities is also shown. A third plot is showing the percentage of normal rain that fell for the month. The third plot is showing percentages that are well above the normal averages for May.
New stories identifies significant flooding for the Arkansas River and as many as 30 fatalities from flooding and storm events. Other news storeys indicate that Fort Smith was drenched with 466 mm of rain during the period commencing from 1 May to the 26 May.
The National Weather Service weather station (Dallas - Forth Worth shows that by May 29, some 13.87 inches of rain (353 mm) had fallen which broke the 1992 record of 13.66 inches (352.29 mm).
Other major rainfall includes:-
Mc Alester (Oklahoma) - 22.97 inches (583.43 mm).
Oklahoma City (Oklahoma) - 19.48 inches (494.79 mm).
Houston (Texas) - 14.17 inches (359.92 mm).
Witchita Falls (Texas) - 17 inches (431.8 mm).
Tulsa (Oklahoma) - 14.72 inches (373.88 mm).
While this has led to major flooding and a significant damage bill, the positive side is that reservoirs are filling with water and acute water shortages have been eased.
Related Terms: