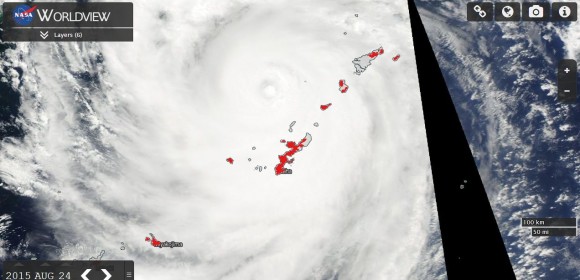 Typhoon Goni ended its life after crossing the west coast of Kyushu (Japan). The storm made landfall over Arao City which is part of a complex of cities which includes Nagasaki.
The storm ended its life after impacting three countries across South East Asia and causing various disruption to many centres. The storm made landfall as a Category Three storm and broke apart although it did continue as a rain depression north into the Sea of Japan.
Its impact across Kumamoto Prefecture was considerable which included the loss of power to at least 425,000 homes.
When reviewed, its impact according to media reports is considerable as follows:-
Philippines
1 - Destruction of 1,000 homes.
2 - Evacuation of 12,000 residents.
3 - Heavy rain.
Taiwan
1 - Heavy rain with the highest totals being 266 mm (Accumulated totals) at TAI PING SHAN 1 (Datong Township) in Yilan County with the second highest total being 223.5 mm at Xiulin Township in Hualien County and third highest total of 218 mm in the Pingxi District (New Taipei City).
2 - Disruption to the clean up effort following Typhoon Soudelor.
Japan
1 - Numerous injuries.
2 - Disruption to train and air services.
3 - Flooding and swollen rivers.
4 - Loss of power on Okinawa Island.
5 - Peak wind gusts reaching 180 km/h.
In conclusion, this was a very significant storm given its unusual path, erratic behaviour and impact across three countries.
The Worldview Satellite Image acquired from NASA on the 24 August is showing the storm to the south of Japan but impacting the southern outer islands of the country called Okinawa. The storm is over the Okinawa Shoto and Amami Shoto Islands (From north east to south west - O Shima, Tukuno Shima, Okinoerabu Jima, Okinawa Jima and Kumi Jima). A number of urban centres are affected with the urban centres overlayed across the image.
Related Terms: