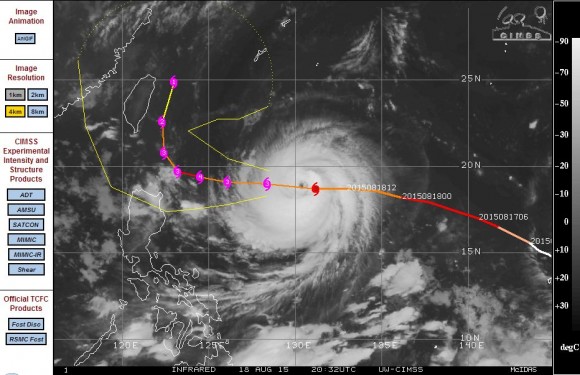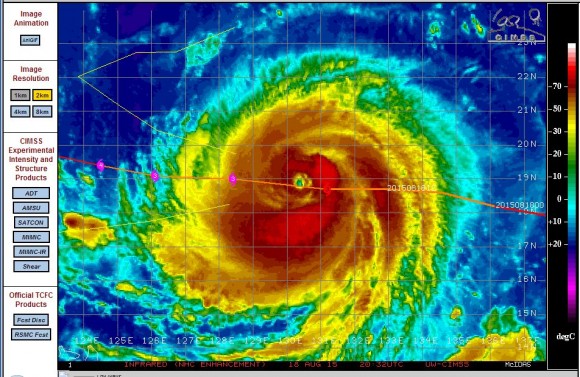 Typhoon Goni is now making an alarming approach towards Taiwan. After reaching a powerful Category 4 storm across open waters, the storm has weakened back to a Category 3 storm. Given its position over waters of 30 to 31 degrees, there is potential for new intensification.
The storm did not reach a Category 5 storm or super typhoon as first suggested but it is still an intense and dangerous storm.
The storm has a well developed eye and a classic spiral shape with well developed storm bands. The storm is currently located 18.7 degrees north and 131.2 degrees east and sustaining intense winds at the core of 100 knots (185 km/h) with stronger gusts to 125 knots (Approximately 231 km/h). The storm has a central pressure of 936 millibars at the core.
This is a fast moving storm moving at 16 knots or nearly 30 km/h.
The CIMSS model attached (Acquired 19 August 2015) is showing the storm approaching the northern Luzon Island of the Philippines. However, if the storm curves north westwards or north north west as suggested, then the storm would give the east side of Taiwan a glancing blow. The model is suggesting the whole of Taiwan under threat of this storm especially within 48 hours.
Much of Taiwan is recovering from the recent Typhoon Soudelor impact and this storm is closing in on the island. It will be interesting to see what occurs. This is a powerful storm capable of causing much havoc similar in nature to what Typhoon Soudelor did earlier this month.
Related Terms: