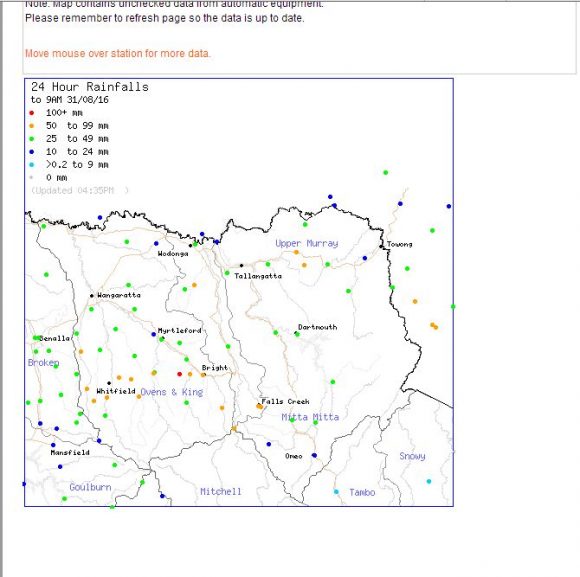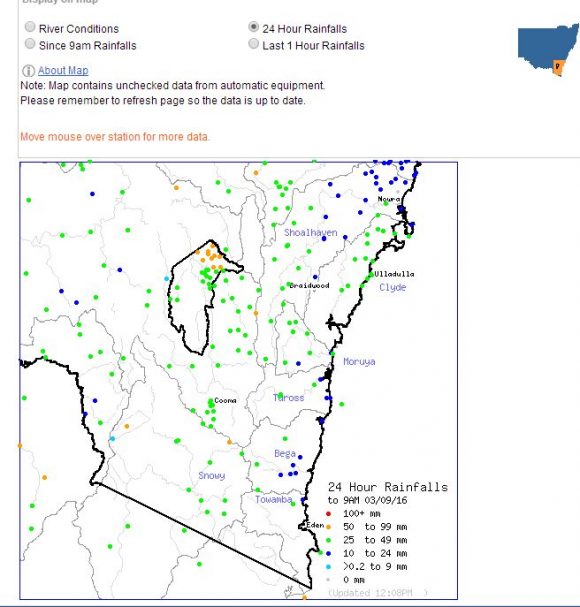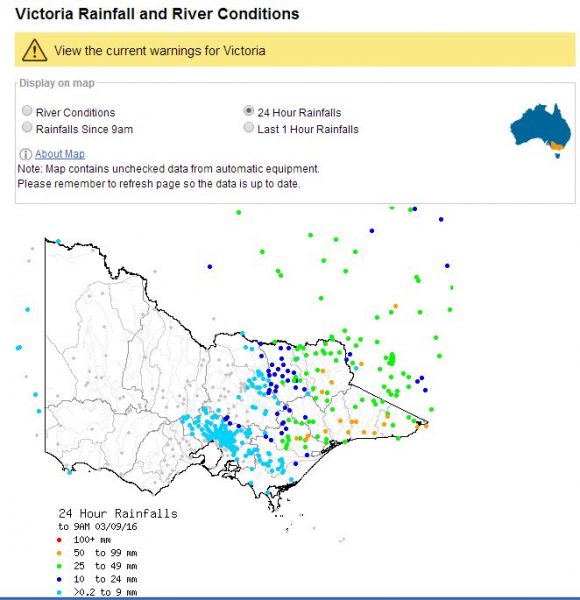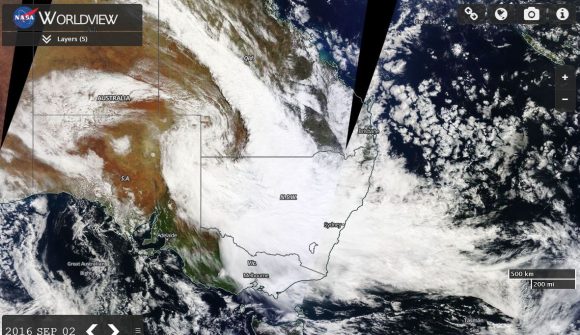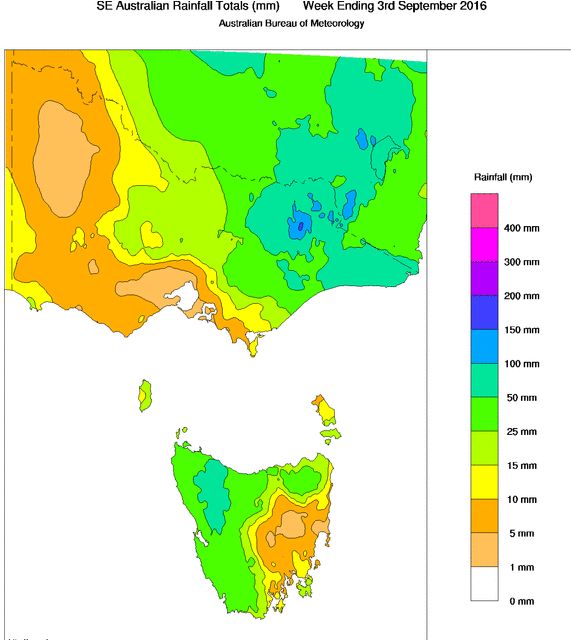 During the past 5 days, two rain events occurred across southern and eastern Australia. The two events spread across different regions although there was some overlap across North Eastern Victoria where some minor to moderate flooding of the Kiewa River has occurred.
The first event was caused by a cold front passing through while the second event was the result of an inland low pressure cell moving south east across New South Wales and over Eastern Victoria.
Both events caused significant rainfall across certain regions as follows:
Rain event One
During August 30, an extensive rain band crossed through Victoria and southern New South Wales. The event had its greatest impact within the hills and rugged region of North East Victoria. There were also rain shadows in the lee of the ranges and rainfall contrasted sharply.
For example, 104 mm fell at the Mt Buffalo Chalet but 65 mm fell at Harris Lane at the foot of Mt Buffalo. Rocky Valley Falls Creek had 96 mm but 20 km away, less than 24 mm fell. Thredbo had 79 mm but much less fell further east.
Other large totals included Matong North 65 mm, Edi Upper 63 mm, Handcock 61 mm and Osborne's Flat 59 mm. The areas are generally the upper catchments of rivers. Further north and east, falls of 20 to 30 mm were common.
Rain event Two
This event produced a widespread rain event across much of New South Wales and eastern Victoria including Gippsland. There was some overlap across North East Victoria. As a result, the Kiewa River at Bandiana (Wodonga) is in moderate flood and there is minor flooding along other parts of the Kiewa River.
There is also moderate flooding of the Belubula River at 5.32 metres (Central West New South Wales). An extensive area of New South Wales received 25 to 50 mm and falls were consistent. Heaviest totals include:
Canberra's northern suburbs - 50 to 67 mm.
Nimmitabel - 60 mm.
Pomeroy - 60 mm.
Bowning - 59 mm.
Parkers Gap - 53 mm.
North east Victoria
Lake Dartmouth - 57 mm.
Gibbo Peak - 54 mm.
Gippsland Victoria
Bullumwaal 71 mm.
Basin Creek 67 mm.
Mt Elizabeth 66 mm.
Gabo Island 63 mm.
Nothing fell across western and central areas of that state.
Where the overlap occurred from the two events, North East Victoria has had a very wet week where a large region has had more than 50 mm and smaller areas having in excess of 100 mm. This is what has contributed to some local flooding issues along the smaller rivers.
Both events have passed over agricultural lands and would be beneficial to such areas.
CREDITS
Bureau of Meteorology (Rainfall plots) Various.
NASA Worldview (Image of Australia with extensive cloud) acquired 2 September 2016.
Related Terms: