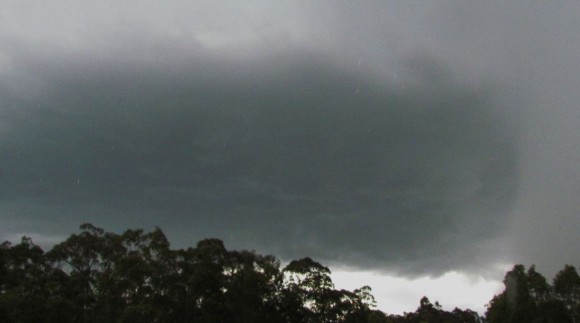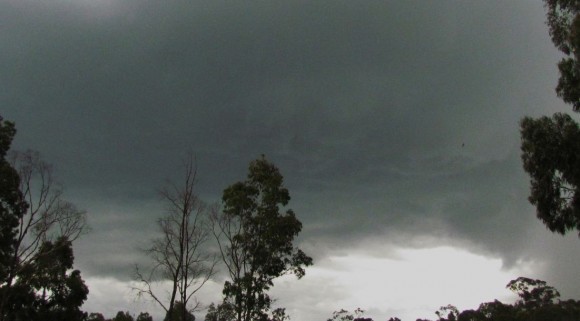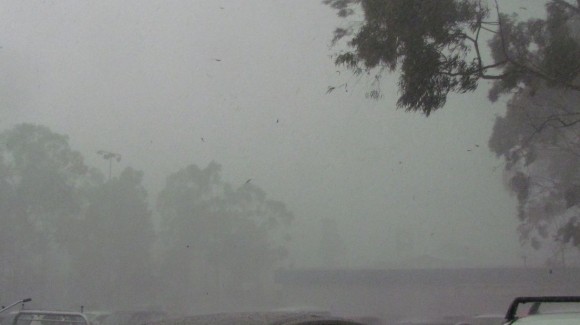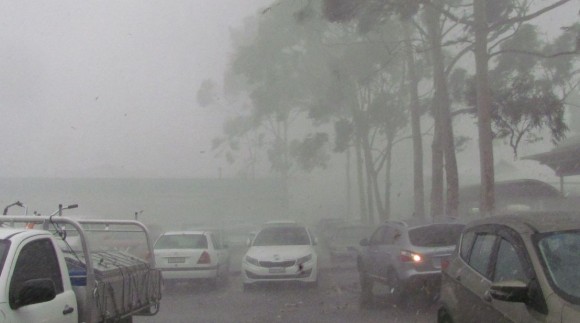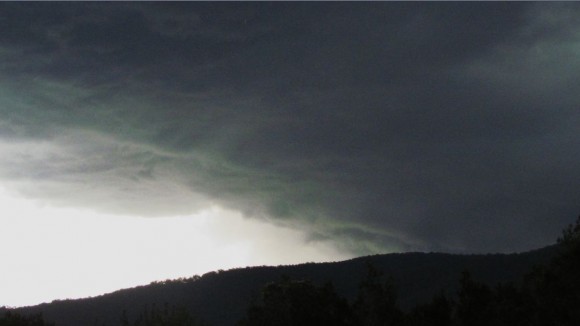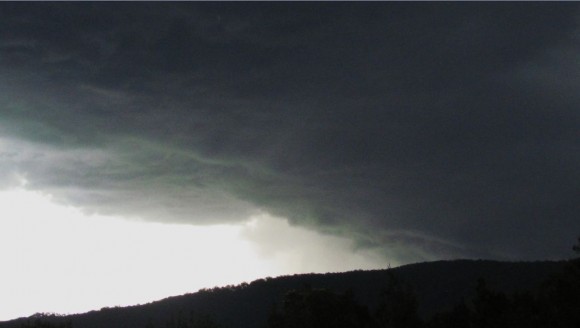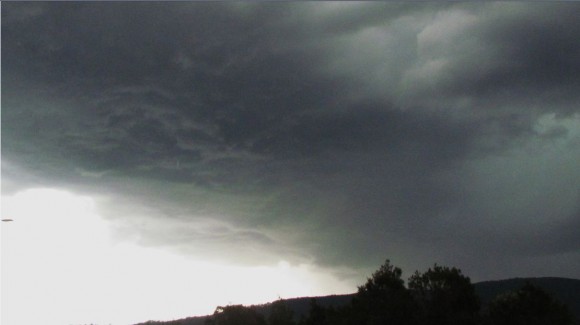 Late in the afternoon, strong thunderstorms impacted the Lake Macquarie region. Storms were forming to the west but as they encroached onto the southerly change, they rapidly intensified. This article concerns two such storms that I intercepted north of Gosford and west of Lake Macquarie during the late afternoon of the 13/11/2015.
During a storm chase from Mangrove Mountain to Newcastle via the Sydney to Newcastle Expressway (Now the M1), a developing thunderstorm to the west rapidly intensified and a large storm base was observed.
I was able to proceed to the Caltex Service Centre which happened to be in its path. I parked the car at a safe place and had enough time to enjoy the storm as it passed over.
The base of the storm passed overhead and some significant lightning flashes observed. A torrent of rain and hail followed suite. As seen in the images, this was an intense storm and leaves were being stripped from trees. It appears a downburst or microburst passed over as the winds were intense during the passage of the storm. The storm was relatively short in duration.
The hail was no larger than 1 cm in size generally ranging from pea size to approximately 1 cm. They melted fast but this proved to be my first hail event for the season.
Following that storm, I then proceeded north along the M1 Motorway where I drove back into the storm and more heavy rain. After approximately 5 to 8 km driving through heavy rain, I broke out of the storm only to discover a new developing storm further to the north west. I drove north to the turnoff to Cessnock where I turned off the M1 and stopped at a safe location to photograph the developing storm base and storm to the west.
The storm produced some big lightning strikes and was too dangerous to stand outside for any length of time. I managed to take the photos of the base then left the area.
The two storms were the ones that impacted Lake Macquarie region and city region. With the southerly change encroaching this region, storms rapidly developed and appeared to become a cluster. I wanted to keep north of the southerly change as much as possible so the stops in this region were relatively short.
Storms in this region produced as much as 46 mm of rain at Cessnock including 16.2 mm of rain between 4.41 pm and 4.55 pm.
Storms in this area were fast moving and new storm bases were forming fast as the southerly change moved through. It was fortunate that I was able to keep abreast of this as traffic flows were not significant.
The first set of images show the core of the first storm at the service centre while photos 6 to 8 shows the northern storm encountered. For the northern storm, I am looking south west with the base almost overhead.
Related Terms: