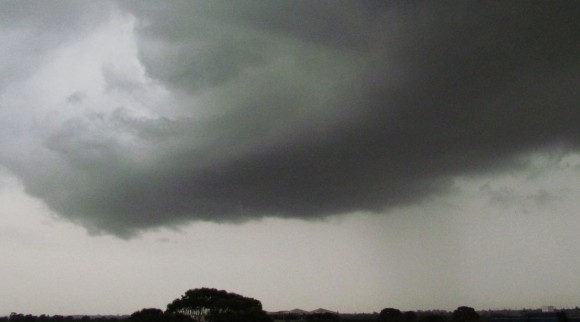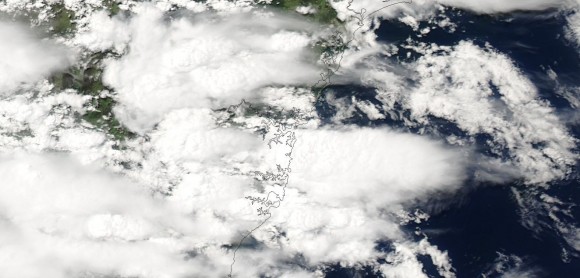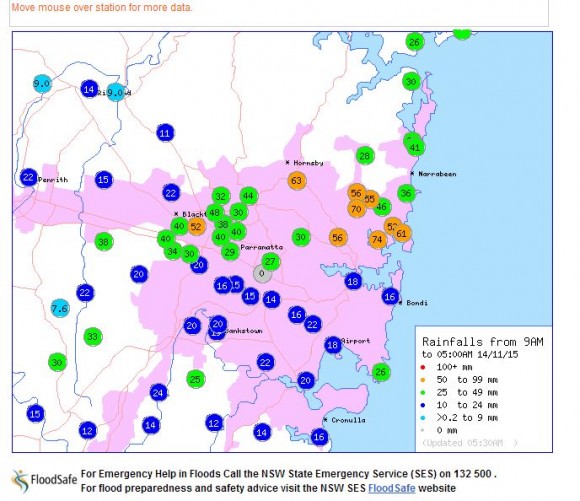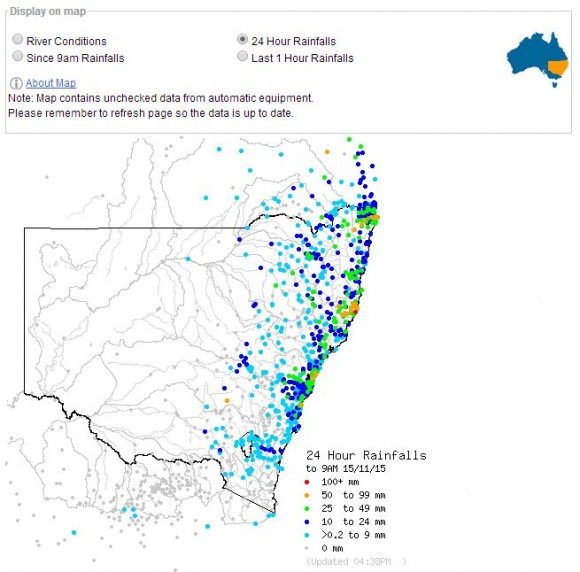 During the period 12 to 15 November 2015, another weather system brought bursts of heavy rain, thunderstorm outbreaks, hail events and strong wind events across South East Australia. The event commenced during Thursday and concluded Sunday morning.
During this time, a number of storm chases were undertaken and various thunderstorm events have been documented by storm chasers. Some of the storm events are documented under separate reports with photos attached. This article concerns the weather event in general rather than specific storm chases undertaken.
During the afternoon of the 12/11/15, a heavy rain shower passed over Western Sydney. This may have been a thunderstorm but at Auburn, no thunder was heard. An image of the cloud base passing over Auburn is attached. While heavy rain featured, totals were mostly under 10 mm as the shower event was short lived.
During the 12 November, a number of significant rain events occurred and recorded at weather stations including:-
Up until 9 am 12/11/2015 for the New South Wales South Coast.
Lochiel (West of Merimbula) - 109 mm.
Merimbula - 95 mm.
Ulladulla - 51 mm.
Regatta Point - 48 mm.
Batemans Bay - 42 mm.
There was an isolated fall of 56 mm at Thredbo during the period.
Such falls were isolated in nature.
During the 12/11/2015, a fall of 25.2 mm occurred at Condobolin (Central West New South Wales). When reviewing the weather station rain gauge, it is identified that at 4.21 pm, 1.4 mm of rain had fallen. By 4.30 pm, this had swelled to 16 mm and by 4.39 pm, the gauge had recorded 23.2 mm. This shows 14.6 mm in 9 minutes at peak intensity.
Across portions of North East Victoria, thunderstorms brought 63 mm to Mt Elizabeth and Tambo River and 53 mm to Mt Nowa Nowa.
During Friday 13/11/2015, thunderstorms became widespread across New South Wales and especially along the coast including Sydney, Central Coast, Hunter Valley and Lower North Coast with a number of these becoming severe.
Notwithstanding certain storm chases undertaken to document the events, some of these produced heavy rainfall, hail and, local flooding and power outages. Parts of Maitland suffered power losses from a certain storm late in the day at around 5.30 pm.
Some heavy rainfall totals to 9 am 15/11/2015 include:-
Mt Seaview - 81 mm.
Gloucester - 55 mm.
Cessnock - 46 mm.
Maitland - 30 mm.
Even in Sydney, some heavy rainfall totals occurred including:-
Castle Cove - 77 mm.
Mosman (Spit Bridge) - 74 mm
Forestville - 70 mm.
Turramurra - 68 mm.
During a thunderstorm over Blacktown on Friday, it is believed that 30 mm fell in a space of approximately 30 minutes.
During the 14/11/2015, a storm event over Young (Central West New South Wales) dropped 55 mm over the town. The rain gauge shows:-
2 pm - 0 mm.
2.30 pm - 1.6 mm.
3 pm - 39.6 mm.
3.30 pm - 55 mm.
This is showing 53.4 mm in the space of 60 minutes including 38 mm in 30 minutes indicating the intensity of the event.
During Saturday including overnight, further rainfall along parts of the New South Wales coast has produced some further big rainfall totals. Up until 9 am 15/11/2015 some totals include:-
Lake Cathie (Just south of Port Macquarie) - 116 mm.
Port Macquarie AWS - 86 mm.
Great Mackeral Beach (Near Mona Vale) - 53 mm.
Avalon - 47 mm.
Even in South East Queensland, storms and heavy rain has featured. Maridoan TM received 127 mm and Coops Corner received 126 mm. Both locations are within the Noosa region. Other areas around Noosa had as much as 50 to 98 mm.
Summing up, this has been a wet period for many areas of Eastern New South Wales and parts of South East Queensland although due to thunderstorm events, much of the bigger rainfall is hit and miss and the bigger totals are isolated in nature.
To support the post, the following is provided:-
1 - Photo of rainstorm approaching Auburn. This is taken at around 4 pm from the Auburn City Council car park roof looking west showing the cloud base 12/11/2015.
2 - Satellite photo of a cluster of storms over eastern New South Wales Friday afternoon. Image acquired from NASA (MODIS) dated 13/11/2015.
3 - Rainfall over Sydney to 5 am 14/11/2015 acquired from the Bureau of Meteorology 14/11/2015. This is taken prior to the morning showers becoming prevalent.
4 - Rainfall across New South Wales to 9 am 15/11/2015 acquired from the Bureau of Meteorology 15/11/2015.
Related Terms: