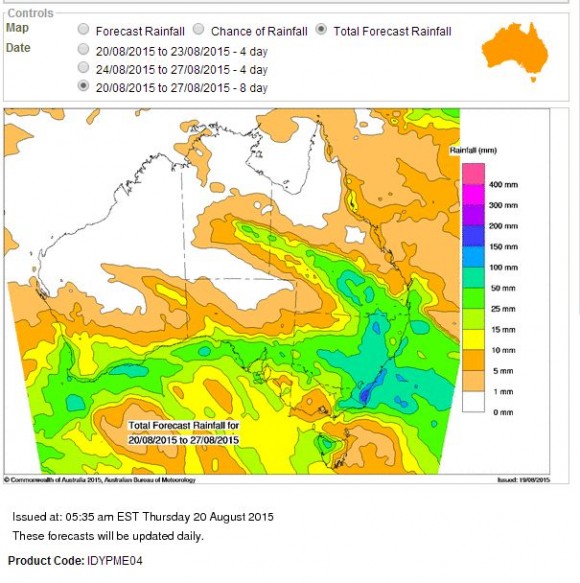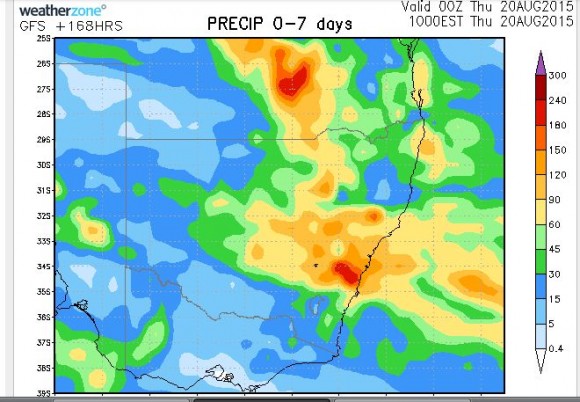 Longer range weather models identify the development of a rain bearing system moving through New South Wales, Southern Queensland and potentially into eastern Victoria for the period 22 to 27 August 2015.
It appears that the winter westerlies that have been providing the cold and showery weather across Victoria, Tasmania and southern New South Wales will cease for a while. Models identify the development of an inland low pressure cell across New South Wales. With an influx of moisture more from a tropical source, a rain bearing system is probable especially for an area including Sydney, Central Tablelands, Central West Slopes, North West slopes and southern inland Queensland.
Assuming the models are accurate the Bureau of Meteorology ACCESS Model suggests the following:-
1 - Up to 100 mm for the South Coast of New South Wales.
2 - Up to 50 to 100 mm range for a large swathe of New South Wales including Sydney, Hunter Valley, Northern, Central and Southern Tablelands, North west slopes and plains, Central west slopes and plains and portions of southern inland Queensland.
3 - Up to 50 to 100 mm for eastern Victoria.
4 - Most of New South Wales to receive something except for the far north west around Tibooburra and Bourke.
5 - Light falls for south west New South Wales.
6 - Little rainfall for much of Victoria (Except the east) with some light falls along the northern border regions.
The Weatherzone model is suggesting the following:-
1 - Heaviest falls to occur south of Sydney and the Illawarra region.
2 - Moderate to heavy falls of between 60 mm and 90 mm to occur over the Central Tablelands and eastern Central West Slopes.
3 - Lighter falls of 30 mm to 60 mm to occur over the Central West Slopes and North West Slopes.
4 - Heavy falls to occur over southern inland Queensland.
5 - Little to patchy rainfall over Victoria.
There seems to be consensus that the rain event will miss much of Victoria except for some falls across the east and northern areas. Both models suggest that the farming belt of inland southern Queensland and the North West Slopes, Central West Slopes and Sydney areas will collect the higher totals.
This is one system that will be watched to see what occurs over coming days.
Related Terms: