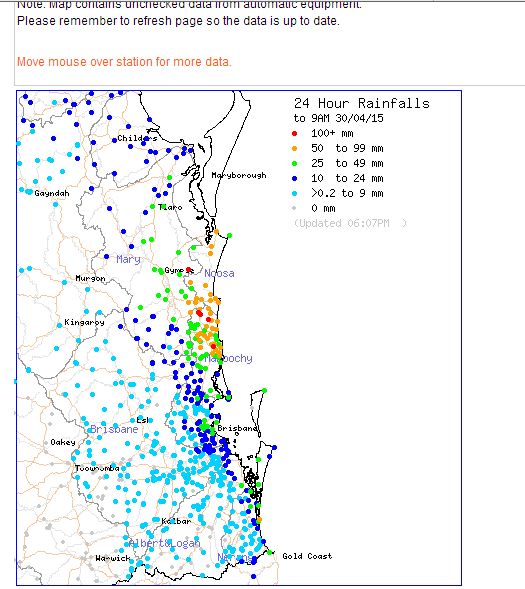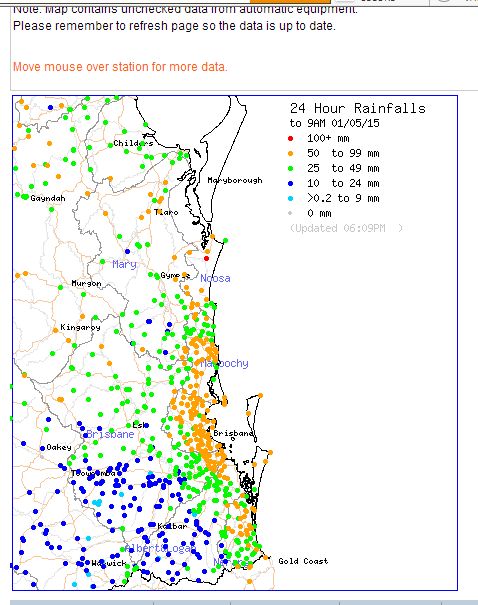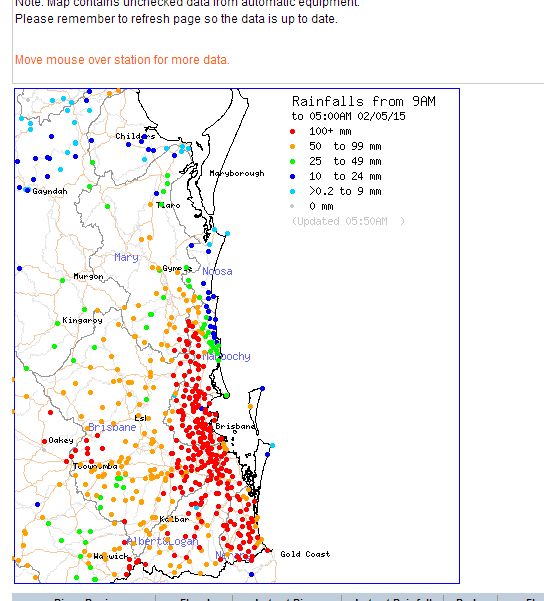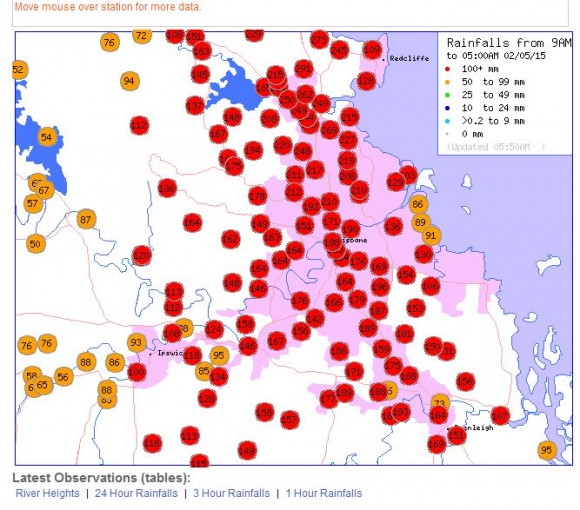 During the period, much of South East Queensland has endured some very heavy rainfall leading to flooding of local rivers and roads and it is now known that there are three fatalities possibly as a result of the driver of the car driving into flooded low lying areas.
An east coast low is responsible for the deluge that has affected areas south of Maryborough, the Sunshine Coast, Brisbane and the Gold Coast. In addition, the Lockyer Valley and Toowoomba have also been affected by heavy rain.
Local rivers are in flood and major flooding is occurring at Boonah (Teviot BK) and Oxley Creek Goodna as examples. There are other areas affected as well.
The worst of the rain and flooding occurred during Friday 1 May where some incredible rainfalls have been recorded such as:-
Brisbane metropolitan area
Kallaorgur Alert - 291 mm.
Lipscombe Road Alert - 273 mm.
Bracken Ridge Alert - 269 mm.
Lawnton Alert - 262 mm.
Brisbane City - 188 mm.
The rainfall plot for Brisbane to 5 am Saturday morning is astounding especially across the north east region.
These are major totals for May but even these are surpassed by what has occurred further north around the Sunshine Coast as follows:-
Caboolture Bruce Highway - 333 mm.
Caboolture Short Street - 327 mm.
Caboolture (Bribie Island Road) - 311 mm.
Elimbah Alert - 306 mm.
Sheep Station Creek Alert - 306 mm.
Rose Creek Road Alert - 303 mm.
Beachmere - 296 mm.
Burpengary - 274 mm.
Judds Road Alert - 268 mm.
These are amongst the highest but there are too many to report. The figures are to 5 am 2 May. I have provided plots for the 30 April, 1 May and 2 May 2015 and when added, it becomes clear a major event has occurred that has caused chaos resulting in a major clean up when flood waters recede.
This comes a week after the New South Wales Sydney and Central Coast / Hunter Valley event that when last checked, insurance claims have topped $200 million. It is likely that this event will create a second major insurance payout when jobs are complete.
Please post any photos of the event to this post.
Related Terms: