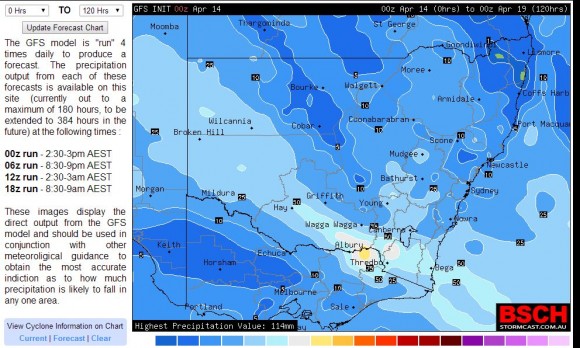 Weather models appear to identify a possible rain event across inland New South Wales and Northern Victoria for the period covering 17 and 18 April 2015.
In particular, when reviewing models at the present time, it is identified that a large portion of southern and western New South Wales and the northern border regions of Victoria stretching from the Great Dividing Range north west to Broken Hill is earmarked to receive useful rains. The model posted from GFS (attached) is similar to the Bureau of Meteorology model in which it suggests falls within the range of 25 to 50 mm across the region with higher totals across the ranges of the Great Dividing Range.
Longer range models even suggests an east coast low forming by Monday 20 April with more rain being concentrated along the New South Wales South Coast.
If this eventuates, this could be important given that it could mark the term "The Autumn Break" meaning the first big rain event after a dry summer. Farmers rely on the Autumn break to replenish moisture into dry soils and to establish cropping lands for the new season. This year given that models are indicating an El Nino year which brings drier than normal conditions, this event if it eventuates could potentially be crucial for some of the southern farming regions of the Murray Darling Basin.
Weather forecasts are suggesting showers or rain conditions for places like Albury, Wagga Wagga, Temora, Tumut, Hay during the Friday and Saturday period from this event.
Related Terms: