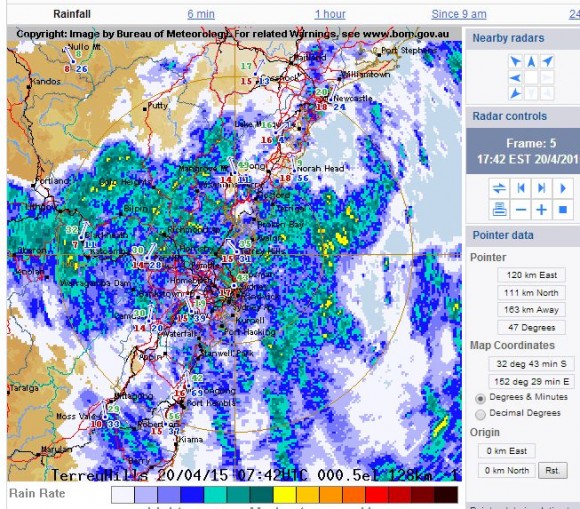 As per weather forecasts, a significant rain event is now unfolding across Sydney and the Illawarra region which will continue for some time. As shown in the attached radar image, the rain is currently being concentrated through Sydney and the Illawarra region.
Light rain through Sydney commenced early before dawn but it was not significant. As the day continued showers intensified into rain periods. On my way home from work, I found myself driving through some heavy rain including localised flooding across roads and much runoff near Parramatta.
At the same time, I was hearing on the radio WSFM that a road in Mona Vale had been cut as a tree had fallen and news bulletins now advise of some power loss across Hornsby with SES crews attending many jobs mainly for leaking roofs and local flooding.
This is occurring as an east coast low forms and intensifies off the New South Wales coast. It appears it will form off Newcastle or nearby but its exact position is still uncertain. It is known that to date, a wind gust of 89 km/h has been recorded at Sydney Airport at 6pm as the weather system intensifies.
Heavy rain has been a feature over the past few hours with suburbs such as Hornsby receiving 47 mm of rain from 9 am to 5.30 pm (20/4/15) being the highest across Sydney followed by 45 mm at Frenches Forest.
Heavier rainfall has occurred around Wollongong including 78 mm at Wattamolla and 72 mm at Foxground for the period 9 am to 5.30 pm (20/4/2015).
As this system continues please feel free to contribute to the discussion given that this could be a significant weather event for the New South Wales coast.
Related Terms: