http://www.extremestorms.com.au/heavy-rain-and-flooding-sydney-and-western-sydney-flooding-in-pictures-3-july-2022/
Flooding rains impact Eastern New South Wales - 1 to 7 July 2022
Following on from the previous statement concerning the flooding at Richmond and Windsor, this post provides a more detailed account of the amount of rain that fell during the period.
During the period, the Hawkesbury River and other rivers experienced significant flooding.
Following on from heavy rainfall of the previous 2 days, more substantial rainfall impacted parts of coastal New South Wales. For the 24 hours to 9 am Monday morning, the highest rainfall tallies were: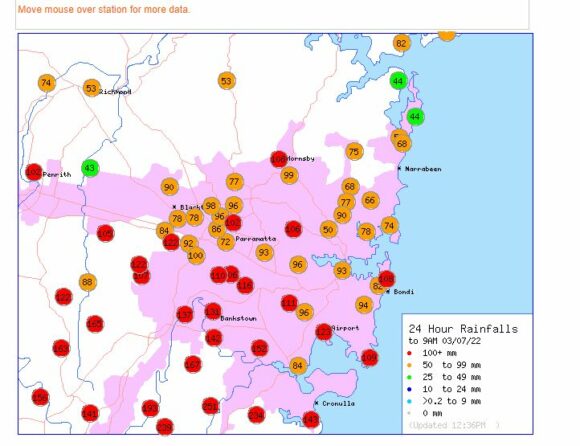 Beaumont (The Cedars) - 185 mm.
Brogers No 2 (Brogers Creek) - 184 mm.
Mangrove Mountain and Wattamolla - 170 mm.
Maitland Airport - 161 mm (Heavy rain set in Sunday evening within the Lower Hunter region.)
Appin - 151 mm.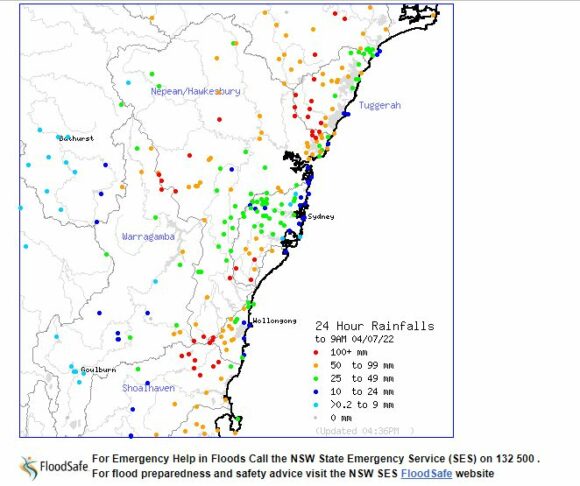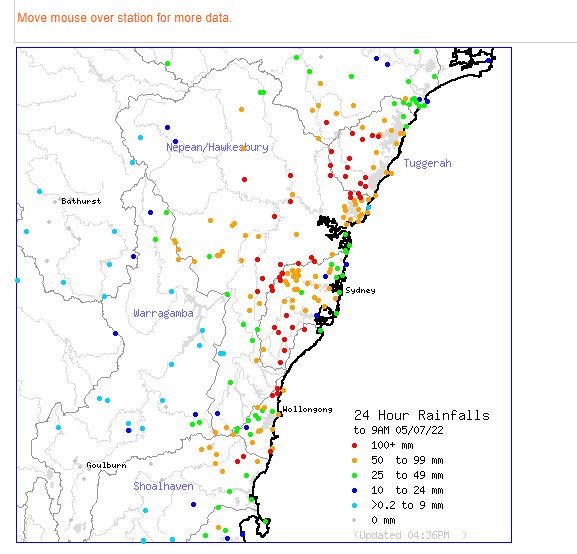 Monday evening sustained and heavy rainfall once again set in across large areas of Western Sydney and in some cases intense rain trained over the same area for many hours. As a result, a region centred between Blacktown and west towards Penrith received totals exceeding 100 mm.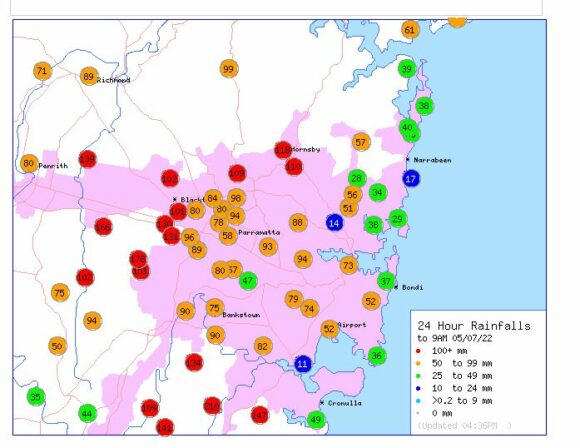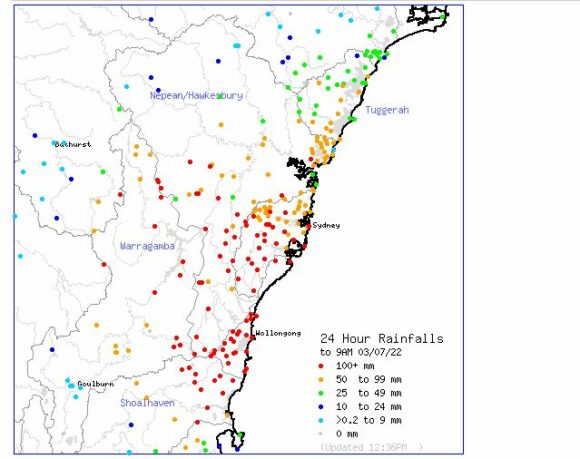 For the 24 hours to 9 am Tuesday morning, the heaviest totals included:
Horsley Park - 178 mm.
Maroota (North of Sydney) - 169 mm.
Prospect Reservoir - 131 mm.
Blacktown Dog Pound - 130 mm.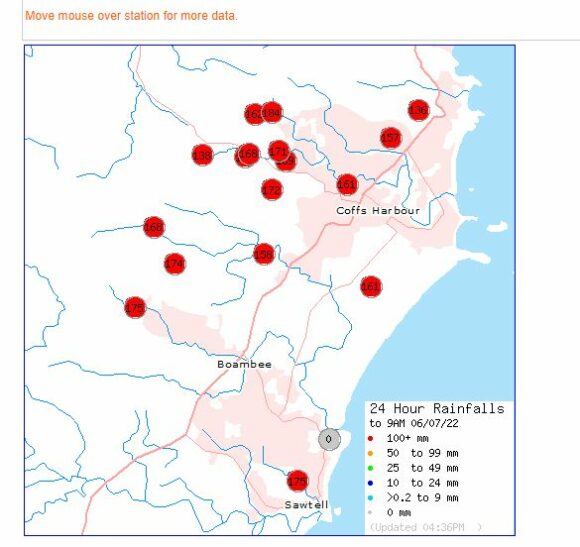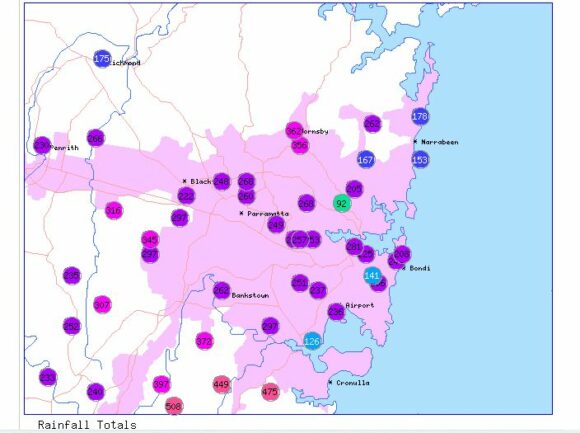 Even my personal rain gauge recorded approximately 134 mm from this event generally consistent with what occurred at nearby Prospect.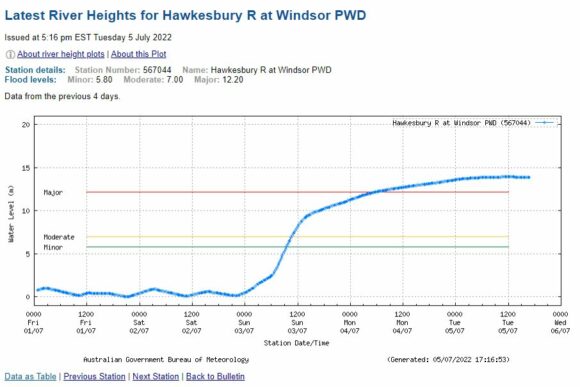 Heavier totals occurred just to the south of Sydney including:
Darkes Forest - 241 mm.
Lucas Heights - 210 mm.
Reverces - 202 mm.
Woronora Dam - 188 mm.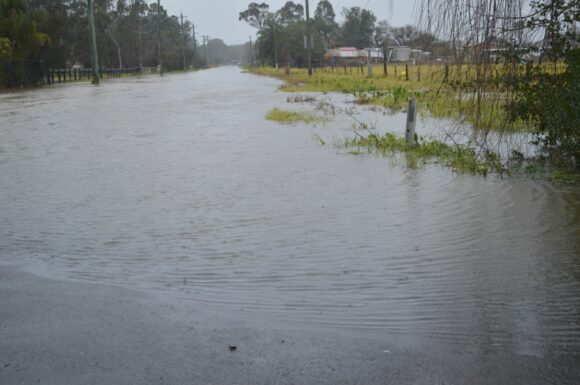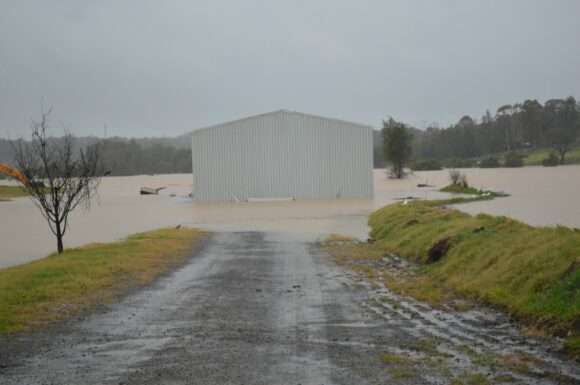 At Windsor PWD, the river flood level peaked at 13.93 metres between 10 am and 1.15 pm Tuesday which is well above the major flood level and the third significant flood for 2022. The flood peak exceeded the second March flood peak of 13.79 metres by 140 mm. This is also the highest level since the 1978 flood.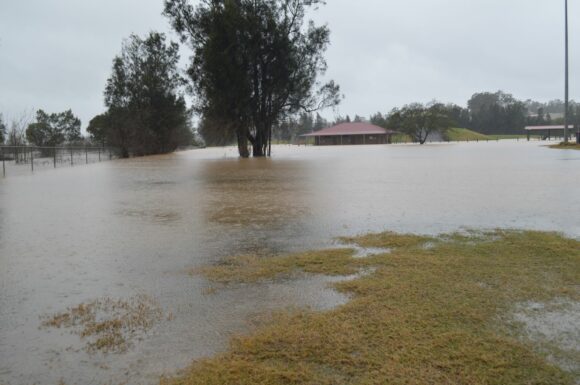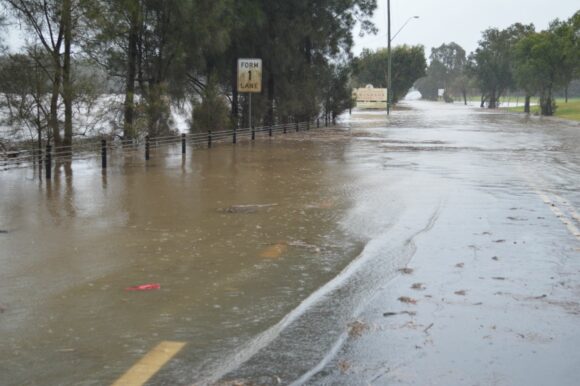 Tuesday morning rainfall eased across Sydney and contracted northwards towards the Hunter Valley and Mid North Coast. As such and by Wednesday morning, there were 8 weather stations across Newcastle City that had recorded more than 100 mm of rain for the 24 hours to 9 am Wednesday. This included 124 mm at Newcastle City and 150 mm at nearby Cardiff.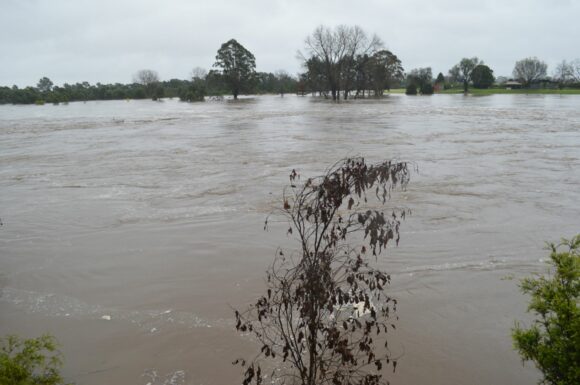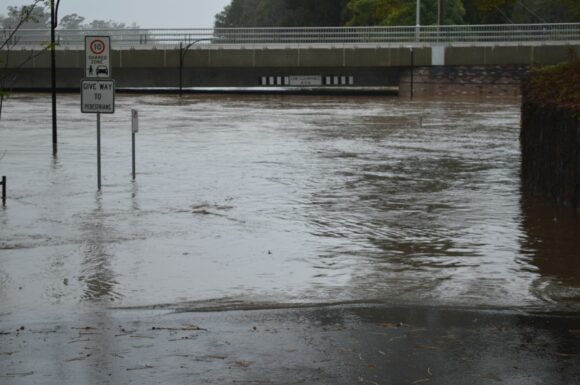 Across the Mid North Coast, Redoak recorded 127 mm while most rain gauges across Coffs Harbour recorded between 136 and 184 mm.
In addition to the flood crises across the Hawkesbury River, other rivers went into flood including:
Wollombi BK at Bulga where water levels reached 9.11 metres AHD well above the major flood level.
Hunter River at Singleton where the Hunter River reached 13.51 metres and into the range of major flooding.
Bowraville Lane Bridge where the river level reached 7.71 metres at 3.42 pm on Wednesday afternoon.
By Thursday morning heavy rain had again impacted the Mid North Coast between Karuah and Kemsey where the heaviest falls included:
Taree Airport - 305 mm.
Redoak - 276 mm.
Mooral Creek - 228 mm.
Logans Crossing - 193 mm.
Turners Flat - 163 mm.
Kerewong and Seven Oak (Macleay River) - 140 mm.
The major towns within the region impacted includes Forster - Tuncurry, Kemsey, Port Macquarie and Taree.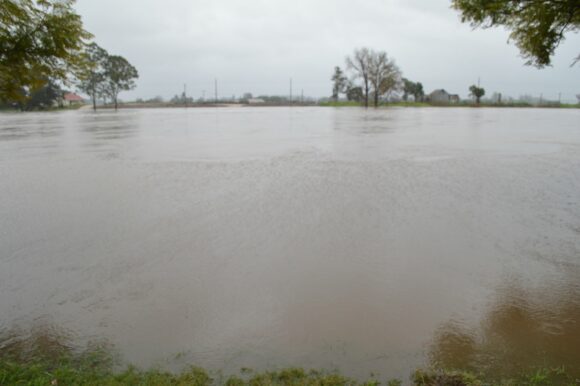 Of particular interest from this event is a small area south west of Wollongong where cumulative rainfall totals approached 800 mm with Darkes Forest standing out on 755 mm. It is even suggested that Brogers Creek had over 900 mm from the event. This area is confined within the hills where orographic uplift intensified the rainfall.
Some cumulative weekly totals from this event for the week ending 7 July include
Lucas Heights - 449 mm.
Hampden Bridge (Kangaroo Valley) - 462 mm.
Audley (Royal National Park) - 475 mm.
Mangrove Mountain - 480 mm.
Katoomba (Farnells Road) - 492
Wyong Forest (Olney Forest) - 578 mm.
Robertson - 578.8 mm.
Beaumont (The Cedars) - 700.6 mm.
Darkes Forest (Kintyre) - 755 mm.
Brogers Creek 933 mm in 4 days to 9 am Tuesday.
With most of Sydney recording more than 200 mm including some 300 mm plus totals (Cumulative totals) from this event and with river catchments still wet, it becomes clear why major flooding has once again occurred.
Various plots have been generated from the "Water and the Land" site showing what occurred and where. I have also attached additional photos taken of the floods Sunday afternoon at a time when water levels around Windsor were between 10 and 11 metres and rising.
The final flood peak at Windsor PWD is also attached. The final flood peak is slightly higher than that of March 2022 and this event will go down as the third flood event of 2022 and the fourth since March 2021.
Related Terms: