A significant weather event has impacted eastern Australia between December 14 and December 19 2020 with the area stretching from South East Queensland, Eastern New South Wales and into North East Victoria being most affected.
In particular, flooding rains has impacted north east New South Wales around the Bellinger Valley, Coffs Harbour Region, Grafton, the Tweed River Valley and South East Queensland while thunderstorms have impacted much of eastern New South Wales which has included localised heavy falls, damaging winds and hail. As usual, thunderstorms are often hit and miss and rainfall totals have varied considerably.
Damage along the coast has been significant which has included beaches being washed away or covered in foam, property damage and roads being washed away. There was also a landslide on the Dorrigo Road between Dorrigo and Bellingen.
At the present time, the cost of the weather events are being tallied.
As shown in the attached plots prepared on the Bureau of Meteorology "Water and the Land" sites, the heaviest falls have been around the Tweed River Valleys and the Bellinger Valley including the Coffs Harbour Region.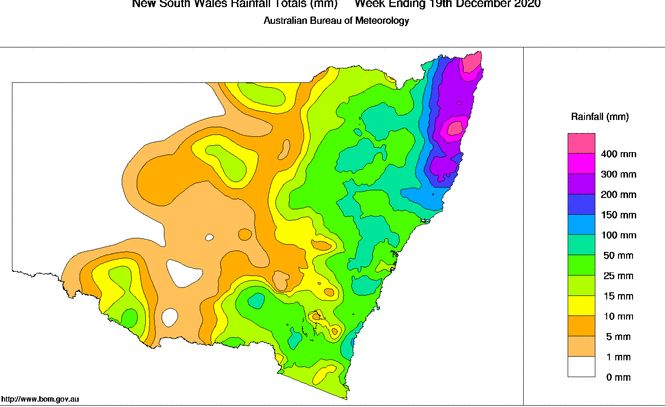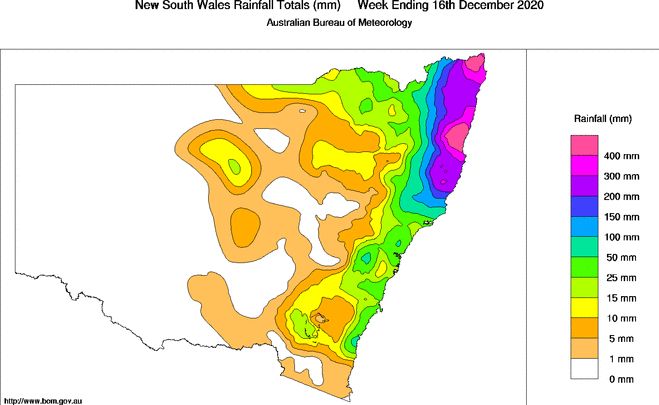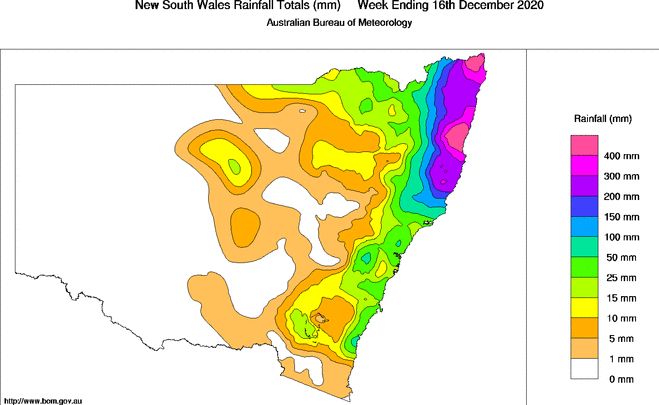 On the 14/12/2020, significant rainfalls impacted the Sunshine coast and its hinterland with many locales receiving more than 100 mm of rain.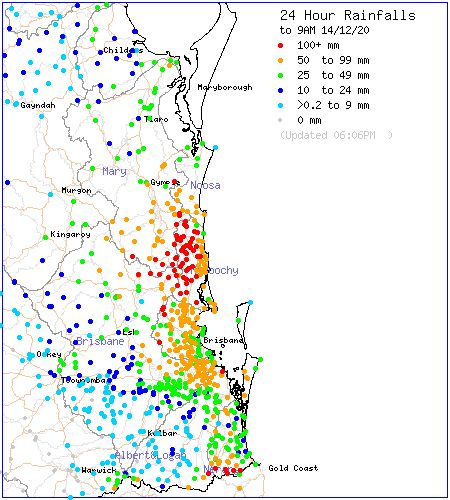 At the local level, some of the rainfall totals have been significant. A weather station at Upper Springbrook (Queensland) recorded 952 mm of rain during this event which exceeds the average annual rainfall for cities such as Melbourne, Perth, Canberra and Adelaide.
Some rainfall totals include:-
1 - Grafton - 13/12/2020 - 79.6 mm, 15/12/2020 - 125.2 mm and the 17/12/2020 - 99 mm. As at 20/12/2020, 477.6 mm of rain has fallen at Grafton which is far in excess of the average December average of 91.4 mm.
2 - At Coffs Harbour Airport, 12/12/2020 - 150.6 mm, 15/12/2020 - 73.8 mm and the 16/12/2020 - 116.2 mm of rain fell.
3 - At Dorrigo which is close to the wettest location in New South Wales, 435 mm of rain has fallen between December 1 and December 20 2020. This takes the yearly rainfall to date to 2,344 mm which is well in excess of the average to December of 2,013.5 mm.
4 - At Bellingen in the Bellinger Valley, a rain gauge recorded 220 mm of rain during one these events. The topography of the Bellinger Valley often enhances the rainfall.
5 - On December 17 2020 at Lismore (NSW), 202.8 mm of rain fell which resulted in riverine flooding and evacuations. As at December 20, 2020, Lismore has received 484.2 mm of rain which is well in excess of the usual December average of 121.9 mm.
This is showing the scale of the event. While the heavy rain and flooding is generally limited to north east New South Wales and south east Queensland, thunderstorms have impacted large areas of inland New South Wales including the Sydney region which has delivered localised but significant rainfall totals. Samples include:-
1 - Albury (NSW / Victorian state border) - A single thunderstorm event between 11 pm and 3 am on the 16/17 December 2020 dropped 50.2 mm of rain including 18 mm during the period 1.05 am and 1.30 am. The same storm system produced 42 mm of rain at nearby Barnwartha to the west.
2 - Dubbo - Storms dropped 26.8 mm of rain on the 17/12/2020.
3 - Gunnedah (North west slopes and plans of New South Wales) 17 - 18 December 2020 - Storms delivered rainfall totals of 36.2 mm and 41 mm and peak wind gusts of 98 km/h. Those gusts occurred during a brief period between 4.20 pm and 4.28 pm on the 18/12/2020.
One such storm on Thursday afternoon 17/12/2020 impacted parts of Western Sydney as shown in the attached photo. This storm was slow moving and approached Blacktown from the south although at sunset, the storm cell went into sharp decline. During its most active phase, the storm was producing strong updraft towers, numerous cloud to ground lightning strikes and an interesting rain free base. There was little evidence of the storm cell after sunset due to its rapid decline.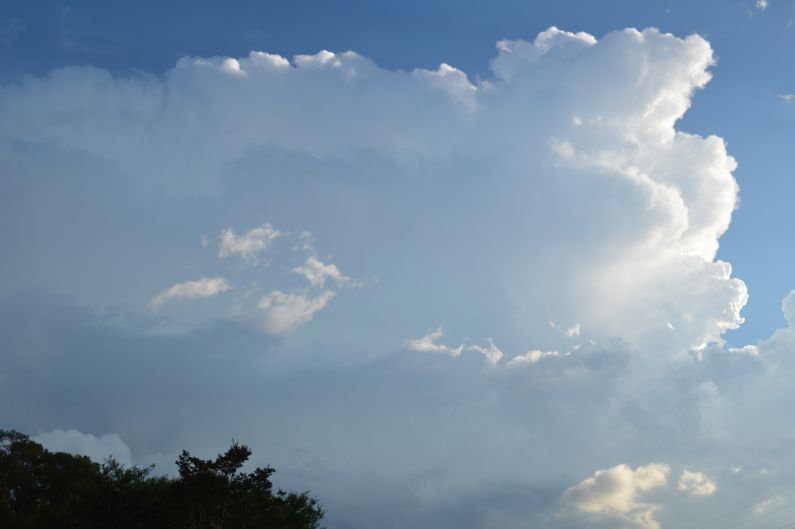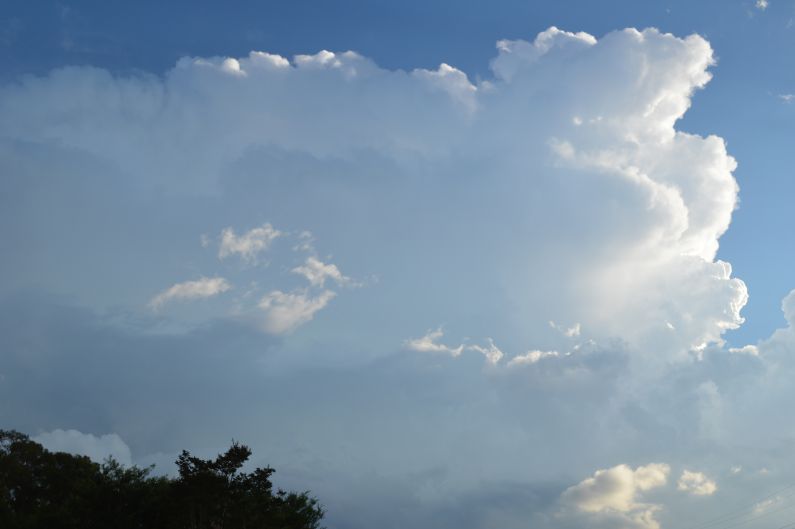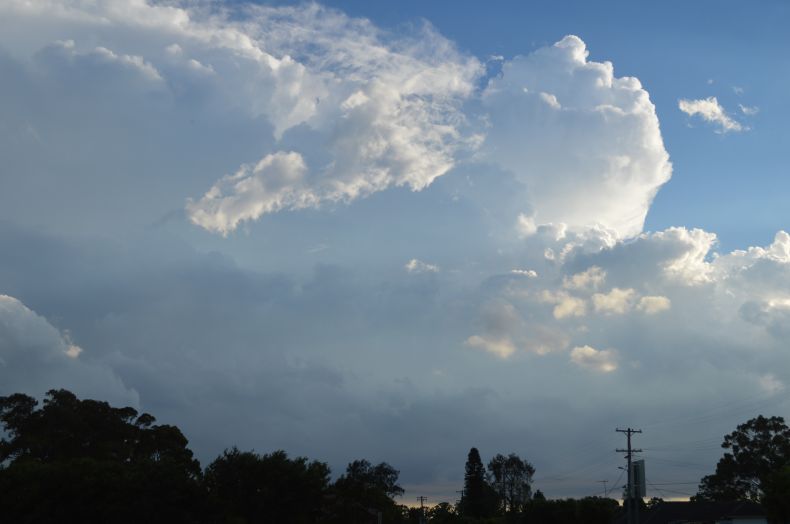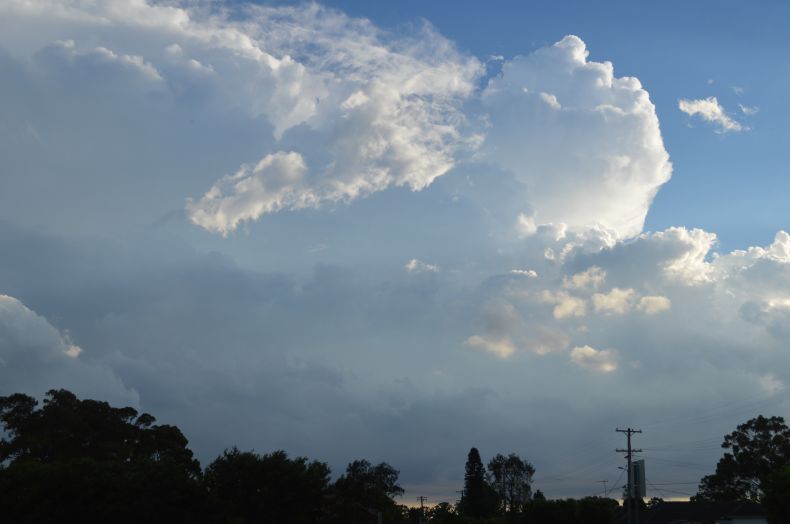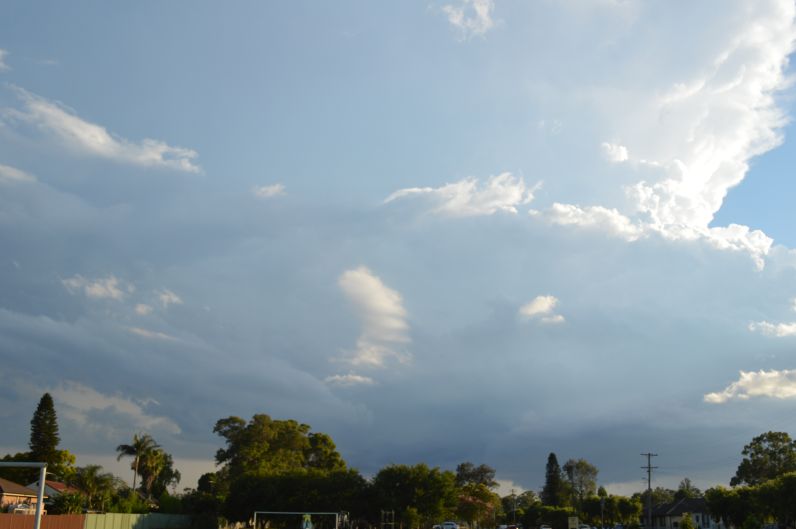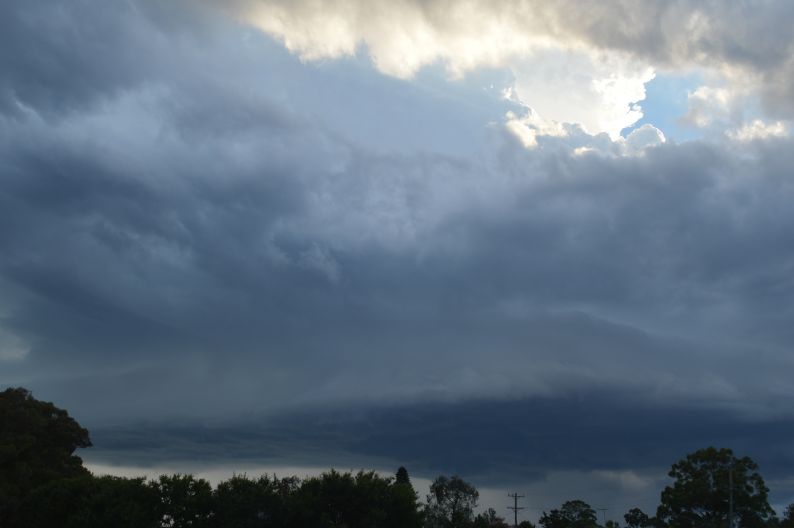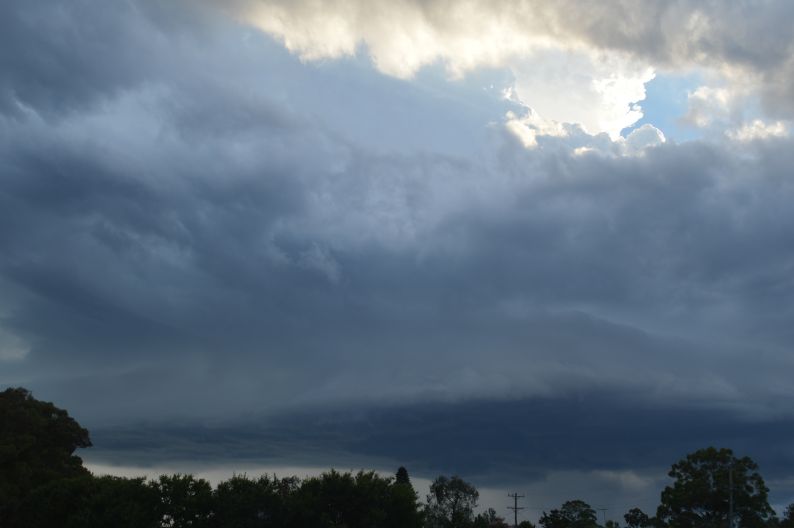 On Friday afternoon, a short sharp rain shower developed over Western Sydney although no lightning was observed from this cell. A rainbow was later photographed.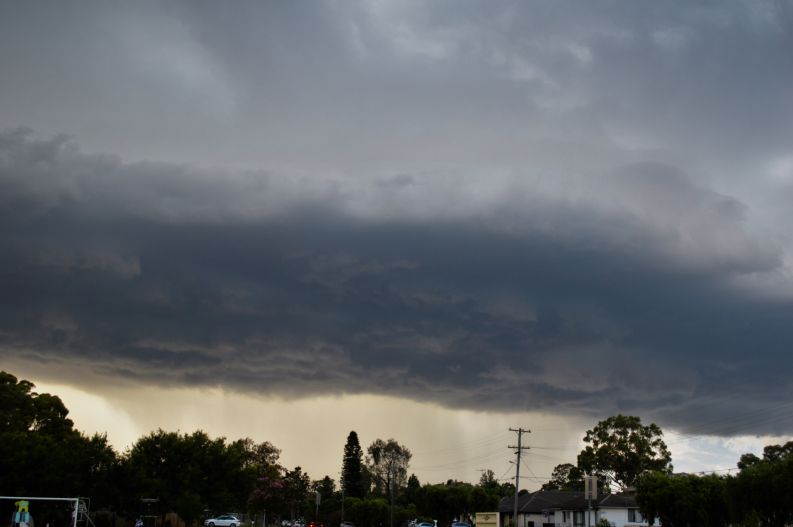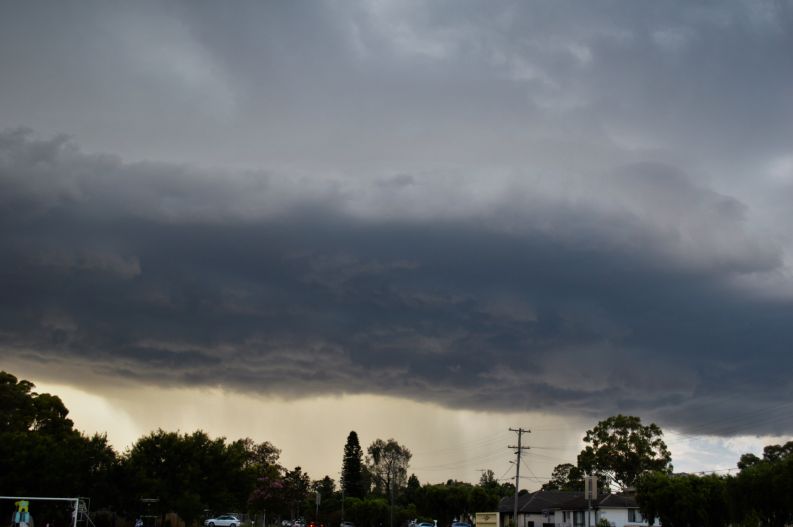 The photos attached to this post of the Thursday afternoon storm were taken from a park looking south from Blacktown.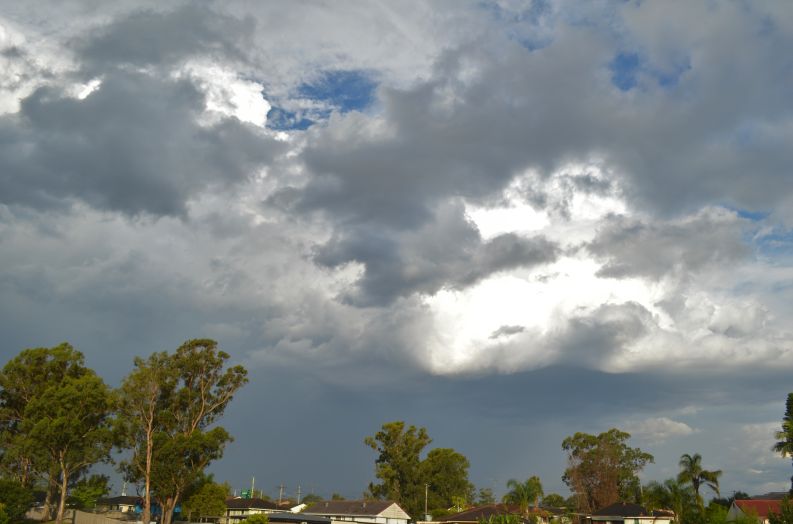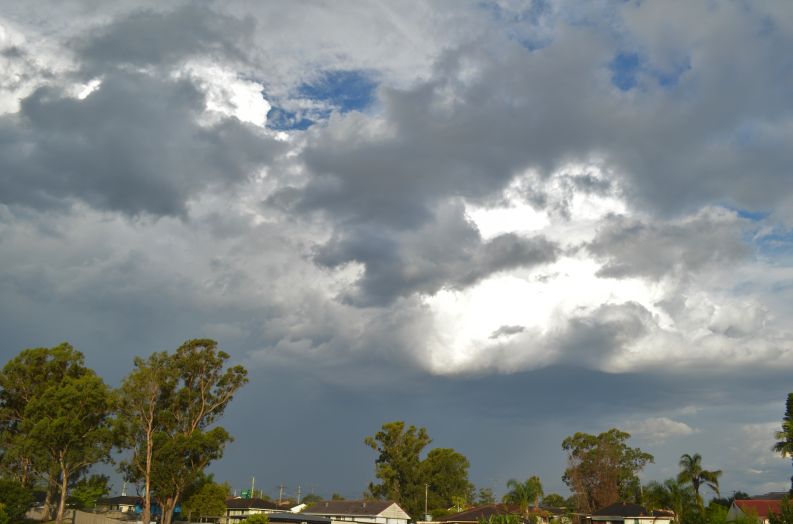 Related Terms: