A significant rain event rain across the coastal regions of north east New South Wales and South east Queensland has been unfolding and the event is likely to continue for the next few days.
The event has been coastal in nature with the rain reaching the eastern side of the Great Dividing Range but not penetrating westwards into the inland areas. As at Sunday morning 13/12/2020, very little rain has penetrated inland and during the same time, very little rain has moved southwards of the Mid North Coast.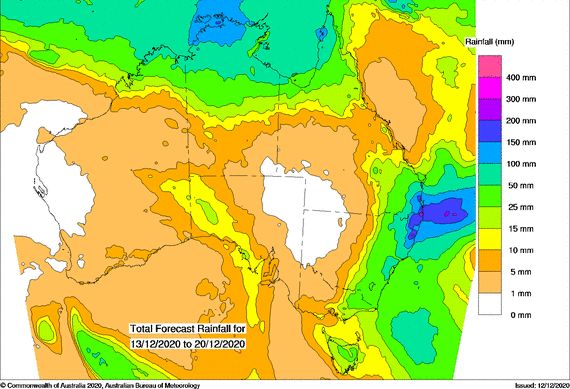 In Particular and for the 24 hours to 9 am 12/12/2020, the heaviest rainfall occurred around Coffs Harbour and the nearby Bellinger Valley. It is likely that the surrounding hills intensified the rainfall due to orographic processes with the heaviest rainfall being concentrated to localities within the valley but east of Point Lookout.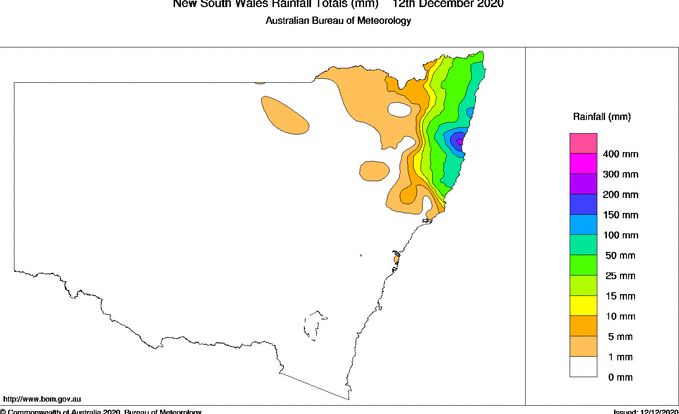 The heaviest rain includes 203 mm at Bowraville and 161 mm at Bellinger. Coffs Harbours was drenched with rainfall reaching 150 mm up to 156 mm.
Another location on the mid north coast being Logans Crossing received 187 mm.
For the 24 hours to 9 am 13/12/2020, some exceptional rainfall totals have occurred within the Tweed River Valley areas and south east Queensland including the Gold Coast city area.
For New South Wales, the heaviest rainfall includes - Tweeds Heads - 253 mm, Bray Park - 250 mm, Uki - 211 mm and Repentance - 182 mm. Most localities within the Tweed River Valley has been drenched with flooding likely.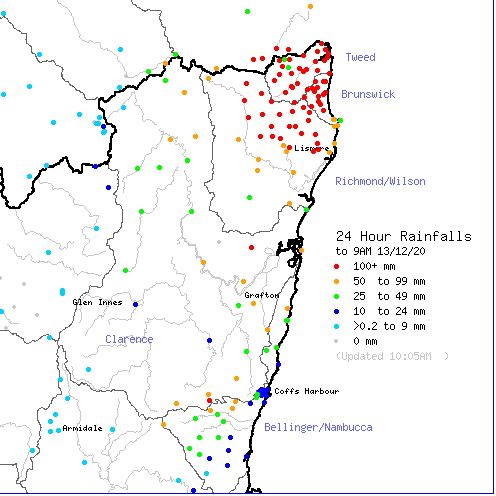 In south East Queensland, some exceptional rainfall totals for the same period includes Upper Springbrook Alert - 475 mm, Tomewin Alert - 370 mm and Tallebudgera - 346 mm. Such totals and others are confined to areas just south of Brisbane encompassing all the Gold Coast City areas and its hinterland.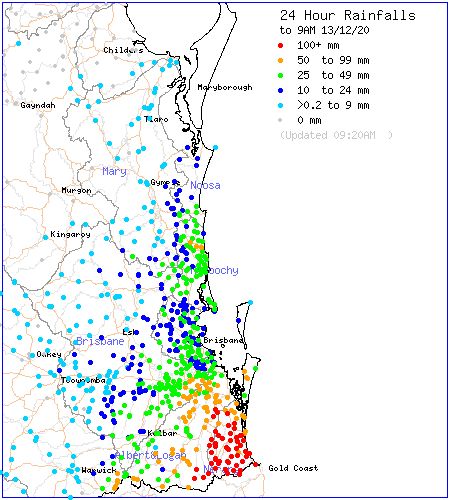 The forecast models continues to suggest further heavy rain which has potential to cause further flooding. Some of this rainfall is expected to drift further south towards Sydney later in the week although such high totals are not expected. While some models suggest that some moderate rainfall will make its way into the eastern inland New South Wales, other models are suggesting that only light falls are likely to occur with the heaviest falls being concentrated to coastal areas north of Sydney.
Related Terms: