Sunday the 29/11/2020 has followed on from Saturday in which the dome of heat continues to impact much of New South Wales, especially for areas in a line stretching from Moruya on the New South Wales south coast to Broken Hill in far Western New South Wales and all areas towards the north.
Following on from Saturday which saw maximum daytime temperatures peak at over 40C for much of Sydney (Such as 40.5C at Blacktown), Sunday the 29/11/2020 has become a carbon copy of Saturday. This is an exceptionally rare event for Sydney especially in November.
Overnight minimum temperatures dropped to 25.9C at 1 am at Penrith which increased to 29.9C by 3 am and 31.8C by 6 am and 33.7C by 9 am. At the time of writing this post, the temperature has already reached 40C at Penrith.
At Blacktown, the minimum temperature of 27.9C was observed at 3.30 am which had increased to 30.5C at 6.30 am and 33C at 9 am. Again, the temperature depending on location is currently around 39C to 40C.
Interestingly, it was difficult to sleep at night and my wife and I went outside at around 3 am only to discover that it was cloudy with a very light shower of rain falling although not enough to cause much dampness to the ground.
At Observatory Hill, it is suggested that the minimum overnight temperature of 25.3C is the hottest November night since 1967. Although records are being checked, I have found a record of a warm 24.8C on the night of the 14/11/1967 which maybe the record that is being referred to.
At the time of writing at 2 pm, Penrith has reached 40C, Observatory Hill has reached 40.5C, Sydney Airport 42.6C and Sydney Olympic Park has reached 41.6C. This is reinforced with low due points of 8C to 12C varying across Sydney and wind gusts reaching 82 km/h at Sydney Airport with strong winds from the north west.
As shown in the attached photo, clear skies predominate with thin high cirrus cloud.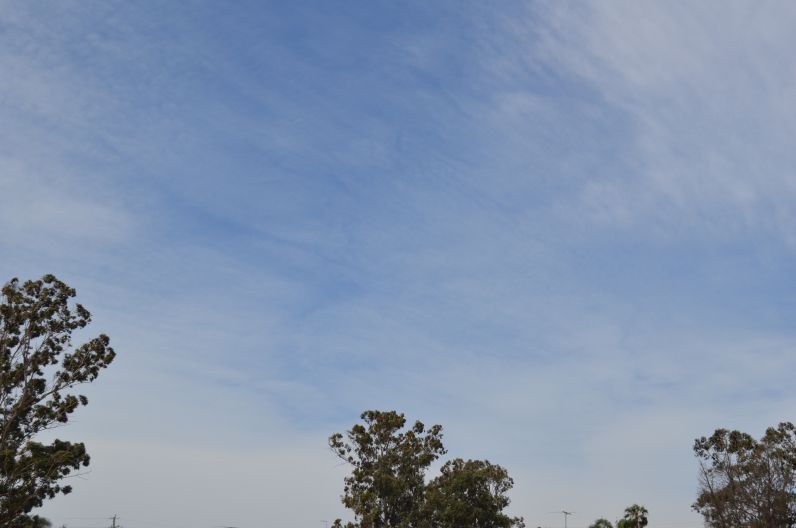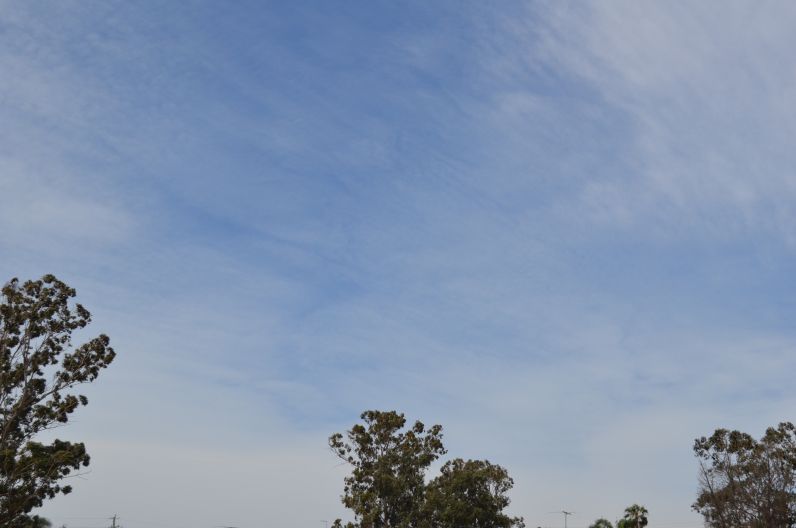 The plots from the Bureau of Meteorology "Water and the Land" for the 29/11/2020 is showing the impact of the heat dome across New South Wales for Saturday including the maximum temperature anomaly. These are showing how significant this event is with large areas showing a maximum temperature anomaly of at least 12C above the long term average.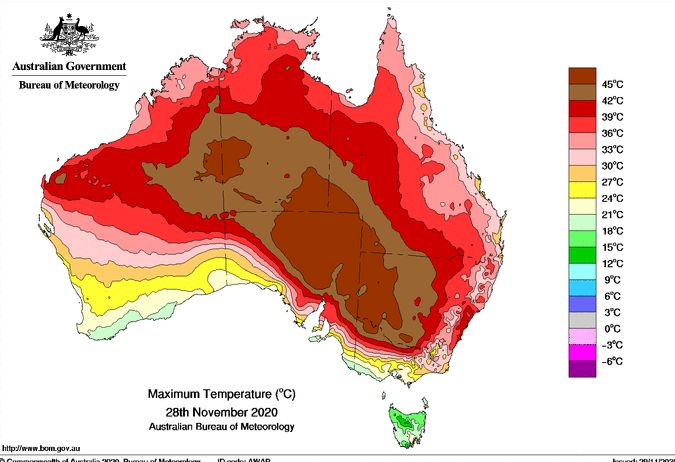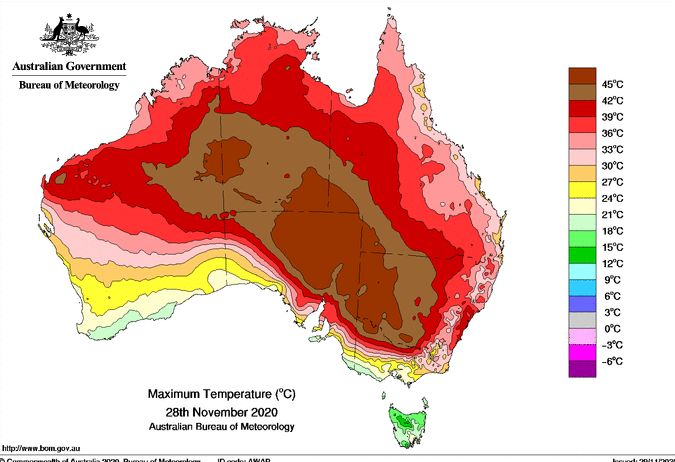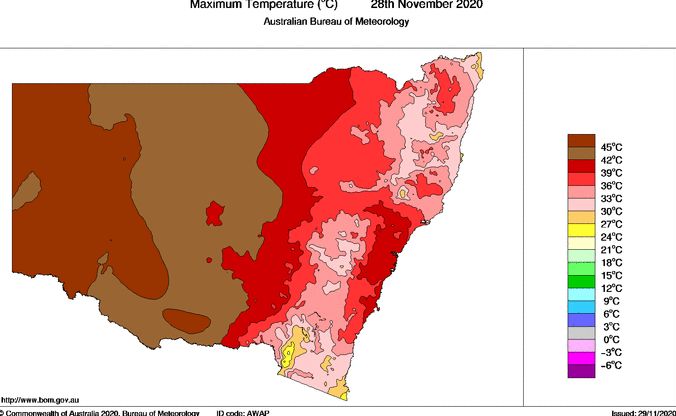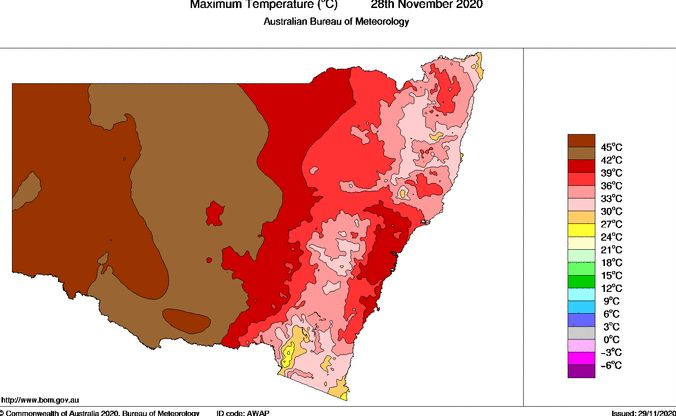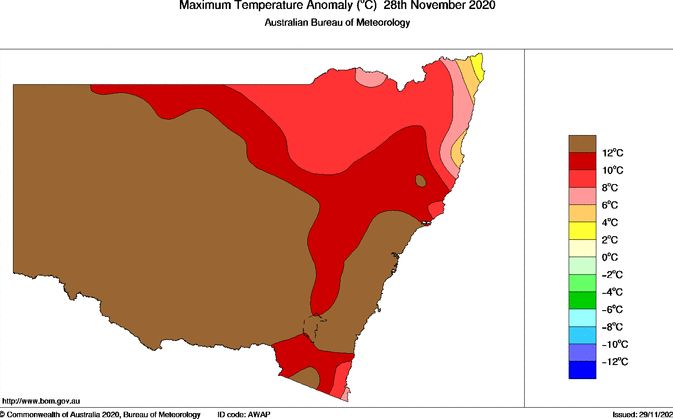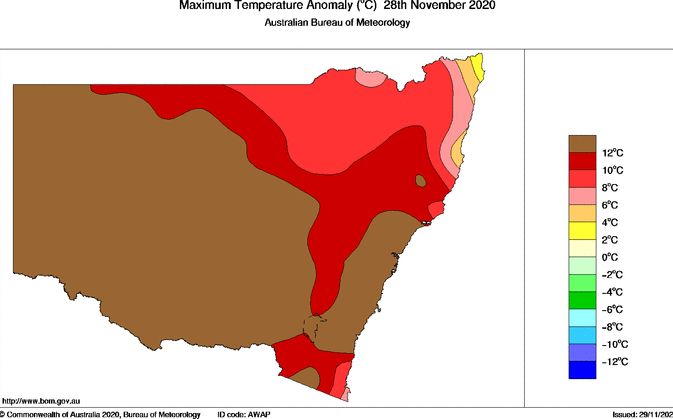 For Sydney, the heat will end once the cooler change passes through late on Sunday.
Related Terms: