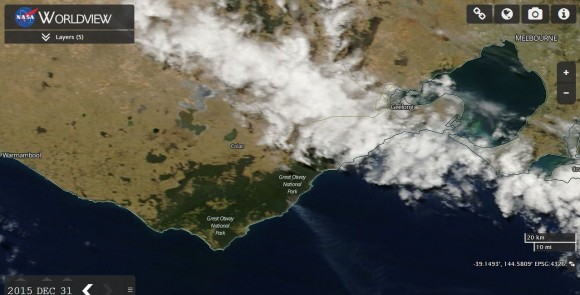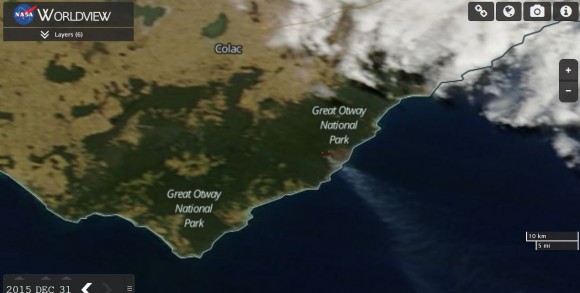 The satellite image of a portion of southern Victoria centered on Lorne and the Great Otway National Park is clearly showing the bush fire at Wye River and Separation Creek. The burn mark within the forest is also visible.
The fire hot spot which appears as red dots has been layered onto a second image and the smoke plume passing south east over Bass Strait is easily visible.
This is the fire that started on December 19 by a lightning strike and on Christmas Day, destroyed 116 homes. The fire has now been burning for 12 days and is still not out.
During the past two days, the fire flared again as another burst of hot dry conditions swept across Victoria from South Australia. A cool change has again brought relief across the region.
During the 31 December, the area around Melbourne and Geelong experienced the hottest temperatures for the state of Victoria which is unusual as this is usually reserved for places such as Mildura and Swan Hill.
While a maximum temperature of 38.1C occurred at Mildura, it reached 40.1C at Geelong Racecourse and 40.5C at Avalon. In Melbourne it reached 39.5C before a late cool change. The latest hot spell was not as significant as the previous one but it contributed to the spread of the fire and making it difficult for fire fighters to contain the blaze.
On the 30 and 31 December, further hot conditions swept across South Australia including 38.5C and 38.7C respectively at Roseworthy and 37C and 38.9C at Renmark. It reached 40.6C at Keith on the 31/12/15 and the heat affected Adelaide again with 38C being recorded on the 30/12/15.
A fire also burnt a large area on the Fleurieu Peninsular during Thursday north of Victor Harbour scorching more than 300 hectares. There is some property loss from this event but the blaze is now classified as being contained. There is also a fire burning at Mc LarenVale south of Adelaide but north of Willunga, a blaze south of Morgan near the Murray River and another blaze at Coopers Beach Road Nalyappa.
Smaller fires have been noted around Adelaide but all appear to be contained.
The heat reached into south west New South Wales on the 31 December with 38C to 39C recorded at a few centres including Hay and Deniliquin . The latest dome of heat appears to break up as a cloud mass and even light rain passes over the region over over coming days and hence no significant hot days will occur across eastern New South Wales for the immediate future.
CREDITS
1 - Bureau of Meteorology 1/1/2016 for maximum temperatures for South Australia and Victoria.
2 - NASA (MODIS Worldview with Overlays) 31/12/2015.
3 - South Australia Country Fire Service 1/1/2016.
Related Terms: