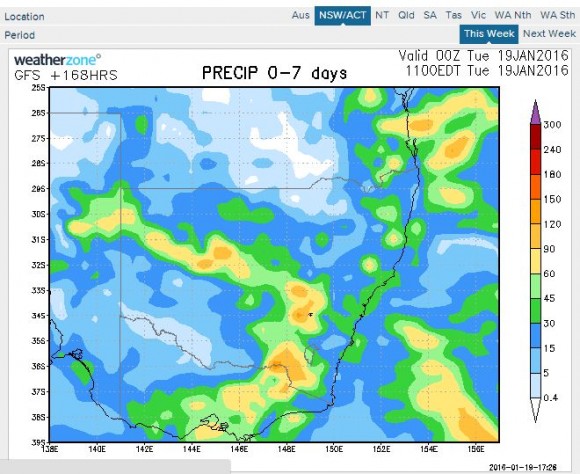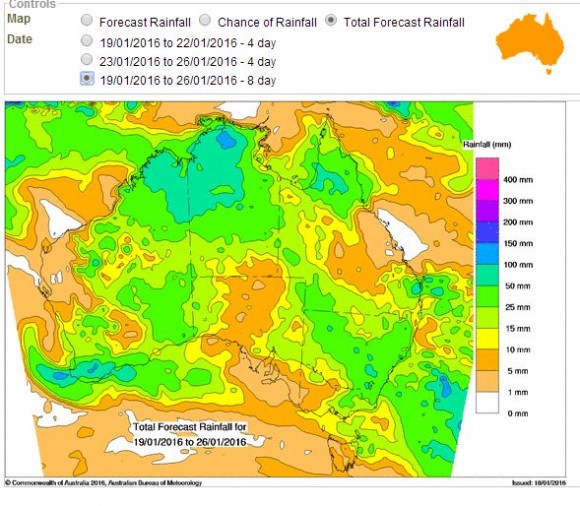 For many areas across eastern and coastal New South Wales, January 2016 will go down in the records as being unusually wet because there are areas especially around the lower Hunter Valley where monthly rainfall figures have exceeded 300 mm.
During the period 21 to 23 January 2016, another weather system is set to unfold across the state which will add to the rainfall already occurred.
However this time, much of the eastern inland region should receive some of the higher totals rather than coastal locations.
During this period, an outbreak of showers, rain and storms look set to deliver totals in excess of 60 mm across a wide region stretching from north west New South Wales, south east to the ranges then southwards into north east Victoria. Should thunderstorms develop, then falls could be supplemented.
The area most favourable for the heaviest falls could be the Snowy Mountains including Tumut and the area around Corryong in north east Victoria.
A forecast rainfall plot for Australia "Water and the Land" for the period 19 to 26 January 2016 is showing a rather interesting situation in which a vast area of the continent is forecast to receive reasonable rainfall with the only regions to miss the heavier falls being much of South Australia, Western Victoria and Central Queensland. For New South Wales, a vast region of the state is forecast to receive 25 to 50 mm during the period with heavier totals near Canberra and the Southern and Central Tablelands.
The model also suggests a more active monsoonal outbreak for northern Australia during the same period.
This will be an interesting period given that widespread rain, storms is suggested and even local flash flooding events could could not be ruled out.
It is known that this event will follow another burst of hot weather in which maximum temperatures have reached 38C to 40C or thereabouts in such places as Albury, Deniliquin, Echuca, Mildura Yarrawonga during the 19/1/2016.
The next few days will be of interest should the event unfold.
Related Terms: