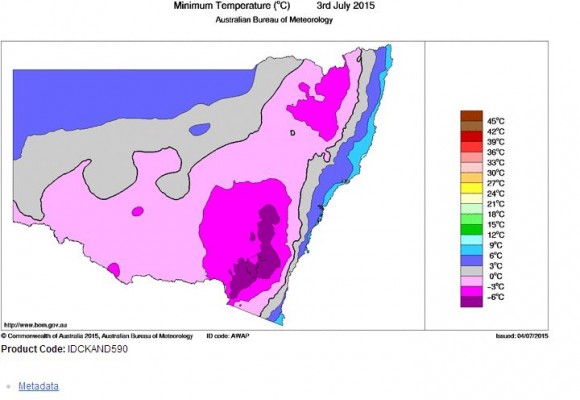 Following the passage of a cold front during Wednesday and Thursday 1 and 2 July that brought light snow to the high country of New South Wales and Victoria (2 to 10 cm at most), a cold air stream in its wake has resulted in some very cold nights being observed across south east Australia.
In particular, on the morning of the 3 July some cold locations and minimum temperatures include:-
Thredbo Top Station - Minus 7.7C at 3.30 am.
Goulburn - Minus 7.5C at 5 am.
Braidwood - Minus 6.7C at 7 am.
Falls Creek (NE Victoria) - Minus 6.4C at 6.30 am.
Rutherglen (NE Victoria) - Minus 4.6C at 7 am.
Cooma airport - Minus 3.1C at 5 am. However at 9 pm where conditions were calm, the temperature had plunged to minus 6C.
Albury Airport - Minus 1.8C at 7.30 am.
This has been ideal for snow making at the ski resorts following some light snow with the cold front.
The attached plot generated at the Bureau of Meteorology - Water and the Land dated 4/7/2015 shows the minimum temperatures for the day across the state.
On the morning of the 4 July 2015, further cold weather occurred including:-
Falls Creek (NE Victoria) - Minus 5.5C at 3 am.
Canberra - Minus 5.5C at 6.30 am.
Braidwood - Minus 4.2C at 2 am.
Cooma - An interesting cold spell occurred here that commenced on the 3 July where at 6 pm 3/7/15, the recorded temperature had fallen to minus 0.2C. It fell to minus 6.2C at 9.30 pm under calm conditions. Overnight, a light but cold breeze developed that saw some warming occur where at sunrise 4/7/15, the temperature was at minus 2.8C. The temperature was minus 0.3C at 9.30 am. The temperature remained below 0 Celsius for 15.5 hours during the period which would have resulted in a significant frost.
Interestingly, the dewpoint at 9 pm was recorded at minus 8C.
Western Sydney
Western Sydney did not escape the cold where at Camden, the overnight minimum fell to minus 2.1C at 5.53 am and at Richmond, the minimum was 0C at 7 am (sunrise). At Blacktown, I saw light frost in open areas, early morning something which I have not seen for a few years. The minimum recorded temperature at Prospect was only 1.3C.
Daytime maximums were 14.6C at Richmond at 3.30 pm and 15.2C at Penrith at 3 pm which were below the average.
Tonight a forecast of minus 5 is being made for Canberra which under clear skies is likely to occur giving the city three very cold nights and mornings in a row to endure.
Related Terms: