During Sunday and Monday 5 and 6 June 2022, a significant cold front crossed through southern Australia. The front heralded in the start of a cold early winter outbreak that has lasted for 7 days.
As the front crossed into northern Victoria, a narrow squall line developed. Traveling at speed, a number of weather stations in its path recorded a brief period of strong to gale force winds and a brief period of heavy rain followed by a wind change.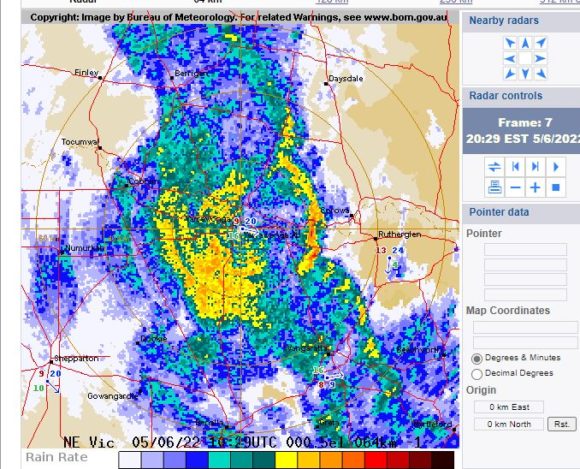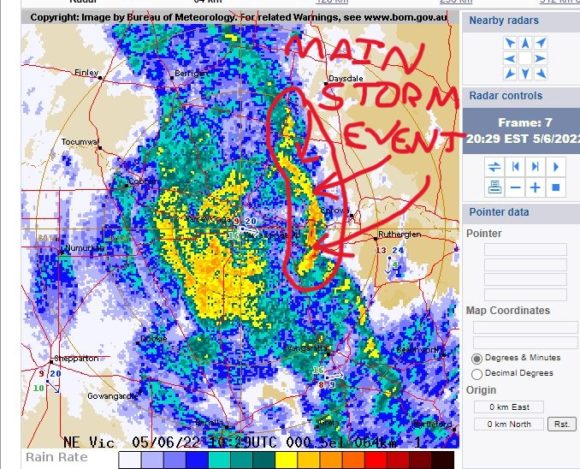 I have circled in red on the attached radar image (BOM - Yarrawonga Radar image of 8.29 pm Sunday night) the squall of interest.
On Sunday evening, the Yarrawonga Weather Station recorded a single wind gust of 61 km/h at 8 pm as the narrow storm system passed over. By 9.30 pm, the same storm system passed over Albury resulting in two peak wind gusts of 69 km/h and a brief thunderstorm with moderate to heavy rain. Thunderstorms at night in winter are rare in this part of Australia especially in southern New South Wales. The thunderstorm is highlighted on the attached Himawari image (Source BOM 5/6/22).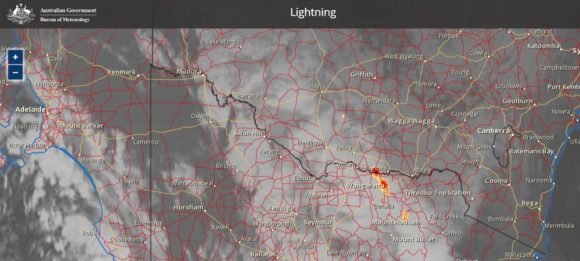 The storm producing these winds was brief in duration. It is known SES Emergency crews were called out to at least 13 reports of wind damage across the Albury region / North East Victoria from this event.
The storm system produced damaging gale force winds of 120 km/h at the Mt Buller Weather Station and 109 km/h winds at Falls Creek (Near Mt Mc Kay) in North East Victoria.
The same system produced strong but brief wind gusts of 74 km/h at Goulburn (2.56 am and 3 am Monday morning) and 74 km/h at Bathurst (4 am Monday morning). The Mt Ginnini Weather Station recorded a peak wind gust of 85 km/h and the Cabramurra Weather Station recorded a single gust of 83 km/h as the storm passed over.
Early Monday morning at around 4 am to 5 am, the windstorm reached Sydney producing a single wind gust of 83km/h at Penrith. Such winds eased in intensity as the system crossed Sydney. There was also a single peak wind gust of 87 km/h at Albion Park (Wollongong).
Very little rain occurred in Sydney. Other than a brief shower early morning Monday, rainfall was light and insignificant.
The storm produced moderate rainfall across North East Victoria including 25.4 mm at Wangaratta. The Albury Airport recorded 24 mm of rain from the event.
Later on Monday morning at 10.13 am following the change, a peak wind gust of 113 km/h was recorded at the Belambi Weather Station.
This change was significant because a sustained cold outbreak has occurred that has brought low level snow to Victoria and Southern New South Wales, cold weather shower outbreaks, frost outbreaks and a run of cool to cold days across large areas. In particular:
1 - Cool to cold showery weather has occurred along the western slopes and hilly regions of inland southern New South Wales. For example, the maximum temperature failed to reach 12c at Albury for 3 days in a row during the period and cold, cloudy showery days were common during the week.
The rainfall plot for the period June 1 to June 11 is attached and it is clear where the rainfall has been occurring for the past week (Source BOM Water and the Land cumulative rainfall plots - 11/6/22).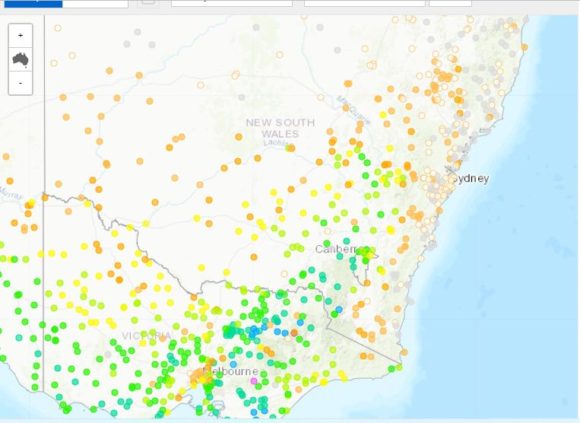 2 - The same system has brought a run of clear sunny days to coastal New South Wales and Sydney. In Sydney daytime maximum temperatures have struggled to reach 16C and 17C and overnight minimums have been low. Frost was observed on the ground Wednesday morning in Blacktown and Doonside in exposed areas and at Penrith, the minimum temperature for Thursday morning fell to 0.2C.
3 - Sub zero minimum temperatures have been recorded and Thursday morning, the minimum temperature fell to -8.7 at Glenn Innes Airport (1,044 metres above sea level on the Northern Tablelands).
4 - Cold days have been a feature across the Northern Tablelands and at Armidale, maximum temperatures did not reach 9C on 3 days in a row.
5 - At Cooma, minimum overnight temperatures fell to minus 5.5C on Thursday morning, minus 6.2C on Friday morning and minus 6.6C on Saturday morning.
6 - Low level snow has been common across the higher elevations of New South Wales and Victoria and the ski resort have had a busier than normal start to the ski season due to the amount of snow that has fallen. Snow depths are greater than 90 cm at Mt Hotham and Falls Creek.
In August 2015, I had the opportunity to see low level snow cover on the ground at and above Thredbo (1,370 metres above sea level) and Dead Horse Gap (1,580 metres above sea level). The photo attached at the beginning of the post is a sample of such snowfall. Similar scenes have again occurred at Thredbo and thus this scene taken in August 2015 has again been replicated across the region resulting in deep snow cover at higher elevations.
The EOSDIS (NASA image of Saturday 11 June 2022 is showing much of South East Australia under low level cloud with the snow fields hard to define. However, the eastern side of the Snowy Mountains is visible and it is clear that snow has fallen to reasonably low levels with snow lying on the ground just to the west of Jindabyne. This area has been under cloud all week with regular snowfalls occurring.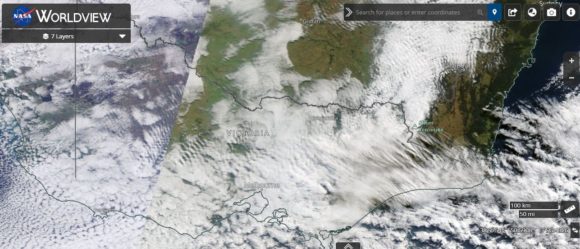 7 - For the period, wind direction has been a constant south west direction partly because of a blocking weather system in the Tasman Sea where the deep southern low has only been moving slowly.
As such, the first 11 days of June 2022 has been a period of sustained cold weather, low level snowfall across the higher elevations, showery weather conditions across some inland areas, cold nights, frost in some locations and a period of low daytime and nighttime temperatures.
Related Terms: