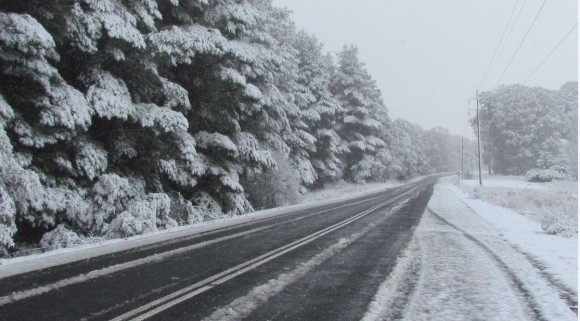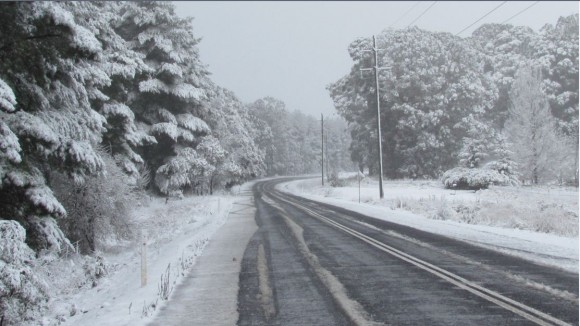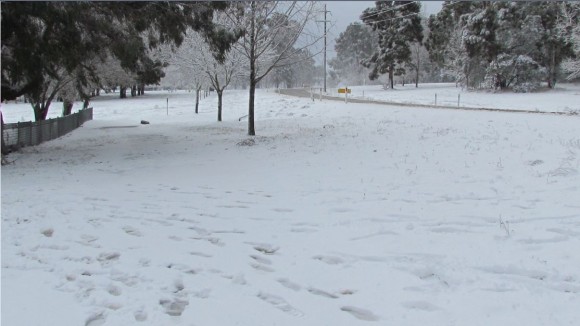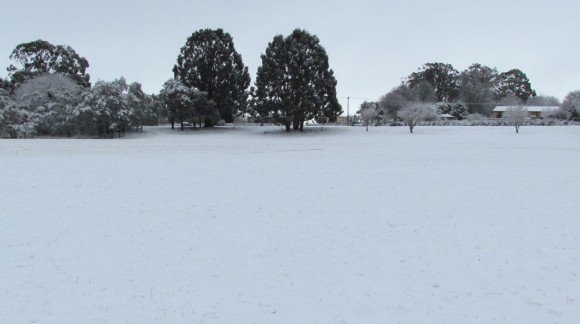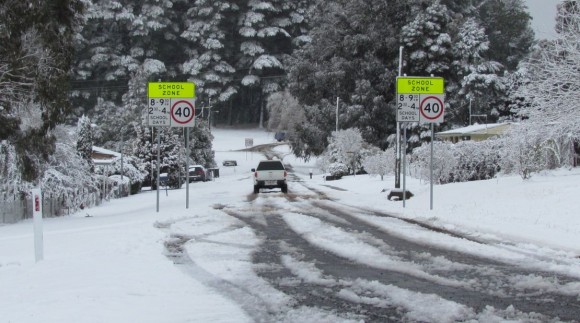 Saturday and Sunday 11 and 12 July 2015 produced some remarkable weather across southern Australia including some balmy sunny weather for Saturday for Sydney, two evening thunderstorms late Saturday and a snow event that followed across the higher country. This led me to undertake a snow chase for Sunday.
Saturday was pleasant across Sydney that saw maximum temperatures reach anywhere between 18C and 20C which were the warmest so far for July. Although towards evening it was clear the cold front was approaching as the sunset revealed a substantial build up of cloud.
Following the conclusion of my bush walk at Berowra and Cowan, I was stunned to see a thunderstorm move rapidly across much of Sydney at speed. It was a fast moving storm that did not drop significant rain. However, a second thunderstorm moved across Sydney much later in the evening and at Prospect a wind gust of 56 km/h was recorded from the storm at 11.09 pm. This was unusual as I have never seen two evening or night time thunderstorms move across Sydney mid winter during July. This storm produced a heavy downpour of rain and a reasonable amount of lightning as it passed over.
It is understood that a thunder snow event may have occurred across the Blue Mountains with a thunderstorm dropping snow as it passed over being a rare event. Anyone with further information on this please add some commentary to this post.
The storm events combined had dropped some reasonable totals of rain across Sydney including a fall of 16 mm at Ingleburn and Kentlyn, 14 mm at Baulkham Hills and 13 mm at Seven Hills being the higher figures for the 24 hours to 9 am Sunday morning.
Following an early morning discussion with Jimmy by phone, I elected to drive up to the Oberon Plateau. During my travel, I observed my first snow patch at Medlow Bath at about 1,040 metres above sea level and stopped to take photos. I took a few more photos of snow patches around Blackheath and Medlow Bath. After driving down Victoria Pass, I stopped to take photos of snow on the upper hills. I drove to Hampton stopping to take images of snow, then drove into Oberon. I found myself driving through snow showers from Hampton all the way into Oberon.
Following a stop at the lookout and further photos, I drove slowly to Black Springs where the attached photos were taken and a true winter wonderland of snow. I spent more than 1 hour at Black Springs and the images are the best that I have seen. I lived in Oberon during 1994/95 and during that time, there were at least 3 snow events but none of those matched what I saw at Black Springs.
I returned to Oberon where I met Jimmy, Colin and Nick who were getting ready to go back to Black Springs. Following my lunch break, I walked up to the lookout overlooking the golf club on the southern side of town as that lookout is slightly more elevated than the official lookout and the day was capped off with an afternoon snow storm that was amazing. Following that snow event, I ran out of memory card but I had managed to capture the whole event.
I walked 1 km back to the car which was probably a good thing as I found myself walking over black ice on the way down.
The two snow events capped off a very different chase and one that was rewarding. Any other chaser out would have been rewarded with a wonderful snow event at Black Springs. It took me 3.5 hours to return to Blacktown due to traffic snarls between Mt Victoria and Medlow Bath.
Related Terms: