Storms Erupt over the North West Slopes and Plains 25th February 2017
Was it a really chase day? I mean not often would a chaser set aside one whole day 4 hours from home for 1000 CAPE? But there is something that I have learned - do not underestimate the potential of the North West Slopes and Plains! There seems to be some majestic behaviour when storm erupt in certain conditions. This chase was no exception!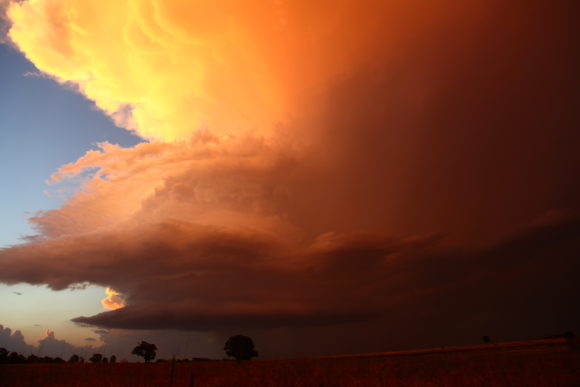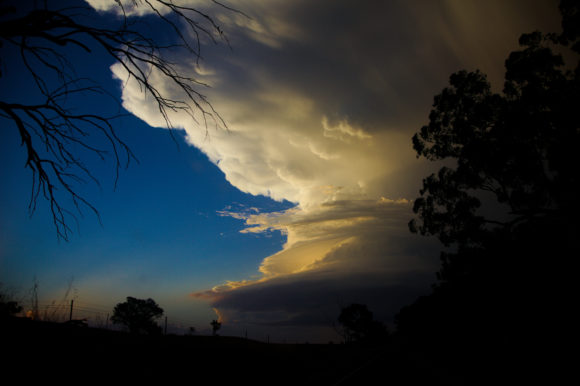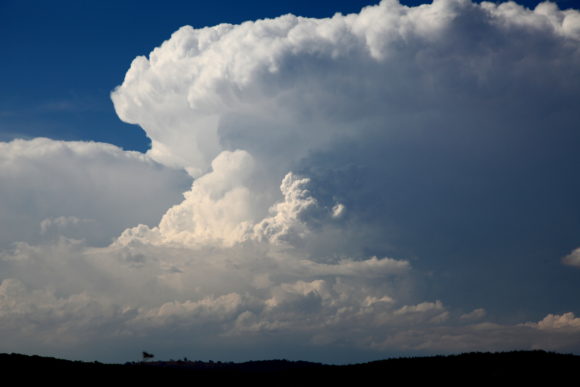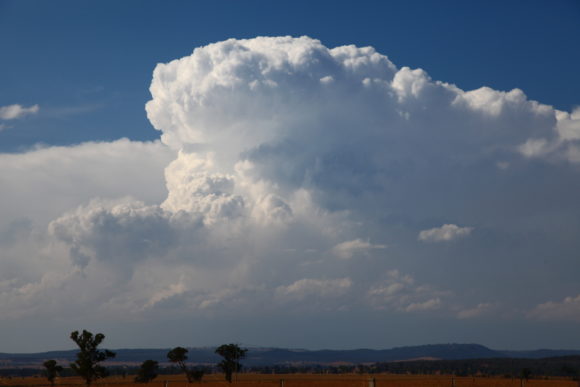 Rodney and I left about 9:30am and headed via Lithgow in time for some lunch at Mudgee. Storms were anticipated from near Orange through to North West Slopes and Plains as well as some storms around the Northern Tablelands. My main focus to get surface base convection was the region near Mudgee/Gulgon and west or north. A storm did fire near Orange, receycled and becoming a multicell complex. It was difficult to get to so we awaited near Mudgee and then Gulgong. A storm erupted near Coonabarabran with black core. That'll be right. Storms north and south and we are smack in the damn middle! Nothing nearby! A few more crisp towers teased near Coolah. The pain - the pressure of being in between and not making a decision and risking a bust was unbearable. We cautiously headed north to near Dunedoo keeping a left eye over towards Cumnock.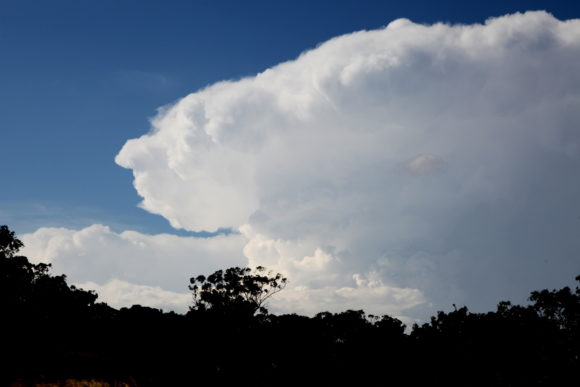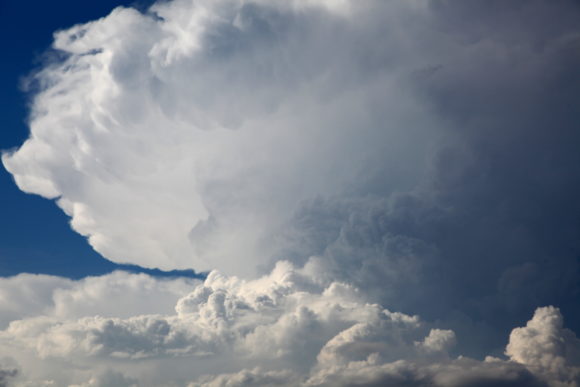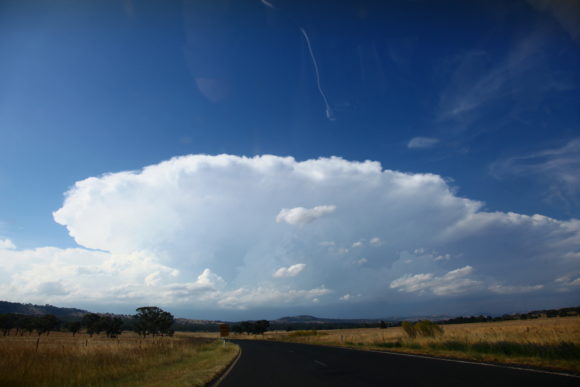 What the heck - why not head towards Coolah to investigate! You have got to be kidding! Let there be no mistake - the storm literally exploded as we crunched every part of the 40 kilometres to Coolah and over the range! Rock hard updrafts powered up and backwards with an overshoot evident for good measure. The only limit was the road and time! Black cores and definitely organised structure were exhibited on radar! I wanted to slam the accelerator pedal - I realised I was not driving! I simply wanted to know even for one minute what was going on under that base!
Finally, we neared the southern storm northwest of Coolah - a refreshing consolidated base spared us any hail cores over the road to my disgust. We simply had not choice but to investigate the northern storm structure! Not only did we not sample the hail - we didn't even get to see the updraft! Alas, it had vanished - collapsing and disappearing from radar. Hail to 1.5 cm defined the edge of the hail core near Tambar Springs.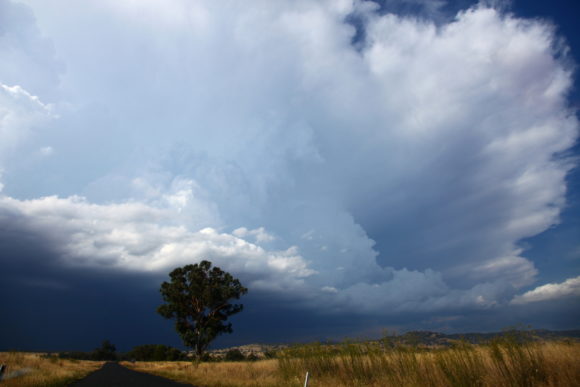 Back south, we had a choice of two black cores - the original one near Bundella dropping epic pulsating bolts - another near Binnaway. Remaining on the main road revealed a nice hardened side anvil and beautiful updraft structure! Time-lapse of the storm over parched landscape provided a breather - a time to reflect in awe of nature! Lightning bolts intermittently pierced the earth. The storm base morphed into a step structure and then another updraft seared upwards. The Bundella storm to the east eventually collapsed sending an outflow boundary towards our storm extending its life cycle. But it eventually became undercut and skeletal structure.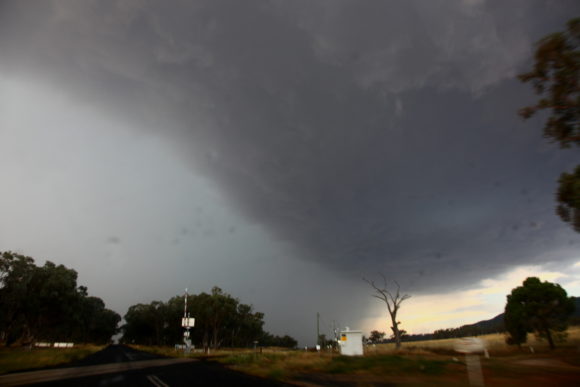 Meanwhile, the storm we had watched on radar near Cumnock was racing northeast and another storm near Mendooran southeast. Destination - Dunedoo! Venturing back past Coolah, we once again left in our wake the blackened fields of raging fires behind. Weaving between views of both storms provided photographic opportunities of their defined shapes. Pick me - pick me! But there was beast to choose! The Mendooran storm produced yet another powerful updraft that increasingly came into view.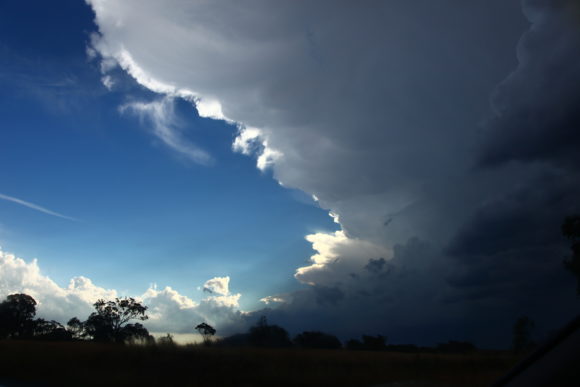 Through the haze, a striated base emerged. Enroute to Golden Highway and Dunedoo was simply awe inspiring. The setting sun illuminated the crisp anvil and updraft structure! Light filter through multiple-striated layers. I don't know how Rodney contained himself driving frantically to get a glimpse of the base. He murmurs - "This is the best storm structure I have seen in Australia!". Meanwhile, the rate of Jimmy's shutter speed increased. He snobs a few pics of the less organised structures now in line with the setting sun.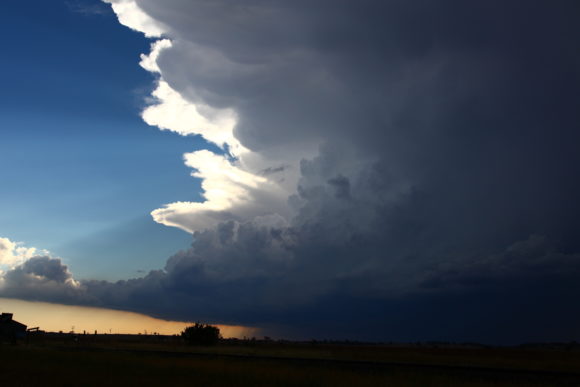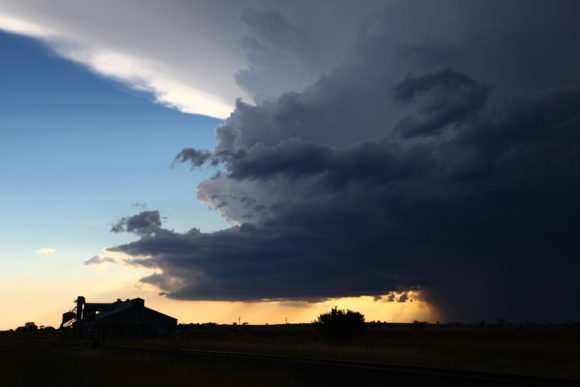 Finally, the storm inflow structure and possible beaver tail is revealed. A narrow green glow illuminated between the updraft. Copious strands of hail streaks descend and curve in towards the back side of the core. A small break through the trees and "Stop here" I yell. The car hardly stops as I rip the door open. "Could you please grab my tripod Rodney". I did not want to waste any time capturing the storm in its splendour! I guess after being sun-burnt until 3:30 in the afternoon with barely a few hopeless photos to show, you don't wast any such opportunities!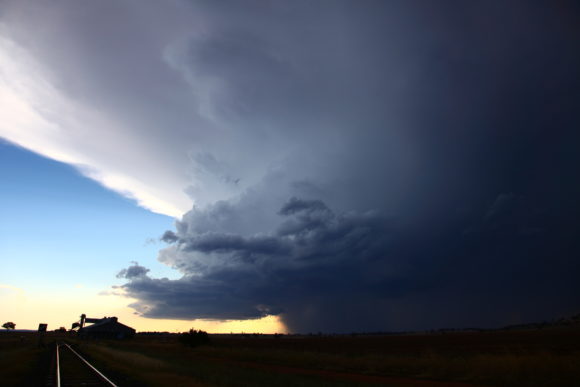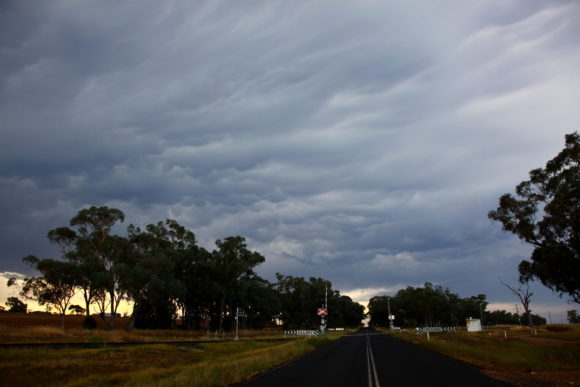 The sun sets - its rays reflecting on the mammatus and updrafts still spinning like a top! It was too tempting. I halt the video and point upward - overhead. Disgustingly, a huge purple bolt descends adjacent to the updraft! "I can't believe it", I yelled in total frustration! It was the only disappointing moment in an otherwise jaw dropping spectacle! I set up for more video, but the storm had had its day and was evaporating upwards.
"This deserves a steak Rodney"! Time-wise though, we would have to make it quick - home arrival time was past midnight. I order a steak - Rodney orders a mixed grill. When we were served and knowing the rate Rodney eats, I extended the arrival time by one more hour! This plate was huge and could feed an army!
I wish I could say that I enjoyed the trip home and chatted about the storm. Instead, I was faced with a dilemma: fuel! Gulgong service station was shut. Let's head to Mudgee! Nothing! Lithgow being 120km away, it was heart stomping journey to Lithgow. You could hear a pin drop in the car!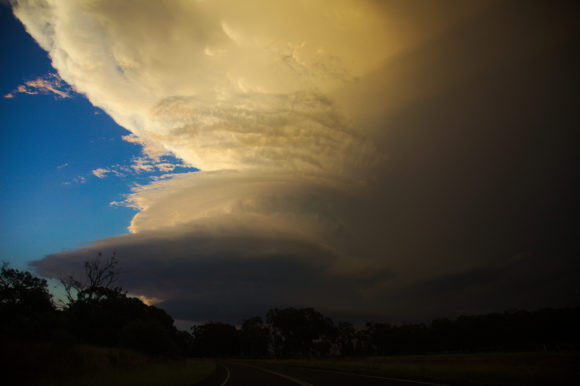 Rodney read every 5km decrease in distance sign to Lithgow! Rodney finally questions me nervously - "Do you think we will make it?" "Err, we should." I suggested. It was nearing midnight and every hill tested whether the fuel pump could reach and suck in the last few litres of petrol! Every fuel station lay deserted. One final punt and we crept into the United. I never caught the fuel price but its glow brought a sigh of relief!
Saturday night in Lithgow sent several men across the road. Even in my tired state, I stopped suddenly and began to reverse. They were simply drunks in the end. We moved on.
Battling the elements of mist and low cloud we made it home at 1:30am.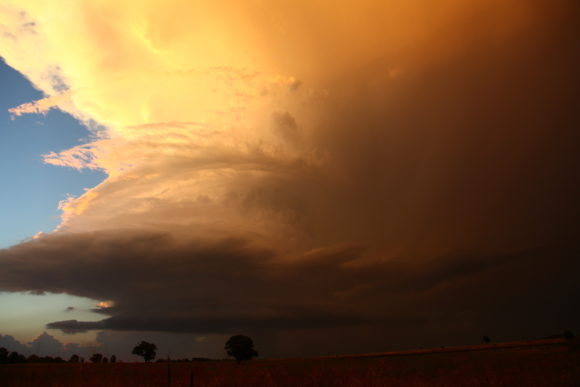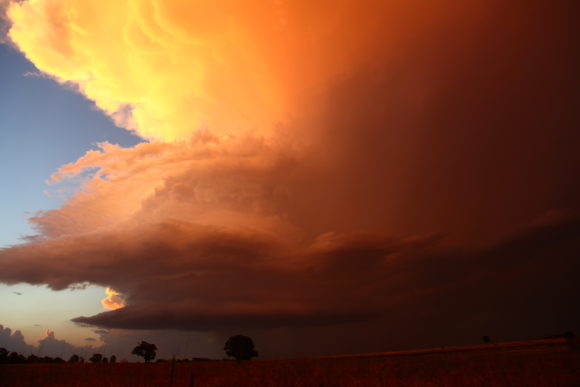 Storm @weather @ajsg @StormHour @photoweather1 @PhotosAdvices @Exist2Chase @AUSSKY @WeatherNews2016 @StormchaserUKEU @spann @Photography pic.twitter.com/mheCOPQsIN

— Jimmy Deguara (@JimmyDeguara) March 1, 2017
Related Terms: