An active weather system impacted much of northern and eastern Australia during the period Monday 6 March to Wednesday 15 March 2023.
The system initially brought flooding rains across remote and outback north west areas of Queensland and even isolating the remote town of Burketown (Queensland). Weekly rainfall figures for the period Monday 6 March and Sunday 12 March are impressive with isolated totals exceeding 500 mm from heavy rain and storm events. These include:
Century Mine - 557 mm.
Gereta Station - 394 mm.
Herbert Vale - 357 mm.
Burketown - 303 mm.
Mt Isa - 216 mm.
Other than the town of Mt Isa which has just under 20,000 residents, the area is remote country with limited road networks and communities are spaced apart. Most of the flooding would have impacted only rivers, water courses and areas where few people live.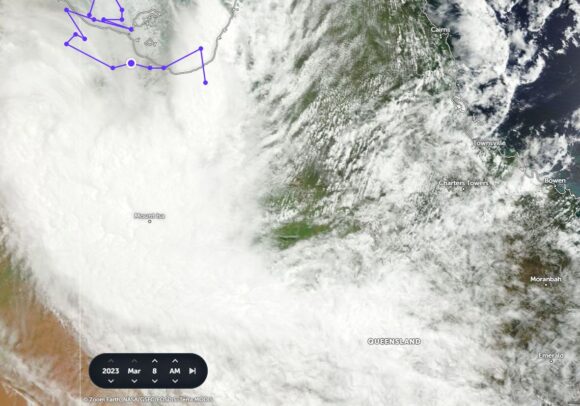 Some daily rainfall totals are impressive considering the location. These include:
Mt Isa - 86.8 mm to 9 am 9/3/2023 plus another 30.4 mm to 9 am 10/3/2023.
Cloncurry - 60.8 mm to 9 am 9/3/2023 plus 16 mm to 9 am 10/3/2023.
Both towns have a general semi arid climate.
Lake Julius - 147.6 mm to 9 am 9/3/2023 plus another 53.6 mm to 9 am 10/3/2023.
Carters Bore - 85.4 mm to 9 am 9/3/2023.
Such rainfall has resulted in major flooding of watercourses across the region.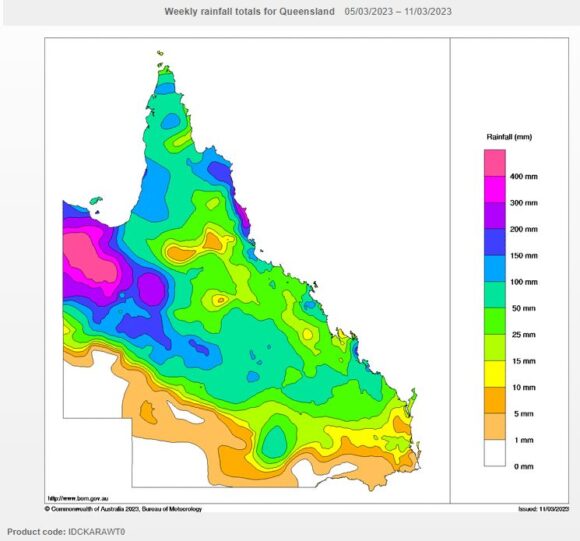 New South Wales rainfall - Sunday 12 March 2023
Slow moving thunderstorms and rain events across the north west slopes and plains of New South Wales generated strong rainfall totals within the Gunnedah / Tamworth region and areas to the north towards the Queensland state border. For the 24 hours to 9 am Sunday, the following rainfall totals occurred:
Tamworth - 66 mm.
Gunnedah - 55.8 mm.
Goondiwindi - 38.8 mm.
Areas around Gunnedah received 56 to 76 mm and Tingha (Near Inverell) received 50 to 55 mm.
Queensland rainfall - Sunday 12 March 2023
Another area that received high rainfall was centered around the inland southern Queensland area where 100 mm plus falls occurred. This included:
Dunolly - 153 mm.
Glenorie - 133 mm.
Barta Park - 122 mm.
Tomoo - 110 mm.
The rain and storm cells were slow moving and thus areas not within their path missed out completely or received very light totals.
Sunday afternoon
On Sunday afternoon, a minor storm chase was undertaken to Windsor and Richmond and an interesting cell was photographed to the west. This cell eventually rained itself out but some interesting cloud structure was observed.
Interestingly, some localized but heavy rainfall totals occurred from these including an early evening cell around North Richmond and Kurrajong where rainfalls topped 50 mm. All other areas of Sydney missed out or only received very light totals.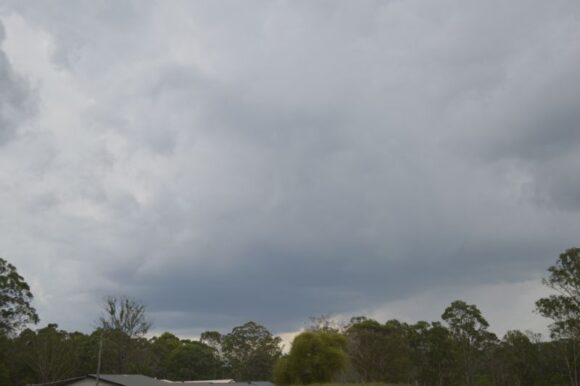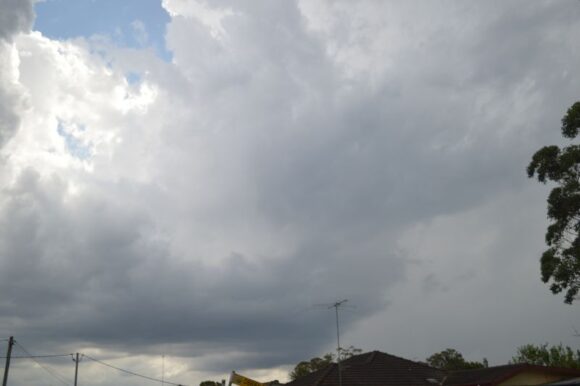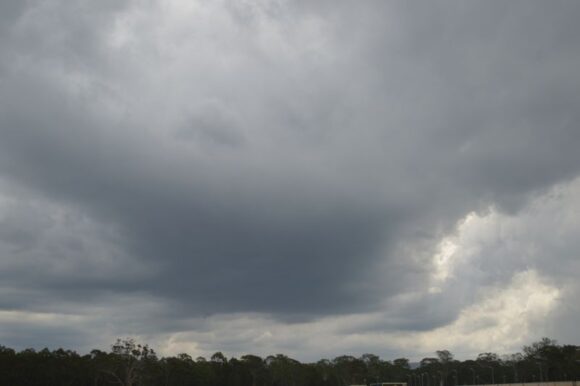 Rainfall to 9 am Monday 13 March 2023
Stationary rain and storm cells generated an isolated rainfall total of 113 mm at Temora Airport (Northern Riverina) with such falls being a rare event for the town. Other strong falls included:
Berthong - 99 mm.
Young - 76 mm.
Muttama - 54 mm.
Other localities missed out and such rainfall did not occur further south.
While this was occurring, a separate system impacted large parts of Wollongong that produced isolated rainfall totals of 138 mm. This included:
Foxground - 138 mm.
Brogers No 2 - 99 mm.
Dombarton Loop - 77 mm.
A small area within the Central Tablelands received up to 108 mm including:
Halton - 108 mm.
Gresford - 64 mm.
Isolated heavy rainfalls impacted parts of the New South Wales North Coast with slow moving cells resulting in the following:
Taree - 103 mm.
Cabbage Tree Mountain - 90 mm.
Gleniffer - 72 mm.
Port Macquarie - 70 mm.
By this stage, most of Sydney had missed out and only very light totals had occurred across the city.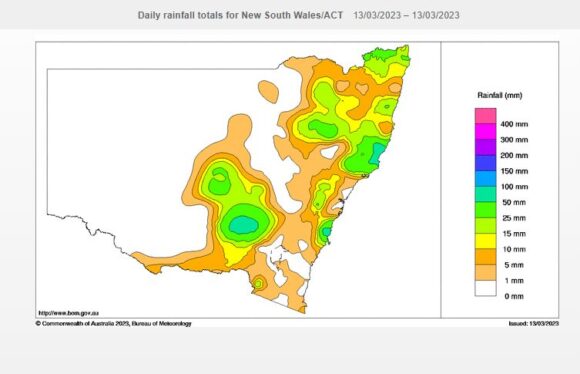 South East Queensland Squall line - Monday afternoon
A strong squall line passed through south east Queensland that brought rainfall totals of 50 to 75 mm across Maroochydore and some higher totals such as that at Eumundi Alert - 78 mm.
Brisbane City received 10 to 73 mm depending on location with the highest total occurring at Samford Village Alert, located north west of the city.
Unfortunately, two people were struck by lightning in two separate incidents with one sheltering under a tree on a golf course.
Rainfall totals to Tuesday 9 am - Tuesday 14 March 2023
Some significant rainfall totals occurred again but this time across the Mid North Coast of New South Wales but at different locations including:
Logans Crossing - 166 mm.
North Bonville - 158 mm.
Lake Cathie - 143 mm.
Tuncurry - 118 mm.
Forster - 100 mm.
Laurieton - 96 mm.
Coffs Harbour - 33 to 86 mm.
Sydney's turn - Tuesday morning to afternoon
During Tuesday, it was Sydney's turn to experience some of the slow moving rain cells however, when compared to the above, rainfall totals were much lower. Moderate and heavy showers produced a maximum of 36 mm at the North Ryde Golf Course and 28 mm at Erskine Park and Horsley Park being the higher totals. Most other totals were considerably less than this.
There was also a separate fall of 60 mm at Wollongong and 70 mm at Warilla.
By Tuesday evening, the weather system generating the showers, weakened and a clearing trend ensured.
The photos attached to this post are taken Sunday afternoon showing a developing thunderstorm cell. While no thunder was heard, the base was sustained and an updraft tower observed. After taking the photos, the cell rained itself out.
Related Terms: