The month of September 2022 was another wet month for most of New South Wales with rainfall in many areas topping 100 mm.
Sydney Observatory Hill
In particular, Sydney Observatory Hill recorded 90.2 mm for the month and as a result, the weather station had recorded 2,100.8 mm of rain between January 1 and September 30 2022. As at September 30 2022, the weather station only needed another 94 mm of rain to set a new rainfall record since records commenced.
The Sydney rainfall plots for the 9 month period is attached to this post.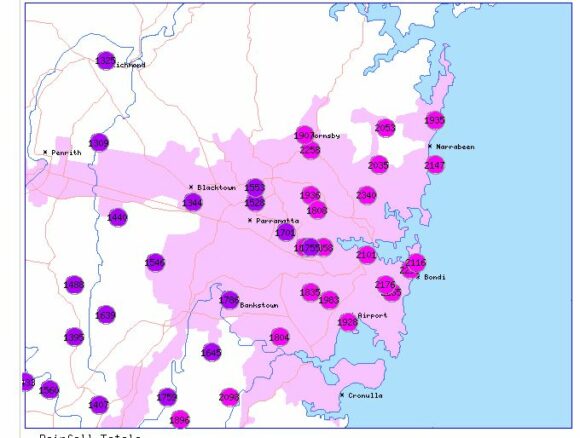 Note - It must now be emphasized that since this date, another 153 mm of rain had fallen at Sydney Observatory Hill to 9 am Saturday October 8 and the new rainfall record was established on Thursday afternoon between 1 pm and 1.30 pm. This will be documented in detail in a separate statement.
Significant rain events for September 2022
There were at least four significant rain events for the month all of which have been covered within separate posts. As a result, rainfall in many areas finished up as being significantly above average.
Another feature of 2022 is the lack of significant warm days. Usually by September 30, maximum daytime temperatures would have reached 25C to 30C on a few occasions. However, warm days have been exceptionally rare or non existent especially within Western Sydney. Where I live in Western Sydney, the maximum daytime temperature has only reached 23C on 2 occasions for the August to September period.
A temperature of 24C had not been reached for the same period. Cloud cover and constant rain has had a remarkable impact on daytime temperatures.
Rainfall for August
As shown in the table below which is updated from the table of August 2022 for the same New South Wales localities, rainfall across coastal centres is impressive and a few localities have now topped 2,500 mm.
SYDNEY REGION
September 2022
So far for 2022
Parramatta
83.2 mm on 17 days.
1,561.2 mm.
Penrith
80.8 mm on 17 days.
1,468 mm.
Richmond
87.4 mm on 19 days.
1,324.8 mm.
Sydney (Observatory Hill)
90.2 mm on 17 days.
2,100.8 mm.
Home (Comparison and guide only)
91.7 mm on 16 days.
1,506.7 mm.

It is calculated that rain has fallen on 134 days throughout the 9 months of 2022 to September 30.

NORTH COAST NSW
Ballina
222.6 mm on 11 days.
2,502.4 mm
Coffs Harbour
129.6 mm on 9 days
2,235.8 mm
Dorrigo
273.8 mm on 11 days.
2,580.1 mm
Grafton
195.4 mm on 11 days.
1,427.6 mm
Port Macquarie
244 mm on 14 days
2,186.8 mm
WHEAT SHEEP BELT NSW
Albury Airport
144.2 mm on 16 days
852.8 mm
Dubbo
104.8 mm on 15 days
782.8 mm
Forbes
90.2 mm on 19 days
658.6 mm
Tamworth
145 mm on 12 days
640 mm
Wagga Wagga
73.6 mm on 16 days
504.8 mm
Discussion Water and the Land Plots
Attached are relevant Water and the Land Plots showing the rainfall for September 2022 to reinforce the discussion above. In particular: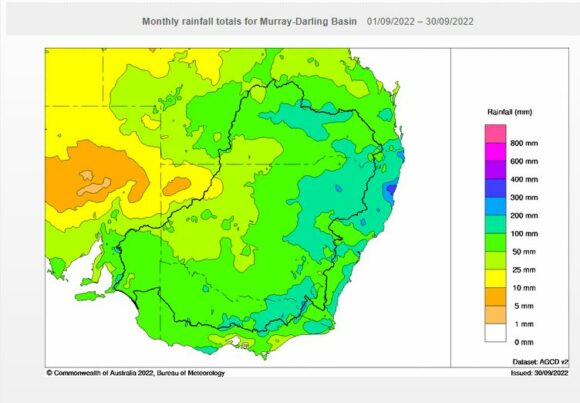 Most of the state was wet with rainfall being "Very much above average" for significant areas of the inland and Murray Darling Basin".
There were very few areas that missed out. The highest rainfalls occurred across the eastern areas and especially the Mid North Coast around Coffs Harbour.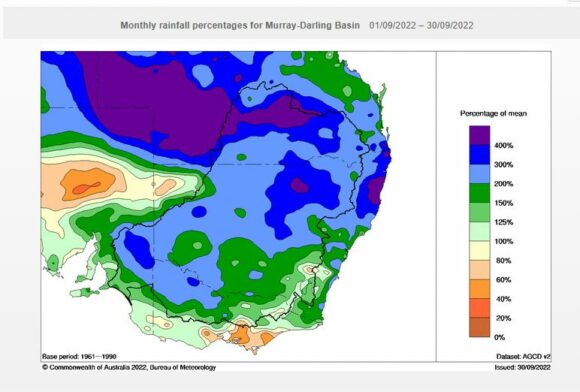 Flooding
Flooding of inland rivers has become an issue for the Darling, Lachlan and Murray Rivers. Flooding ranges from being minor to major depending on location.
On Sunday, 2 October 2022, I had the opportunity to visit Warragamba Dam and walk out onto the dam wall. This was unique because for the first time ever, I was able to see close up significant water releases being made to create spare capacity within the reservoir in anticipation of more rainfall.
Such scenes are being repeated at many dams around the state because many have now reached capacity. This in turn is contributing to the flooding situation along many rivers.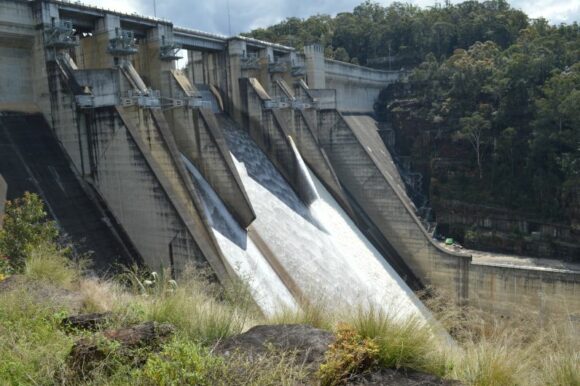 Notes
1 - All rainfall and historical rainfall used is sourced from BOM historic data and data from official weather stations.
2 - While I have a rain gauge set up in the rear yard, it is only being used as a guide but it is noted that it is relatively consistent with official figures occurring at nearby Prospect and Horsley Park where official weather stations are established.
Related Terms: