As expected, a significant and unusual rain event has impacted large regions of Eastern Australia over the past 2 days. Initially, the event impacted northern and Eastern Queensland in areas that do not usually see such high rainfall at this time of year.
For the 24 hours to 9 am Friday morning, falls of 27 mm to 35 mm were common within areas north of Cloncurry and higher totals of 50 to 99 mm were common around Innisfail (Queensland). Furthermore, higher rainfall totals of up to 119 mm were recorded at Garradunga Alert and 110 mm at Rankin Creek. Generally the higher totals fell around the Cairns / Ingham region.
For the 24 hours to 9 am Saturday morning, a significant swathe of Queensland including Brisbane received falls of between 25 mm and 49 mm with isolated totals exceeding 50 mm.
While this was occurring, a more significant but more localized event began to occur within a small area from Shelharbour to the north to Ulludulla to the south (New South Wales South Coast) and west to the Great Dividing Range.
The coastal strip including Nowra received substantial rainfall resulting in localized flooding. Maximum rainfall totals topped 229 mm at Brogers No 2 (Brogers Creek) and 221 mm at nearby Broughton Creek. A fall of 215 mm fell at Foxground and 203 mm at Wattamolla. Such high totals were limited to the hills south of Shellharbour and in areas close to Kangaroo Valley. High totals of 171 mm also fell at Wollongong, 170 mm at Kiama and 153.8 mm at Ulludulla.
During the period, most of Sydney had only received light rainfall totals but higher totals to 32 mm fell at Cronulla to the south east.
However as suggested by the heading, during Saturday afternoon a burst of heavy and substantial rainfall passed over much of Sydney resulting in some isolated totals topping 100 mm especially to areas adjoining Sydney's southern suburbs.
Most areas of Sydney by 7 pm Saturday evening had received falls of 25 mm to 60 mm with higher totals reaching 134 mm at Lucas Heights. The higher totals are confined to the southern areas of Sydney.
As shown in the attached photos taken at Doonside, substantial heavy rain fell between 4 pm and 6.30 pm.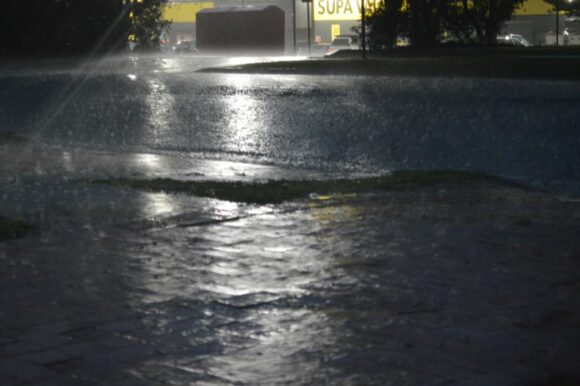 There are already concerns of local flooding along the Hawkesbury River and moderate flooding began to occur at Menangle Bridge in Sydney's South and minor flooding at Liverpool Weir (Georges River).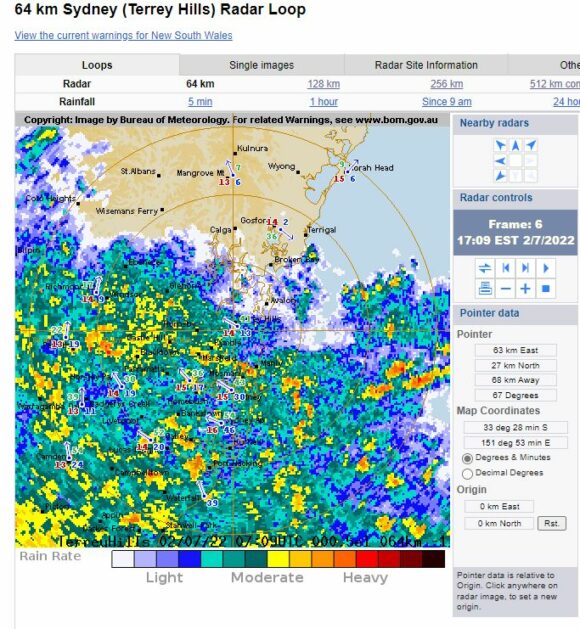 There is significant concern over coming hours of what may occur due to such rainfall. Flooding is inevitable and flood watches are now in place for the Hawkesbury River and low lying areas.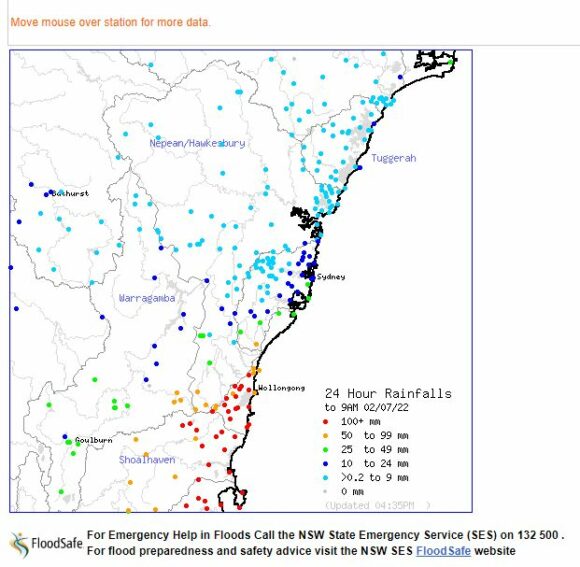 Sunday is likely to be of particular concern given that falls of 120 to 150 mm are being forecast for Sydney. Given that catchments are still wet, such rainfall will lead to new flooding.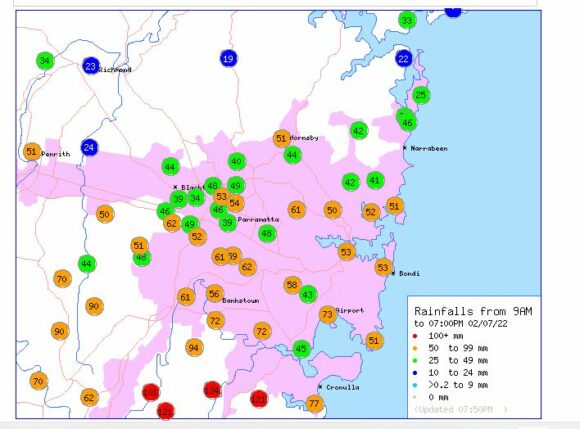 The rainfall plots for Sydney and region at 5 pm and 7 pm Saturday evening are attached which provides an idea of what has been occurring over the past 2 hours. This will continue for some time to come.
Related Terms: