Monthly Archives:
November 2012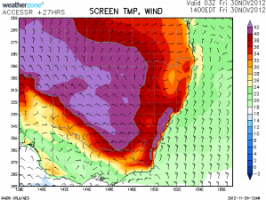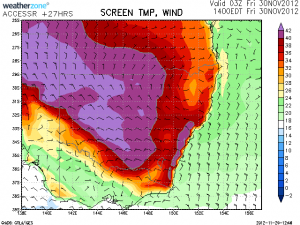 Well, it has been in the models for some time and I heard it from Nick last Sunday - it was going to be hot today. When you see 850hPa 24C isotherms over you the rule of thumb suggests about 40C at the surface!
I would think with such heating storms will develop in some regions of NSW but they will be high based.
What temperatures are people predicting for Sydney's west today? How about maximums in NSW?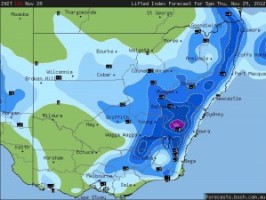 Latest models again pointy to the potential of storms including some that may go severe later today. It would be great if the storms can tap into the surface moisture. Any storms that reach high up in the atmosphere will be the ones to watch. This is a similar environment tot yesterday. However, temperatures have warmed somewhat to -8C at 500hPa. a marginal setup but I suspect very electrically active storms if they can form in a deep atmosphere.