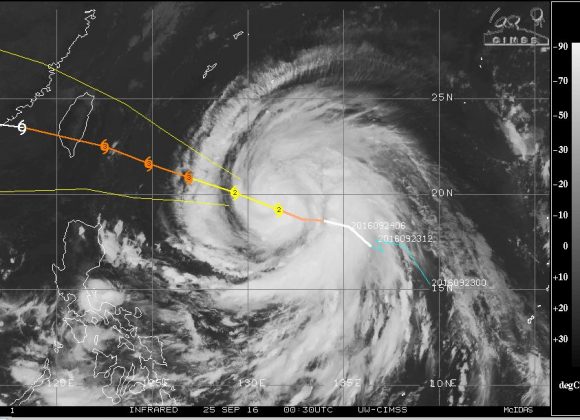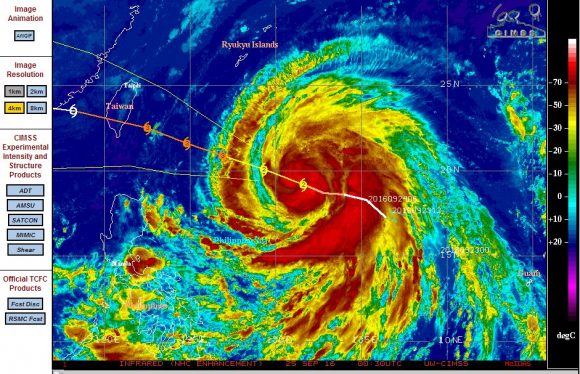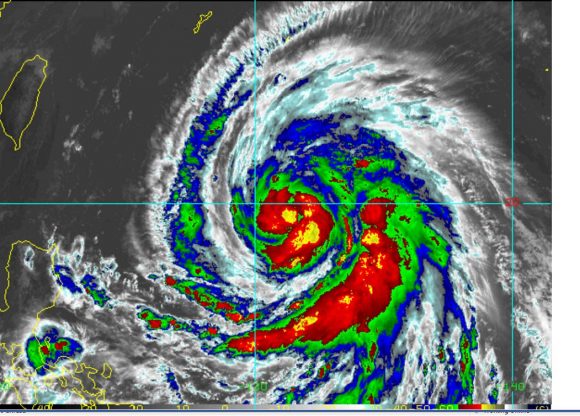 The north west Pacific Ocean is the worlds most prolific region for tropical storms and certain regions are highly vulnerable to such storms. The country of Taiwan in particular is no stranger to such storms and barely 2 weeks after a Category 5 typhoon grazed the southern tip of the island and another Category 4 storm traversed along the east coast, another strong typhoon is looming for the island.
The named storm Megi transitioned from a tropical storm overnight into an impressive spiral shaped typhoon west of Guam and is now travelling towards the island. Landfall is expected in approximately 2 days.
Forecast models show a storm reaching Category 3 on the Saffir Simpson Scale just prior to landfall with winds of approximately 110 knots (Approximately 204 km/h) and higher gusts to 135 knots (Approximately 250 km/h).
The storm is supported by an ocean with temperatures of 30C although ocean temperatures adjacent to Taiwan have dropped to 28C which may have an impact on the intensity of the storm just before landfall.
Should the storm sustain its forecast track, this would make it the third typhoon within three weeks to affect the island in some way. It would strike the east coast with very heavy rain and winds and weaken as it traversed the mountainous island. The worst affected region would be the least populous east coast with the mountain barrier offering an effective barrier to the more densely populated west coast.
This storm clearly shows how vulnerable the island is to powerful tropical storms within the north west Pacific Ocean.
CREDITS
CIMSS – Forecast model for Typhoon Megi dated 26 September 2016.
CIRA - Enhanced Infra red image of Typhoon Megi dated 26 September 2016.
Related Terms: