A dynamic weather event has crossed through southern Australia during the 5 and 6 February 2021 which has generated storms, heavy rain, gale force winds and local flooding.
This is the second or third major event within the past 10 days for some areas.
Southern New South Wales, the Riverina area of New South Wales and the ranges of North East Victoria has been most impacted by this event.
Some of the thunderstorms generated by the system become strong and the leading edge of one storm system generated intense rainfall. Samples include:-
Wagga Wagga - (Where a total of 63 mm fell to 9 am 6/2/2021) - An afternoon thunderstorm on the 5/2/2021 produced 7 mm of rain within 7 minutes between 4 pm and 4.07 pm. Between 4.07 pm and 4.11 pm, 5.4 mm of rain fell with a peak wind gust of 63 km/h and between 4.11 pm and 4.21 pm, 12.6 mm of rain fell (This is 12.6 mm in 10 minutes). This storm dropped 24.8 mm of intense rain within a period of 21 minutes.
Albury - (Where 37.8 mm fell to 9 am 6/2/2021) - An afternoon thunderstorm dropped 9.4 mm of rain in 9 minutes between 2.46 pm and 2.55 pm which was accompanied with a peak wind gust of 63 km/h.
Mt Buller - (Weather station at 1,707 metres in elevation) - (Where 45.6 mm fell to 9 am 6/2/2021). A peak wind gust of 126 km/h occurred at 11.06 pm 5/2/2021.
Bourke - (NW New South Wales) - A significant rain event occurred at Bourke where 45 mm fell to 9 am 6/2/2021).
Thunderstorms produced 69.2 mm of rain at Falls Creek (NE Victoria) to 9 am 6/2/2021 with a peak wind gust of 107 km/h at 10 pm 5/2/2021.
In southern New South Wales, Long Plains had 144 mm of rain, Cabramurra had 118 mm of rain, Batlow had 117 mm of rain, Thredbo had 121 mm of rain and Tumbarumba had 104 mm of rain. The areas are generally within or on the western slopes of the Snowy Mountains of New South Wales.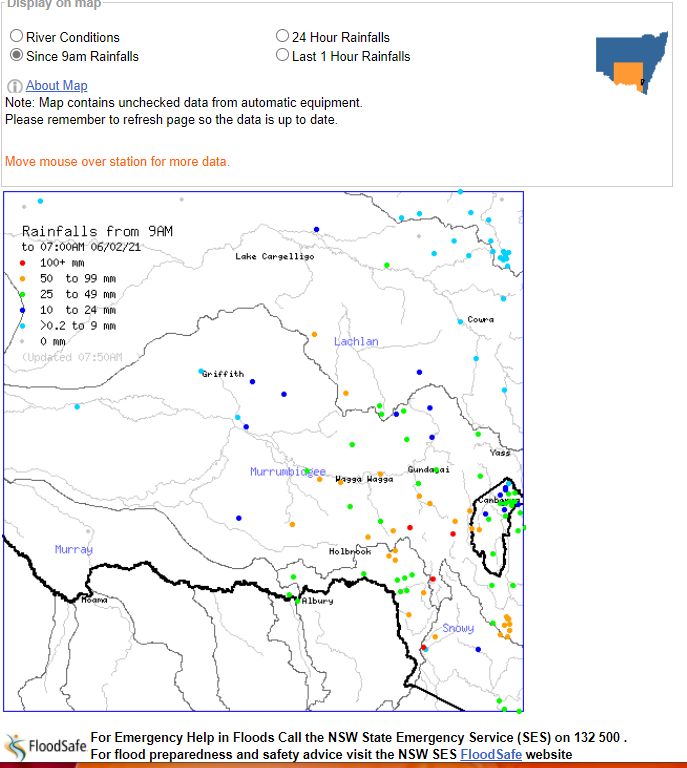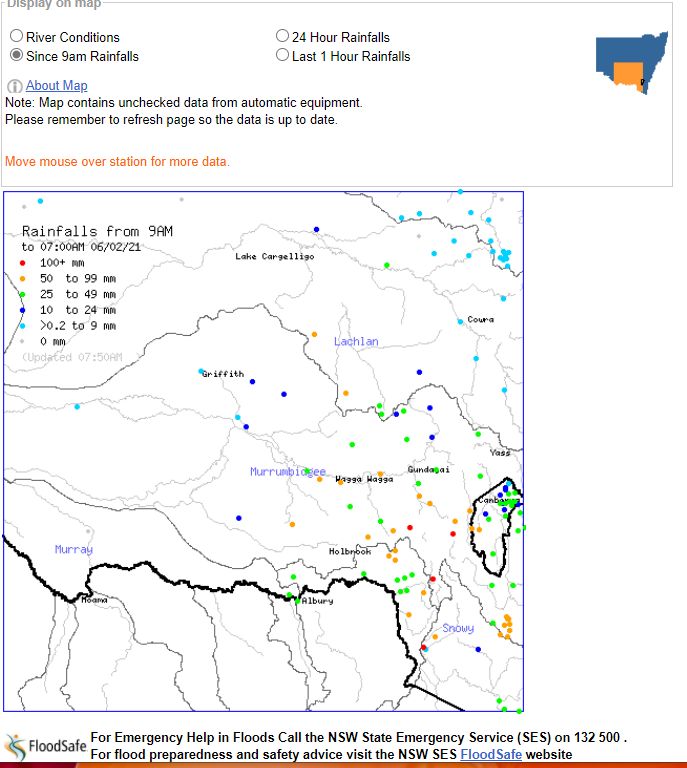 In the Central West area of New South Wales, Ungarie and West Wyalong had 56 mm and Junee (South West Slopes) had another major event where 60 mm fell to 9 am 6/2/2021.
Portable situated north of Culcairn (South west slopes of New South Wales) had 70 mm of rain to 9 am 6/2/2021.
In North East Victoria, Mt Hotham AWS had 119 mm, Lightning Creek had 116 mm of rain and Carbour Upper and Harrietville had 103 mm. Hunters Hill had 91 mm of rain and 83 mm fell at Bright.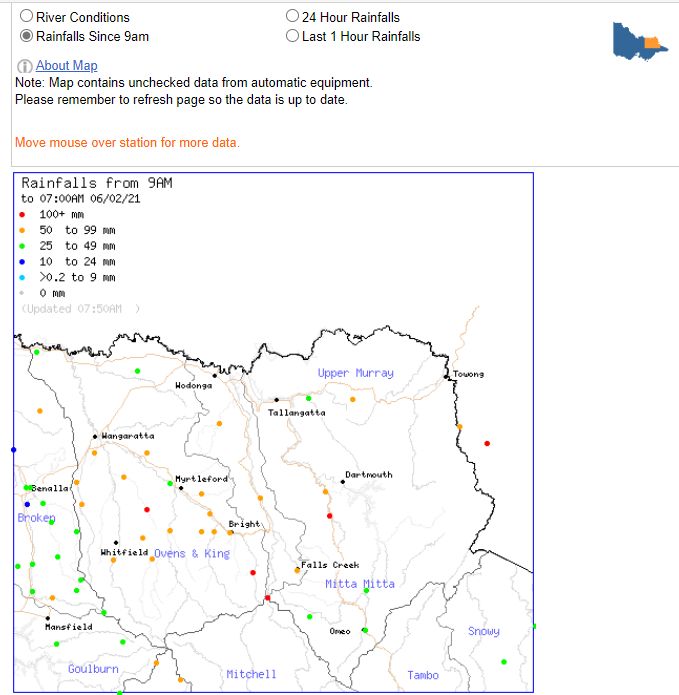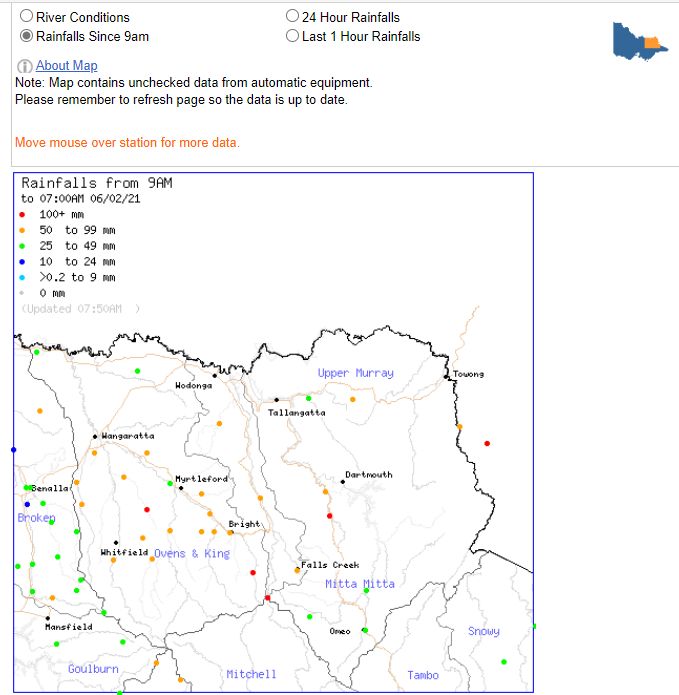 The higher totals are within the ranges or foothills of the Great Dividing Range.
The event and the previous event have resulted in runoff and minor flooding was observed at Mc Callums (Tallangatta Creek near Tallangatta) following the event. Other streams and rivers within the region experienced rises although significant flooding was avoided.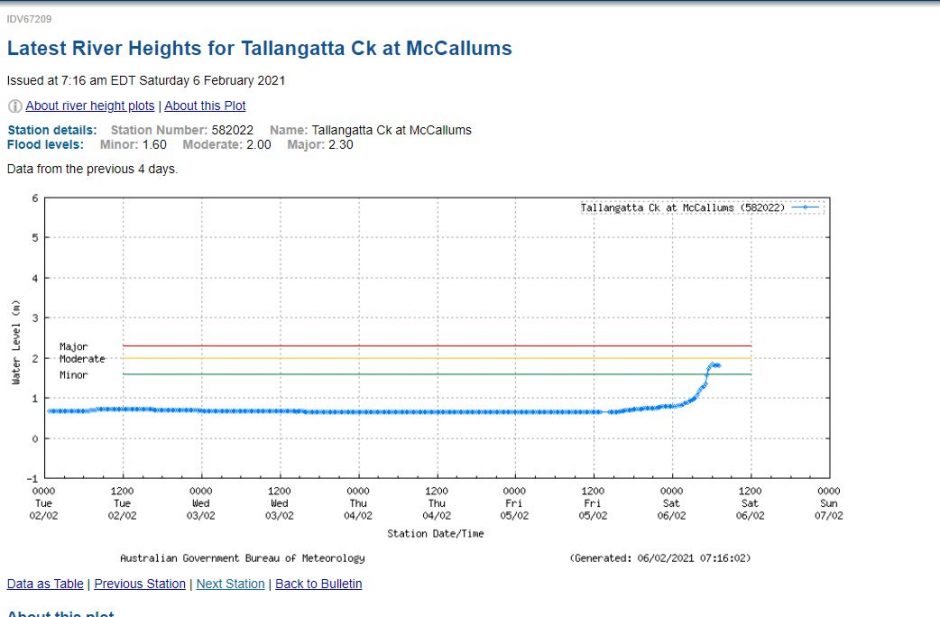 The system has passed over Sydney although it has only brought light rainfall totals from passing showers.
There have been moderate falls across the Central Tablelands of New South Wales including 27.8 mm at Orange and 25.4 mm at Dubbo to 4 pm 6/2/2021 and lighter totals elsewhere.
The rainfall plots to support the above are provided from the Bureau of Meteorology "Water and the Land". The River Height at Tallangatta Creek is provided showing the maximum river level reached although flooding now subsided along that watercourse.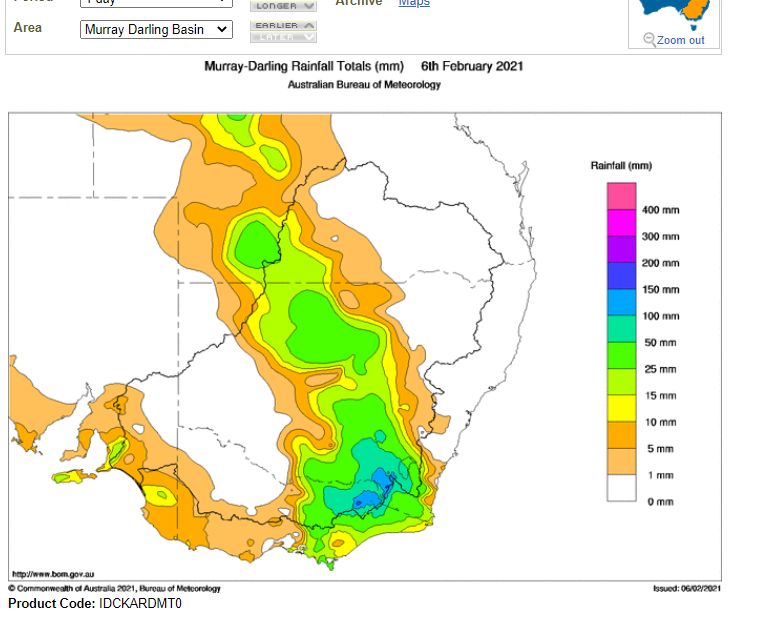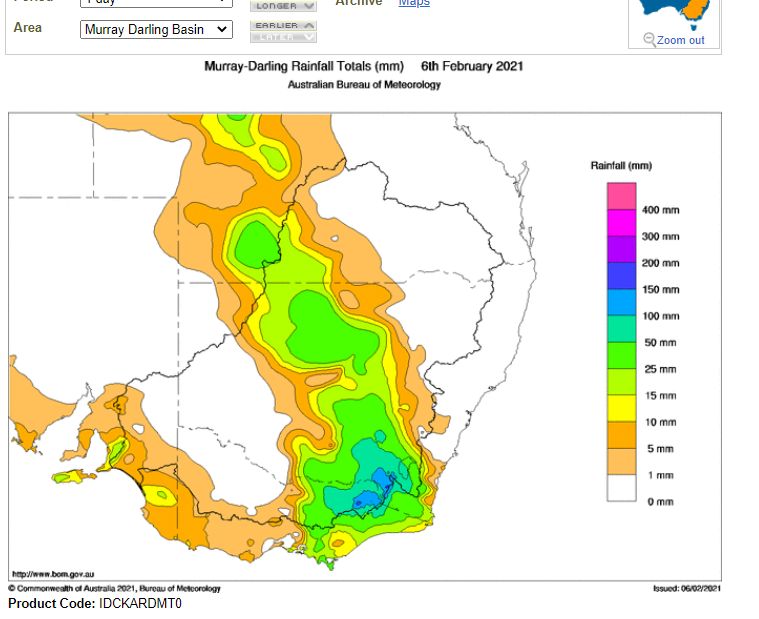 Related Terms: