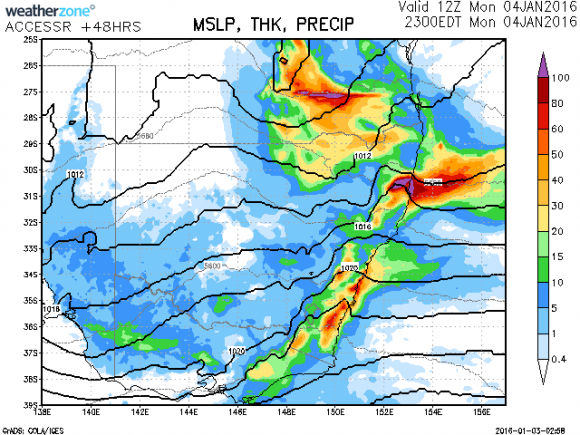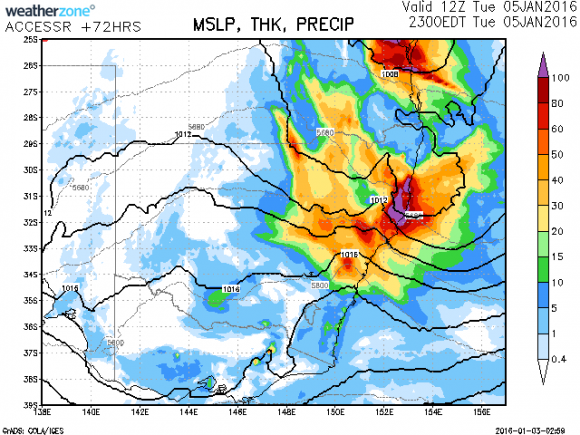 With a low pressure system slowly edging its way through Queensland from Northern Territory, it seems models are excited about a substantial rainfall event across eastern Australia particularly NSW during the period 4th and 5th January 2015. Much of inland severely drought affected areas have received their most significant rainfalls in at least a year or more.
Approaching from the north border areas of Queensland, the cloud mass with ample moisture and heating should lead to locally very heavy rainfall but also widespread useful rains across most areas east of Walgett to north east NSW on the 4th and then nearer Sydney and central coastal areas on the 5th January. Although it has been period of extended dry periods, most regions particularly on the coast are not drought declared but certainly this rain would be welcome in topping dams, water tanks and freshening the gardens. Rainfall totals may approach or even exceed 100mm in localised areas but widespread rainfall is expected to be in the 30 to 40mm range. If rainfall figures near or exceed 100mm, localised flooding may occur so keep a check on the Bureau of Meteorology advices and warnings as well as possible road closures.
A low pressure system is expected to develop off the central coast and this may intensify the rain Tuesday and Wednesday but have the effect of moving the rainfall off and away from the coast.
Related Terms: