During the period 15 to the 21 February 2021, coastal showers have impacted the coastal strip of New South Wales from Sydney to the Queensland border and inland to the Great Dividing Range. Very little of the rainfall has penetrated inland west of the Great Dividing Range.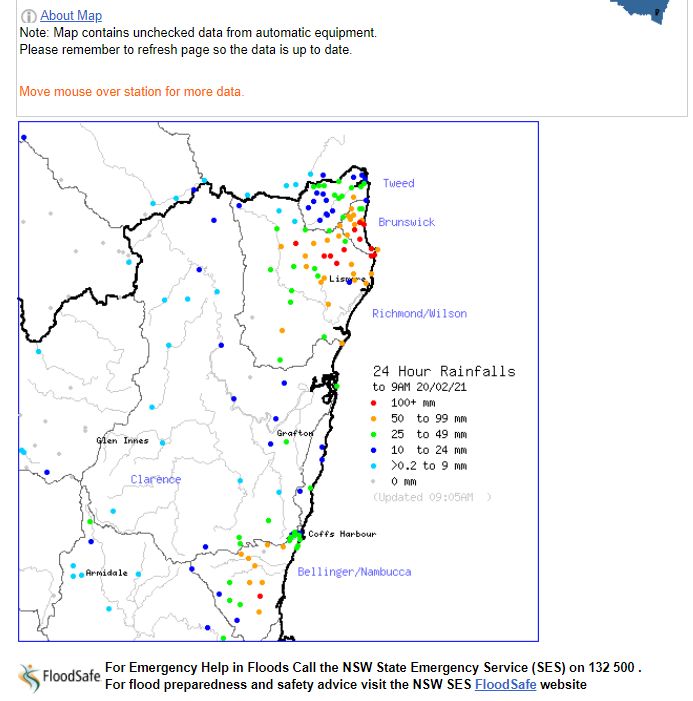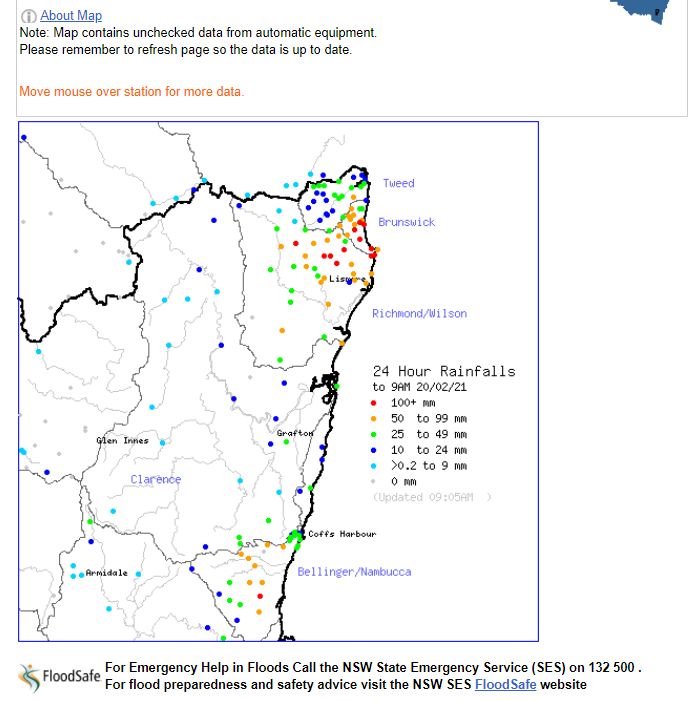 Some rainfalls have been significant in localized areas and over the past 7 days, accumulative rainfalls have been significant for some locales. For the 24 hours to 9 am 20/2/2021, some heavy rainfall totals include:-
Richmond / Tweed River valley / Far North Coast (NE New South Wales)
The Channon 201 mm.
Dunoon 163 mm.
Byron Bay 131 mm.
Mullumbimby 121 mm.
Yelgun Creek.
Localised falls exceeding 100 mm were common in this area but limited to this region.
Bellinger Valley
Bowraville 116 mm.
Mid North coast
Redoak 129 mm.
Laurieton (Mill Street 118 mm).
As a result of the constant rainfall, some flooding has occurred in river catchments including the Bellinger River at Thora and the Wilson River at Lismore, both of which were in minor flood during Saturday.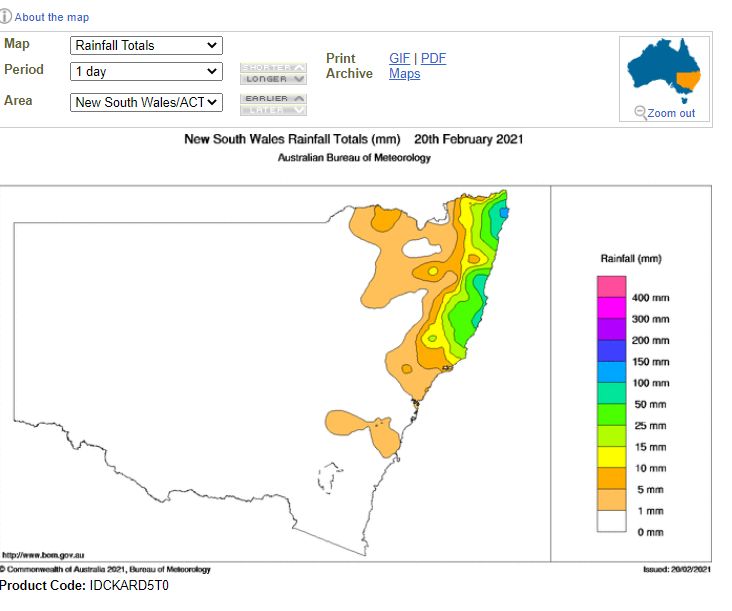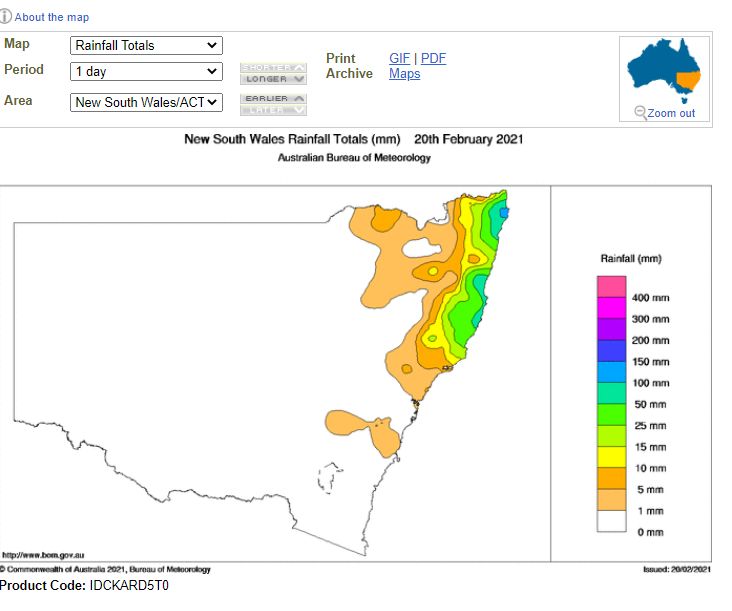 During Saturday 20/2/21, constant showers soaked the Port Macquarie region on the Mid North Coast of New South Wales which included rainfall totals of 65 mm at Port Macquarie Dam and 72 mm at Redoak (Figures for the 24 hours to 9 am 21/2/21).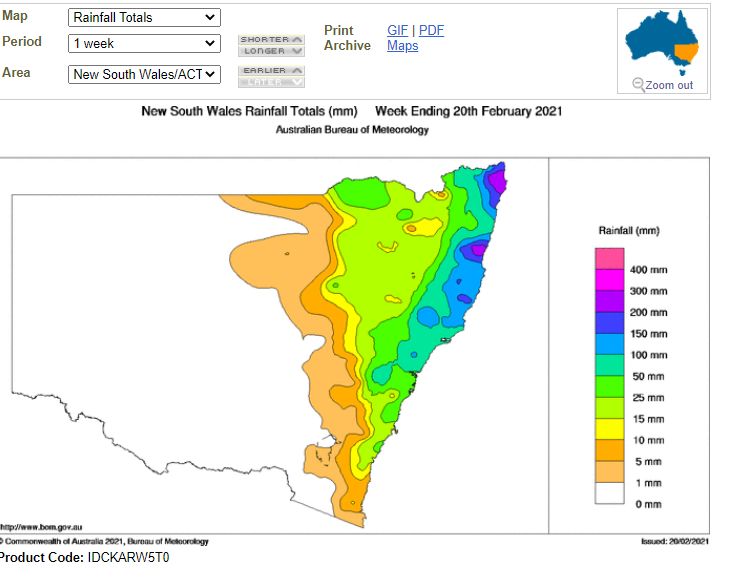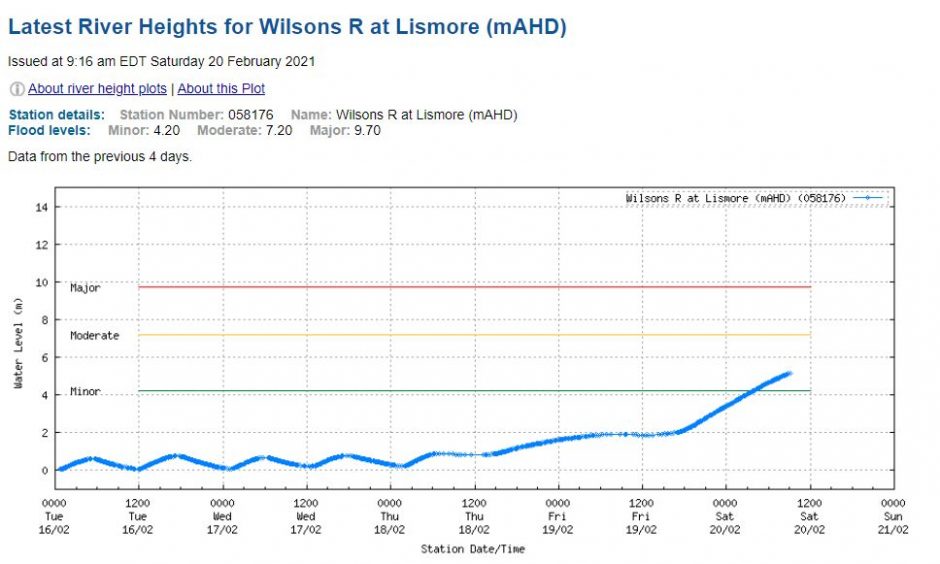 For the week ending 20 February 2021, accumulative rainfall totals have reached in excess of 200 mm for the coastal areas of the Tweed River Valleys and the Bellinger Valley / Coffs Harbour Region with significant areas of the North Coast of New South Wales also receiving at least 100 mm to 150 mm.
Across Sydney, falls have been lighter with accumulative totals in the range of 25 mm to 50 mm common however some of the showers have also been heavy although brief in nature. Onshore winds have brought much cloud and high humidity with regular showers, especially overnight and early morning but no significant hot weather.
The rainfall plots have been generated from the Water and the Land site (Bureau of Meteorology) dated 20 and 21 February 2021.