Hi guys,
Coincidently, I was working today in one of Penrith's suburbs. Who was to guess even up to 10 minutes prior, a storm was going to explode as it did this afternoon. I left school about 2:50pm and headed south to investigate the activity nearer Camden. I did not even get near the area - I was not impresed with radar. I was actually checking a boundary that would pass through the region. Just south of Orchard Hills, I noted the rainfree base of what seemed like a small cell and took interest with it tapping the moisture. In hindsight, it would have been in the region of the trippled point!
After watching the cell begin to drop its first shower, I decided to head back north. Only in Penrith and I saw two bolts of lightning. To me the frequency of these two bolts puzzled me. The rapidly increasing rain core also puzzled me but also look familiar to a heavy rainfall event last year! I raced east along the M4 and up the M7 and wow!! Was that a wall cloud? Definitely a solid rain free base with scud. Decision time - which exit do I take?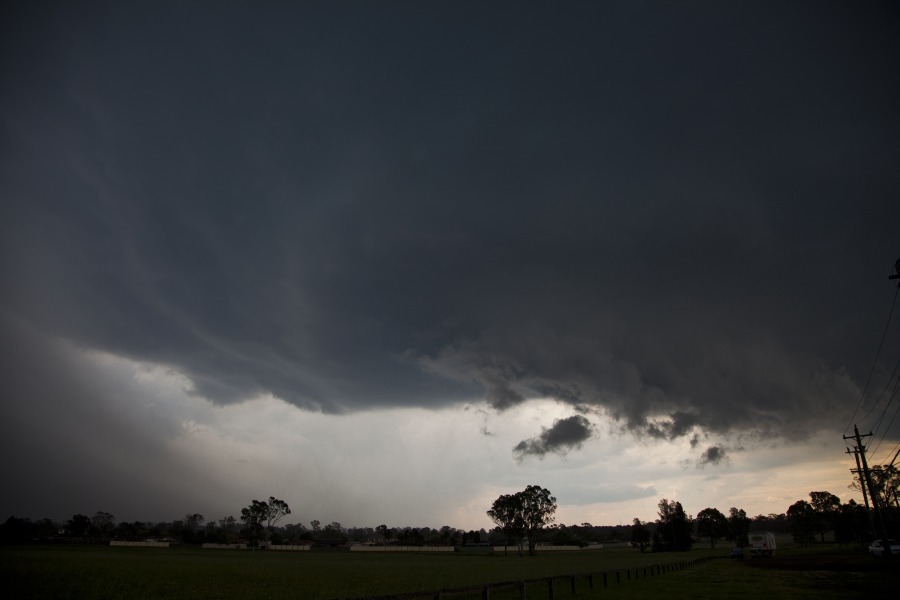 The road headed E soon but I required to remain out of the rain. I took the punt and exited the Richmond Road turn-off. It was raining lighly but I had excellent visual of the base and feature!
I took video and pictures in this spot for 15 to 20 minutes and then headed back on the M7. On the egde of the core, you could feel the hailstones edging closer but none reported. The rest of the chase was trying to fight Sydney traffic through Castle Hill - and then north. I missed a couple of opportunities of taking a couple of shots and that was it! The storm collapsed almost as quickly as it developed.
A nice afternoon's chasing - surprise event!
Regards,
Jimmy Deguara
Related Terms: