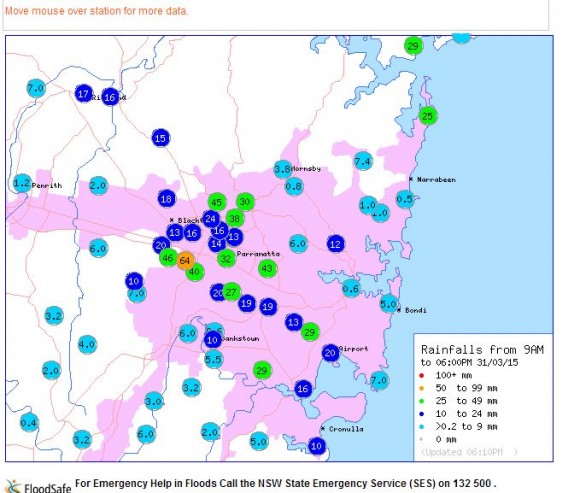 Late morning 31/3/2015, a rain cell developed just to the west of Sydney's CBD and tracked westwards first impacting Strathfield, then Sydney Olympic Park, Auburn, Merrylands and onto Prospect. The rain cell weakened as it tracked further further west.
This cell intensified around the Auburn region into a heavy thundery shower.
Looking at news reports, SES personnel were called out to numerous flooding jobs at Dulwich Hill, Strathfield and Concord West, many relating to flooding and leaking roofs. On that note, the roof of the Council building where I work also had leaking issues.
This rain cell dropped some serious rainfall totals as seen in the attached plot including:-
64 mm at Greystanes.
46 mm at Prospect Reservoir.
45 mm at Baulkham Hills.
43 mm at Homebush Bay West.
Much of the rain was localised but fell within the period 11 am to 12 noon. For example at Homebush Bay, the weather station recorded 4.8 mm at 11 am but by 12.30 pm, 42.2 mm had fallen.
Just before the event, a substantial but dark cloud base hung low over the region before unleashing the rainfall. At Homebush Bay weather station:-
The 11 am temperature reading was 19.9C but dew points were 19.4C.
The 12 noon reading was 18.3C but dew points were 18C.
At 12.30 pm the reading was 18.4C but dew points were 18.2C.
This is reflective of the very low dark cloud base observed prior to the event. The event was largely over by 12.30 pm.
Related Terms: