While weather conditions have become more settled across Eastern Australia, a tropical storm developed well off the north - east coast of Australia which over the past two days (Thursday 10 to Saturday 12 February 2022) has tracked south - south east.
The storm was later named "Dovi". The storm strengthened into a weak Category 1 Tropical Cyclone (Saffir Simpson Scale) as it tracked southwards towards New Zealand. The CIMSS Forecast Track map is attached.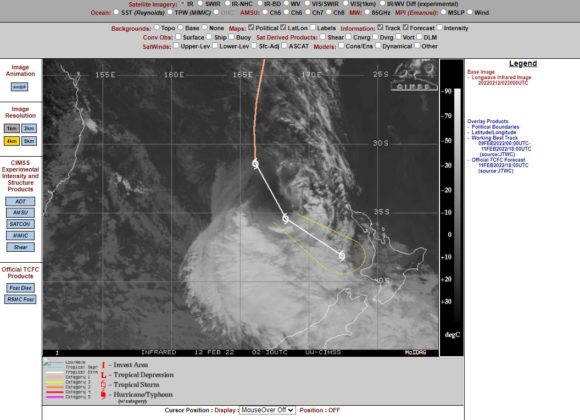 The storm has remained far enough off the Australian coast and thus had no impact to any of the Australian coastline.
As shown in the NASA Worldview Image of Friday 11 February 2022, the storm was sustaining an eye and had peak wind gusts of at least 65 knots at the core (Approximately 120 km/h). The storm brushed the South - East coast of New Caledonia as it developed then tracked southward away from the island.
The storm remained out over open ocean for its entire life span as a tropical cyclone.
The storm is now Ex tropical Cyclone Dovi which at the time of writing, is encroaching towards the west coast of the North Island of New Zealand.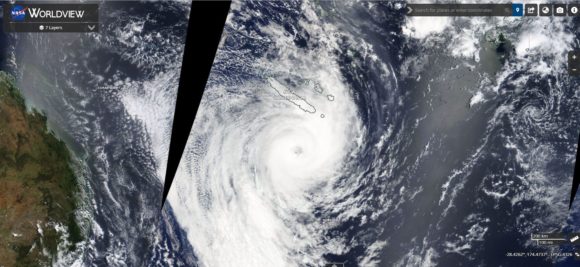 Notwithstanding the fact that the storm has weakened, The New Zealand Meteorological Service has issued weather alerts for many parts of the North Island for gales and heavy rain including:-
Taranaki with specific forecast of heavy rain around Mt Taranaki with falls of up to 220 mm and 50 to 100 mm elsewhere.
Tongariro National Park and Taupo with falls of 80 to 120 mm.
Wellington (City) for heavy rain of 100 to 180 mm.
Tararua Range for heavy rain 180 to 270 mm.
Marlborough for heavy rain 100 to 150 mm.
Generally, the severe weather forecasts are for the areas most exposed to the rain being the windward side of mountain ranges and flood warnings are being issued for numerous rivers within the forecast areas.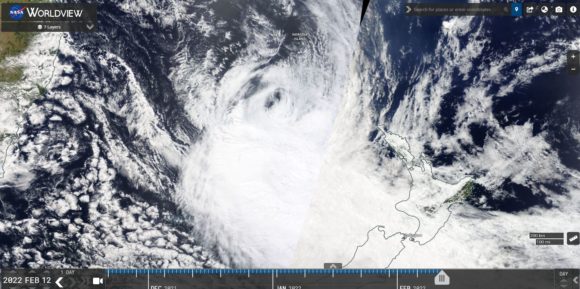 Thus while this storm has remained mostly out to sea, it will cross over the North Island of New Zealand as an Ex Tropical Cyclone during Sunday where it will have its greatest impact. The storm is expected to cross New Zealand rapidly with conditions easing during Monday.
Related Terms: