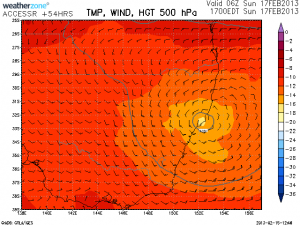 It seems like an upper level low is anticipated by the models approximately about the Sunday period. Not much precipitation is expected due to perhaps low level ridging. However, it may provide the focus for thunderstorm development as well as showers and rain in the region near north and south of the Sydney region particularly along the ranges.
Perhaps some storms may move in from off the coast. I guess we'll see what happens. Temperatures aloft are quite cool and as you can see from the model image, winds are circulating clockwise although this is a mid-level feature at about 5km into the atmosphere.
Interestingly, the GFS model has the upper level low lagging until about Monday with the associated instability more favourable then.
Related Terms: