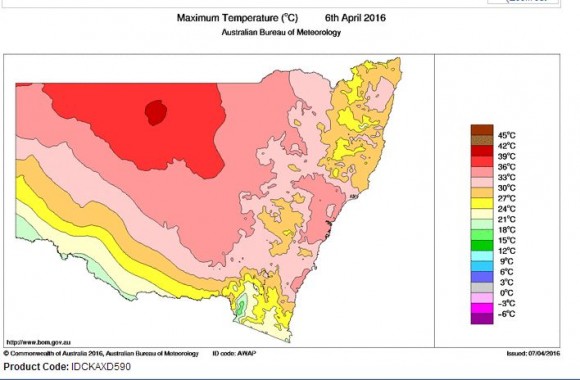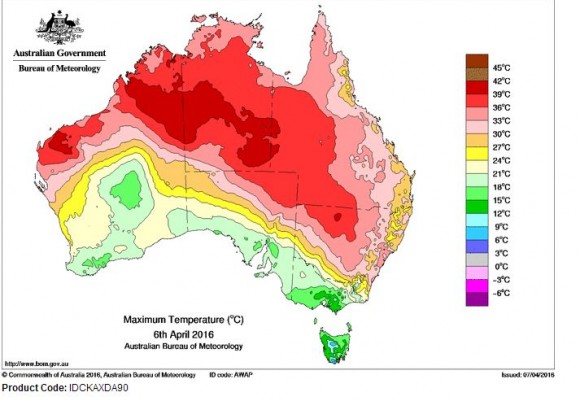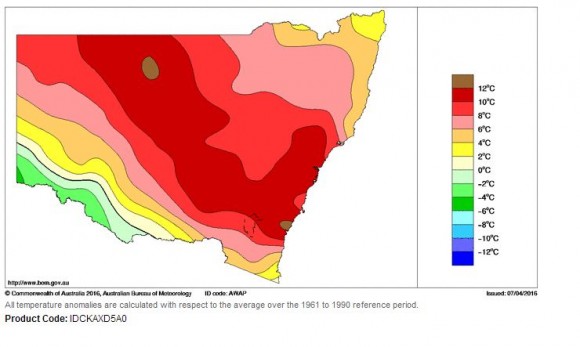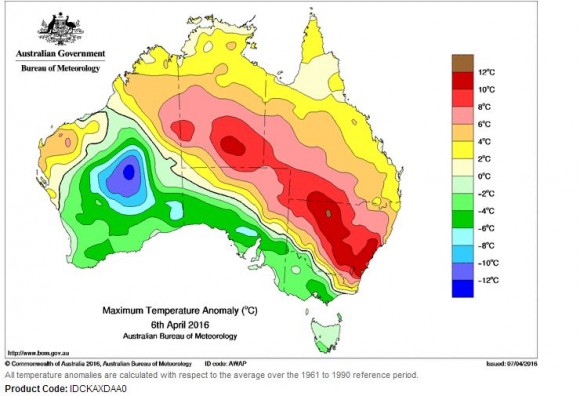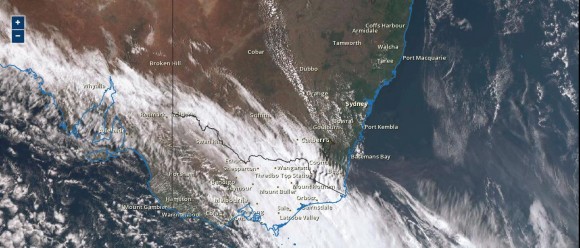 A strong cold front passing across southern Australia has heralded what should be the end of the summer heat. The air ahead of this front has been relatively hot and maximum daytime temperatures have soared well above average.
In areas such as Western Sydney, it has reached 30C on two consecutive days which is quite rare for April. Generally, it has reached 30C on 4 of the first 6 days of April in areas such as Penrith and Richmond and 3 days in areas such as Blacktown and Camden.
It is suggested that a new April maximum high temperature has been set for Sydney (6/4/2016) following a maximum of 34C being recorded in the city.
In Victoria, maximum temperatures soared well above average during Tuesday with maximum temperatures reaching 29C in Melbourne, 30.5C at Swan Hill, 31.7C at Geelong, 31.8C at Albury and 32C at Mildura. The cold front dropped temperatures sharply throughout the state during Wednesday as hot dry north west winds were replaced with colder south to south westerly winds.
Across New South Wales, some high maximum daytime temperatures have occurred which is more common of summer rather than April. At Bourke in particular, it reached 36.6C on the 5/4/16 and 38.6C on the 6/4/16 and it is suggested that was the hottest April day anywhere in New South Wales for 30 years (Source Weatherzone 6/4/2016).
The air ahead of the front has seen maximum temperatures push into the mid 30Cs in areas that would not normally see such degree of heat at this time of year including:-
Penrith - 36.2C at 3 pm.
Camden, Maitland and Tocal - 36C at 3 pm.
Blacktown - 35.7C.
Moruya - 35C before the change went through late afternoon.
Sydney city - 34C at 1.24 pm (This event follows a downpour overnight Sunday / Monday that saw 94.4 mm of rain fall).
Even places such as Canberra reached 30.5C at 3 pm and Bathurst had 30C.
The cold front certainly made its presence felt because Merimbula on the New South Wales far south coast only reached 23C due to the early arrival of the change and Bega only reached 24.2C at 10.30 am.
There was a wide maximum daily temperature variation between Merimbula and Moruya on the New South Wales south coast due to the presence of the cold front moving slowly along the south coast.
With the passage of the cold front, it is unlikely that such high temperature will be seen again this summer season across south east Australia and Autumn is expected to take hold as the transition towards winter gathers pace.
The plots taken from the Bureau of Meteorology "Water and the Land" for:-
1 - Maximum temperature for 6/4/16 for New South Wales and Australia.
2 - Maximum temperature anomaly for 6/4/16 for New South Wales and Australia.
Are attached.
Both show the heat affecting the state and the impact of the cold front passing through. Interestingly across a narrow swathe of New South Wales being south east to north west, the maximum temperature anomaly was 10C to 12C above average for the day. This is an incredible contrast to Victoria where maximum temperatures were 4C to 6C below the long term average behind the change.
The satellite photo of south east Australia dated 6/4/2016 shows the cold front and cloud mass generated. Some light to moderate rain has fallen across southern Victoria but generally there was not much rain with the change further north as it passed through. (Source - Himawari 8 / Bureau of Meteorology and dated 6/4/2016).
Related Terms: