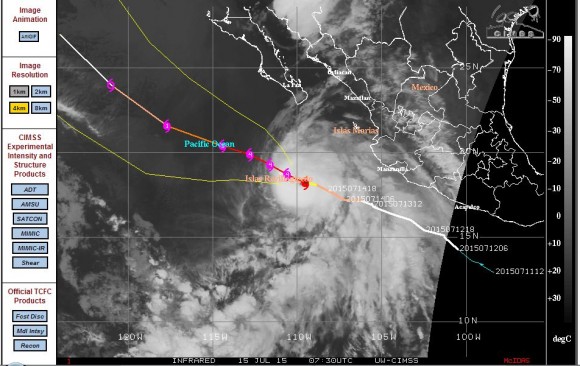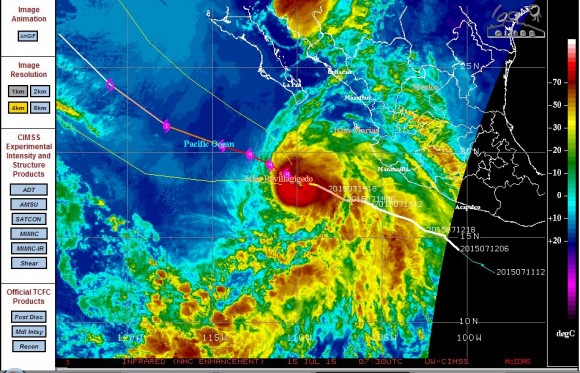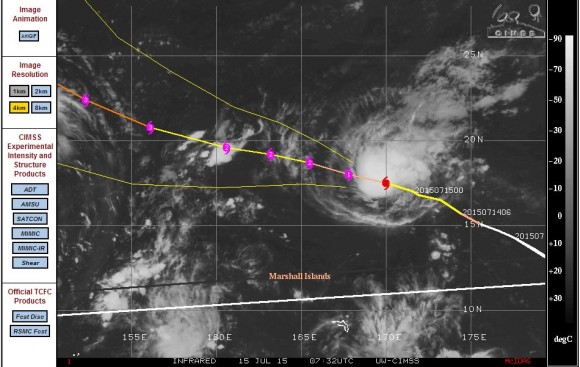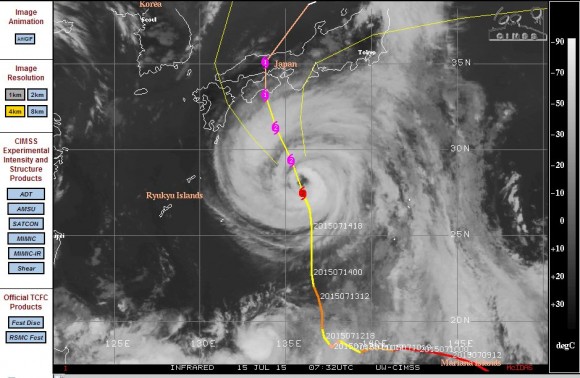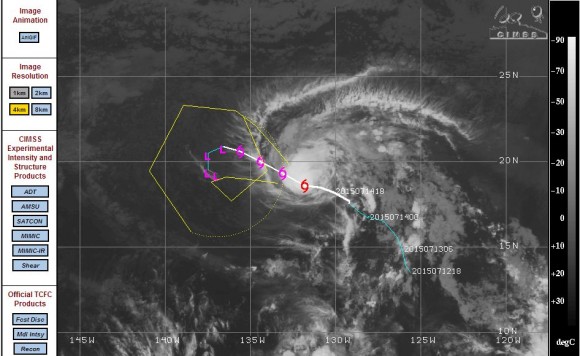 The Pacific Ocean is currently in an active phase and a number of tropical storms, hurricanes and typhoons are identified across the tropical ocean basin.
Recently Typhoon Chan Hom decayed following landfall over the east coast of China that brought heavy rain, flooding and damage estimated at $300 million but very few fatalities.
Currently Typhoon Nangka which has been relatively long lived in duration is making its final approach to the southern Japanese coastline but as it does, it is weakening and now only a category 2 storm.
While the above mentioned storms now fade into memory, a number of new storms have developed. The current storms in progress in alphabetical order are:-
Hurricane Dolores:- This storm has just formed and rapidly intensified into a category 4 storm. It is a powerful hurricane well off the coast of Mexico. The model by CIMSS suggests a path north west and not expected to make landfall. The model suggests that the storm will decay over open water. The storm is sustaining winds of 115 knots at the centre and an eye is visible from satellite photos. Based on the model (attached) this storm should not threaten a population centre.
Typhoon Halola:- This storm has recently formed and currently located 17.5 degrees north and 170 degrees east. This is a very small typhoon with the CIMSS model suggesting a category 2 or 3 storm at its peak. The storm does not pose a threat to any population centre and should pass well north of the Marshall Islands in coming days. It should remain over open ocean.
Typhoon Nangka:- This is probably the most threatening of storms as it encroaches closer to Japan where landfall is now expected. It is a category 2 storm with winds estimated at 85 knots at the core. Currently located 27.5 degrees north and 136 degrees east, its days as a storm are now numbered. The storm will break up once it makes landfall. The CIMSS model suggests landfall as a category 1 typhoon over southern Honshu Island.
Tropical Storm Enrique:- This should remain as a tropical storm according to the CIMSS model. Currently located at 132 degrees west and 19.5 degrees north, the storm remains over open ocean. It is estimated that winds at the centre reach 45 knots but it is a storm to watch.
This shows an active Pacific Ocean basin in terms of storm development. The CIMSS model (Acquired 15 July 2015) in alphabetical order shows the location of each storm documented.
Related Terms: