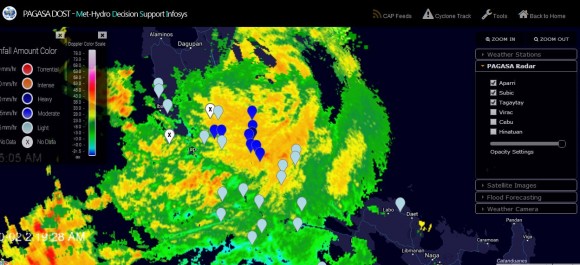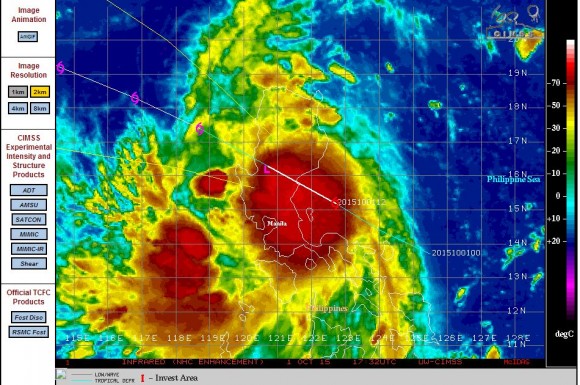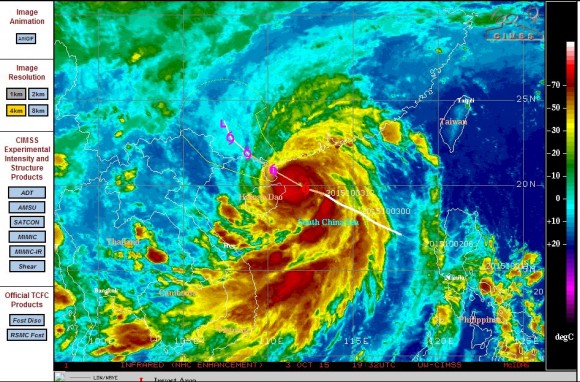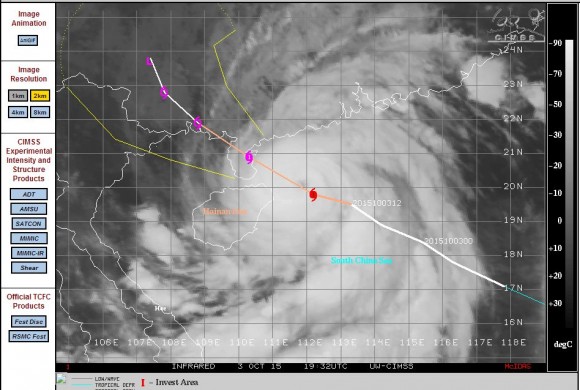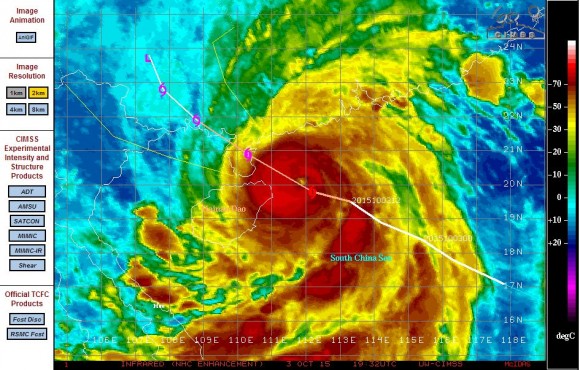 A tropical storm that formed barely east of the Philippines (Luzon Island) Thursday night intensified into a significant storm as it made landfall over northern Luzon Island. During early Friday morning, heavy rain and thunderstorms lashed much of Luzon Island bringing as much as 2.98 inches of rain to Iba (Approximately 75.6) mm.
However another weather station nearby appears to have had 7 inches (Up to 175 mm) according to news reports.
The storm was named "Kabayan" by PAGASA although the storm is now named Mujigae.
During Friday morning, the tropical storm was circulating over Luzon Island and an image of the storm and precipitation shield is generated using the combined radar systems at Appari, Subic and Tagaytay.
The storm had winds of 35 knots as it passed over Luzon Island (Approximately 65 km/h) and some weakening did occur.
Flood warnings were issued for Manilla and low lying areas of Bulacan and others with flood threats issued for Zamables and Bataan areas.
However as the storm returned back to sea over the South China Sea and being within an environment with sea surface temperatures of 30C to 31C, the storm intensified late Friday and into Saturday. As it approached Hainan Island, the storm transitioned into a Category 1 typhoon known as Typhoon Mujigae.
The storm is now making landfall over Hainan Island and south west of Guandong Province. The storm is expected to impact the cities such as Haikou, Maoming, Wuchuan and Zhanjiang and others.
The storm has only had time to reach Category 1 on the Saffir Simpson Scale due to the proximity of land but at landfall, it is sustaining winds of 80 knots (Approximately 149 km/h). Heavy rain and gales will feature at landfall. At landfall the satellite photo shows a small eye although it is partially clouded. The storm will weaken to a rain depression as landfall commences.
CREDITS
1 - PAGASA DOST (Radar image of storm over Luzon Island) acquired Friday 2 October 2015.
2 - CIMSS (Satellite images and forecast track) acquired 4 October 2015.
Related Terms: