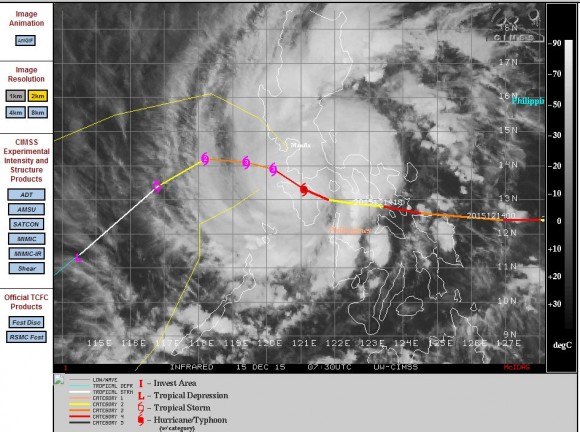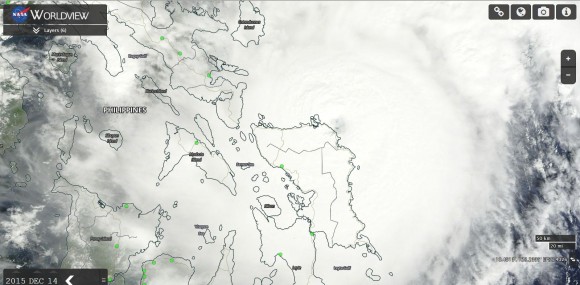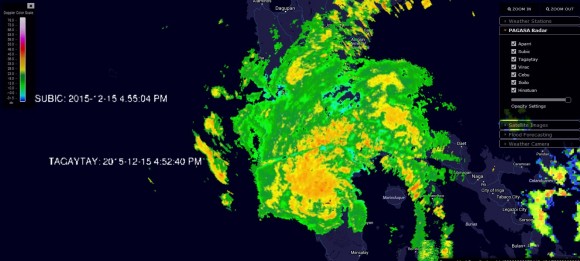 Typhoon Melor (Nona) has made landfall passing over portions of Mindoro, a portion of Luzon Island (Southern tip), northern part of Samar Island, Mashbate and Tico Islands (Philippines).
The storm has intensified significantly and its strength is well in excess of earlier forecast models.
The storm has reached a powerful Category 4 on the Saffir Simpson Scale with sustained winds in excess of 125 knots or 231 km/h with higher wind gusts reaching or approaching 150 knots or approximately 278 km/h. This makes it a powerful storm especially for mid December.
The storm at 4pm 15/12/2015 was located at 13.2 degrees north and 120.8 degrees east and appears to have reached maximum intensity. According to PAGASA, the storm at 4 pm was over Santa Cruz Oriental Mindoro but its speed had slowed.
Over the next 12 hours, this storm should make its closest approach to the capital city of Manila but should stay to the south of the capital. The storm is then expected to travel back over over open water and slowly decay.
On December 14, the storm was sustaining winds close to the core of 127 knots or 235 km/h with peak gusts to 135 knots or approximately 250 km/h.
At 5 pm December 15, PAGASA was warning of moderate to heavy rain within 250 km of the eye with flash floods and landslides expected for areas under Signals 2 and 3. Storm surges of two metres were also in the forecast warnings issued.
Metropolitan Manila is under Signal 1 for the duration of the storm and hence significant damage across the city is not expected.
At 4 pm 15/12/2015, there were regions under Signal 3 including Santa Cruz with warnings for property damage, flooding and damage to crops.
CREDITS
The images of the storm are provided as follows:-
1 - CIMSS (Image and forecast plot acquired 15/12/2015) - It clearly shows its location and strength. The eye is not visible but an eye was identifiable on the satellite photos of the 14/12/2015.
2 - NASA (Images acquired from MODIS Worldview dated 14/12/15 with overlays) - The images show the storm commencing landfall over the far northern edge of Samar Island. The eye is clearly seen in the pictures.
3 - Radar image (Acquired from PAGASA 15/12/2015) - This is from the Tagaytay radar unit. The precipitation shield is impacting the capital city of Manilla.
Related Terms: