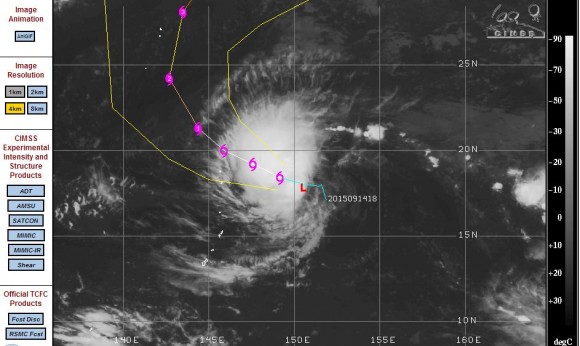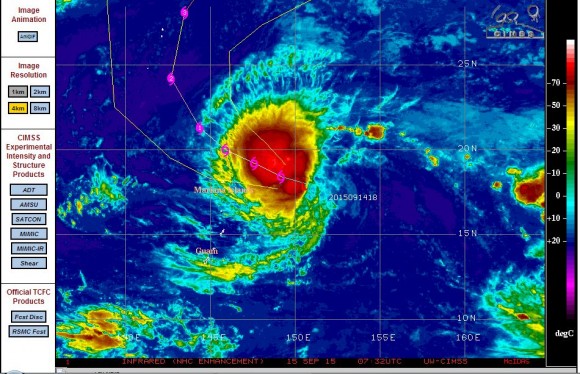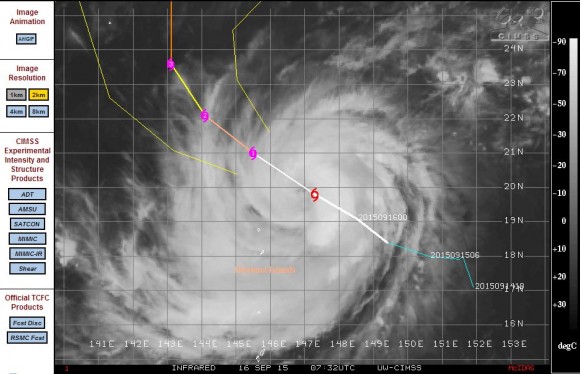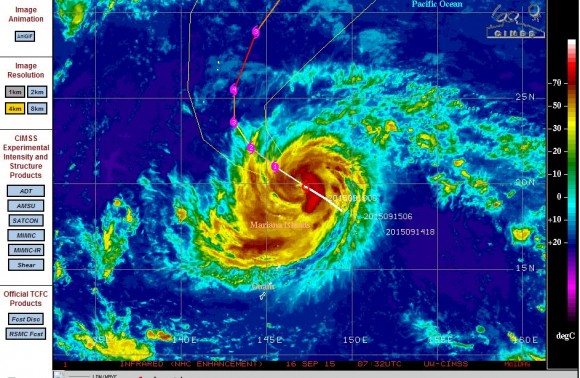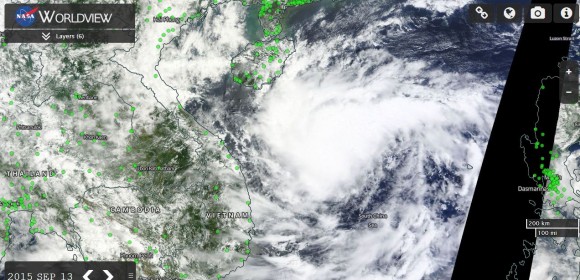 There are two major storm events occurring over the western Pacific Ocean basin as described below.
Typhoon Krovanh
A cluster of thunderstorms north east of the Mariana Islands have recently developed into an organised storm system and is now taking shape as a new western Pacific Ocean typhoon. The storm is developing rapidly within a favourable environment and is supported by ocean waters that have temperatures of 29C to 30C.
The CIMSS model is identifying rapid development of the storm now transitioning into a typhoon with the latest satellite image showing a small eye forming. The transition to a typhoon is occurring at latitude 19.8 degrees north and 147.3 degrees east and is given the name "Krovanh".
Winds at the centre currently reach 55 knots (Approximately 102 km/h) but the model clearly shows intensification over the next 12 hours where it should achieve typhoon status with winds of 75 knots (Approximately 139 km/h). The storm has the potential to become a Category 2 and even a category 3 storm during the forecast period.
Based on the CIMSS model, the storm is unlikely to make land fall due to its projected track towards the north west, then north then north east. Hence the storm should pass to the east of Japan as it traverses over colder waters at higher latitudes.
The various images of the storm in transition is attached and acquired from CIMSS dated 15 and 16 September 2015.
Tropical Storm Vamco
The storm formed east of Vietnam and had a short life span. However, the storm developed rapidly during Sunday and reached tropical storm status over the South China Sea just prior to landfall Sunday night and Monday.
Upon reaching landfall over Vietnam, the storm weakened due to mountainous terrain. However, the storm unleashed heavy rain causing flooding.
The city of Da Nang (Vietnam) received 11.53 inches of rain (Approximately 293 mm) on the 14/9/15. Other centres close by also received significant rainfall causing flooding and rapid rises of local river systems.
Wind gusts reached 70 kmh at Da Nang.
CREDITS: - Accuweather Weather data Da Nang 15/9/15).
The storm in a weakened form has impacted Cambodia and Laos although it has contributed to a renewed burst of the tropical monsoon within that region.
The satellite image of the storm from MODIS (Worldview) with overlays is attached and acquired from NASA 13/9/15. The tropical storm is visible east of Vietnam but south of Hainan Island just prior to landfall.
Related Terms: