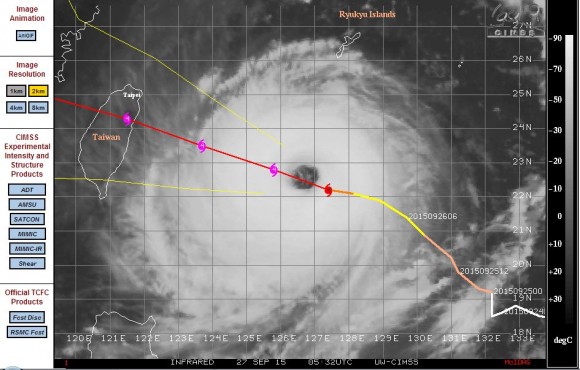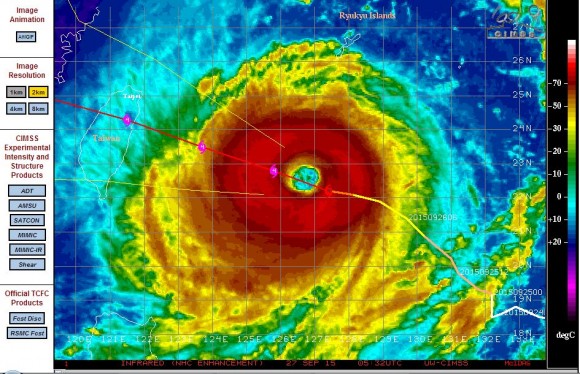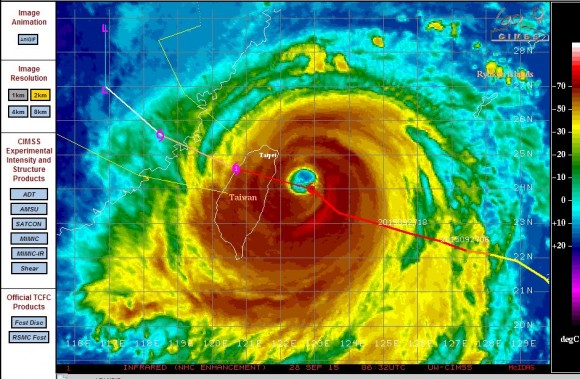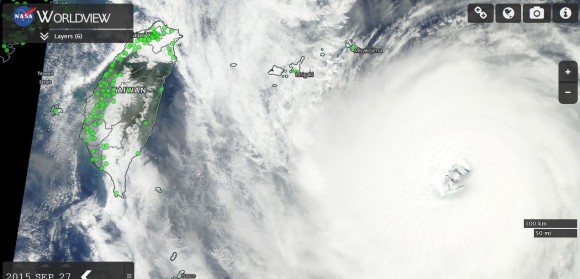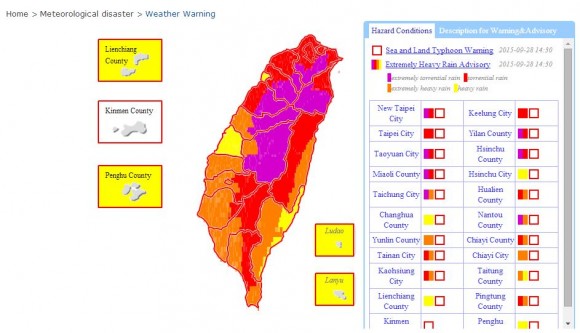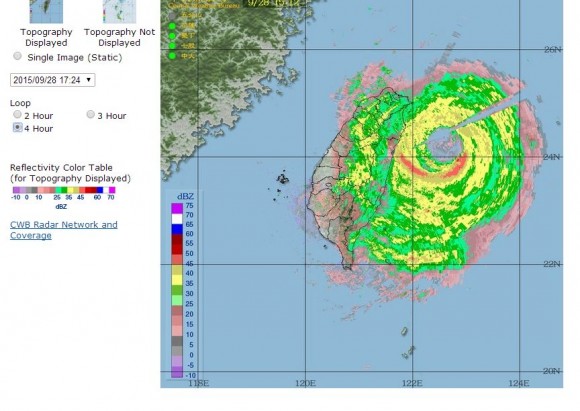 As at mid afternoon Monday 28 September, Typhoon Dujuan is commencing landfall along the east coast of Taiwan being the same area hit hard by Typhoon Soudelor early August. The storm is coming ashore as a Category 4 typhoon on the Saffir Simpson Scale with winds calculated at 120 knots (Approximately 222 km/h) BY CIMSS.
The Central Weather Bureau of Taiwan has issued wind alerts with wind speeds of 51 metres per second with higher gusts to 61 metres per second.
The eye of the storm is now starting to make landfall and the typhoon is moving west north west at 18 km/h.
Several alerts and warnings are now in force especially across the east coast and mountainous areas.
Some of those alerts are specific for rain, flooding and probable flash flooding. Extremely Heavy Rain advisories are in force for some areas including but not limited to:-
Tagyuan City (Mountainous area).
New Taipei City (Mountainous area).
Yilan County.
Torrential rain advisories cover much of the northern part of the country and mountainous areas not covered by the Extremely Heavy Rain advisory. The typhoon is already producing some very heavy flooding rains including:-
Yilan County Datong Township 293 mm.
New Taipei City (Wulai District) 285.5 mm.
Taipei City (Beitau District) 244.5 mm.
Tagyuan City (Fuxing District) 240 mm.
being the highest figures for the 24 hour period from 2.10 pm 27/9/15 to 2.10 pm 28/9/15. It is expected that the rainfall figures quoted above and others will swell over coming hours as the storm passes over the island.
As seen in the CIMSS satellite photos and models, the storm sustains a clear eye with heavy rain bands surrounding the eye feature as it encroaches toward Taiwan. This is an intense storm capable of significant damage. It will be interesting to see the outcome given that the area would still be recovering after Typhoon Soudelor early August.
Following landfall over Taiwan, the storm will weaken significantly but will still be strong enough to make final landfall onto eastern China where it will end its life span.
CREDITS
1 - CIMSS (Various images) acquired 27 and 28 September 2015.
2 - Taiwan Central Weather Bureau (28/9/15) rainfall data, rainfall prognosis plot and radar image.
3 - NASA (Worldview MODIS) of the typhoon acquired 27/9/15.
Related Terms: