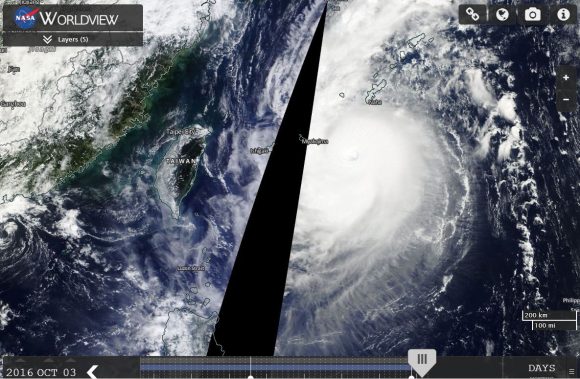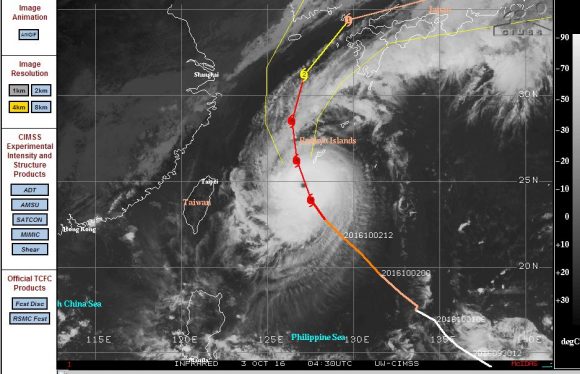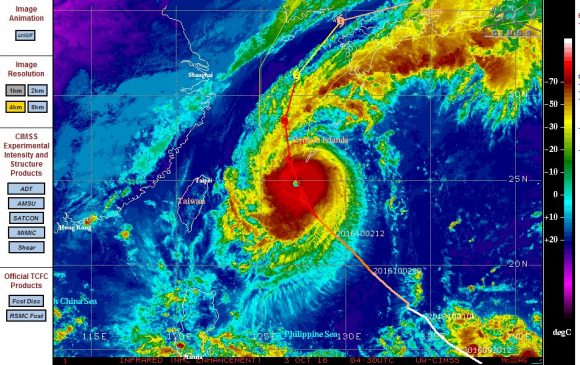 The North west Pacific Ocean is clearly a region that favours powerful tropical storms. Barely days after Typhoon Megi made landfall across eastern Taiwan, another powerful typhoon has developed close to Taiwan. This time the storm is not forecast to make landfall on Taiwan.
Typhoon Chaba is travelling north but located approximately 500 km east of Taiwan as another powerful Category 4 storm on the Saffir Simpson Scale. The storm is sustaining winds of approximately 125 knots (Approximately 231 km/h) with higher wind gusts to 150 knots (Approximately 278 km/h) at the core. A well defined eye features on satellite photos with deep convection visible. Satellite photos also suggests an intense and compact storm.
The storm is forecast to reach peak intensity as a powerful Category 4 storm with peak wind gusts of 135 knots (Approximately 250 km/h) with higher gusts of 165 knots (305 km/h) and hence the storm could approach a Category 5 system at peak intensity as it moves north towards the Ryukyu Islands then towards southern Japan.
However, the storm is forecast to weaken once it starts to encounter more shear, cooler waters and land masses of Japan.
Sea surface temperatures of the region are around 29C to 30C but temperatures drop further north.
Forecast models suggests a weakening storm making landfall across Japan in coming days.
This shows how vulnerable the region is to such powerful storms. This is the forth typhoon that has reached Category 4 on the Saffir Simpson Scale within the past 30 days across the region.
CREDITS
CIMSS - Forecast plot for Typhoon Chaba dated 3 October 2016.
NASA Worldview – Satellite photo of Typhoon Chaba acquired 3/10/2016.
Related Terms: