Over the past 24 hours, two significant storm events are / have impacted two separate regions of Australia. While both systems are separate from one another, both are creating flood emergencies as follows.
South East Queensland - Widespread 200 mm falls
As shown in the attached rainfall plot for Brisbane 9 am Saturday morning, widespread 200 mm rainfalls have been experienced across Brisbane. Such rainfall has occurred as far west to Toowoomba which includes the entire Lockyer Valley.
It is identified that numerous rivers or tributaries are experiencing major flooding and it is identified that Brisbane City is being impacted by flooding in low lying areas. Major flooding is occurring along some smaller creeks and river tributaries such as Woogaroo Creek Alert at Goodna Alert and areas around Ipswich.
News reports identify two fatalities to date.
As shown, widespread falls exceeding 200 mm and 300 mm have occurred around Brisbane including:
Frank Sleeman Park 303 mm.
Apsley Reservoir 305 mm.
Kobbles Creek 350 mm.
Dayboro Alert 381 mm.
Unsure of the accuracy but one rain gauge on the plot is showing 705 mm which could be an error given that no other nearby station is registering falls approaching this amount. The Mt Glorious Alert recording may / may not be accurate and should be treated with caution.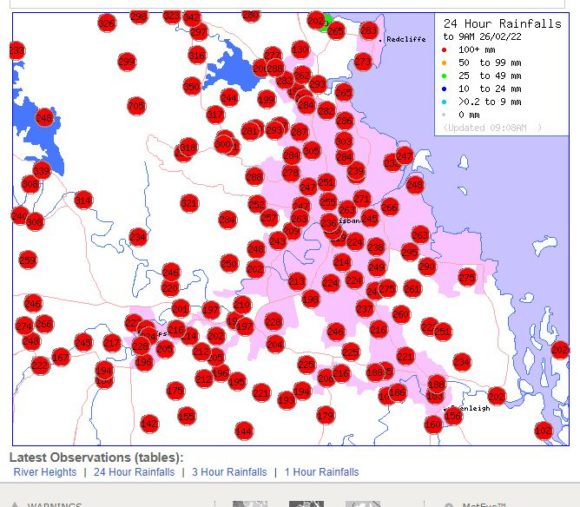 The plot does show a major weather event has unfolded across the whole of Brisbane which is likely to be a costly event once the rains clear.
North West Western Australia - Tropical Storm Anika
Another storm system gaining strength is Tropical Storm Anika (Named overnight). This storm is slow moving toward the south west at 3 knots (5.5 km/h). As such, it is barely moving as it forms. A closer look at this storm shows two separate cumulonimbus thunderstorm cells side by side starting to rotate around a small low pressure cell. There are telltale signs of curvature occurring across the north east quadrant of the storm.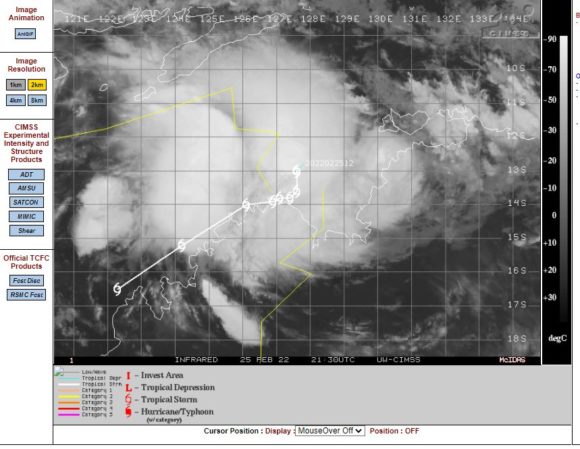 It is currently at tropical storm status. The CIMSS models maintain this storm at tropical storm status for most of its life partly due to the system being so close to the Western Australia coastline. Models suggest sustained winds to 45 knots (83 km/h) with higher peak gusts to 55 knots (102km/h).
Modelling would suggest further intensification off the Kimberley Coast with peak wind gusts to 65 knots (120 km/h). This would take the storm to the threshold of a Category 1 system on the Saffir Simpson Scale. As the Bureau of Meteorology uses a different scale to measure the strength of such storms, the Australian forecast models suggests a Category 2 storm on the Australian Tropical Cyclone Intensity Scale.
However, its strength does depend on its proximity to the coastline. While waters have been heated to 30C and 31C which would support a major storm, its strength could be reduced simply because the system is too close to the coastline.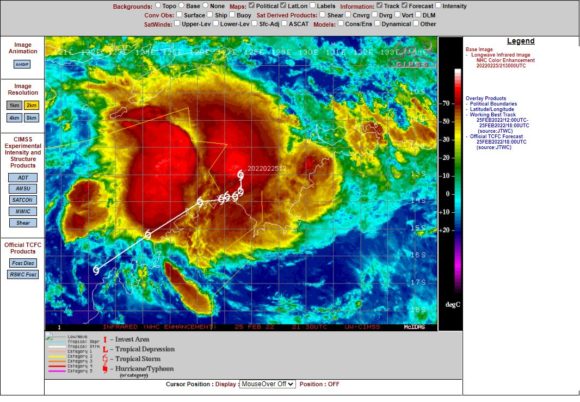 Forecasts are being made for flooding rains to impact the coastal areas of the Kimberley region over coming days from the storm.
There is a second tropical cyclone further west within the tropical waters of the Indian Ocean but this storm is too far off the coast of Western Australia and will have no impact. While a Category 3 storm on the Saffir Simpson Scale, this storm will decay over open ocean and will have no impact to any landmass.
Related Terms: