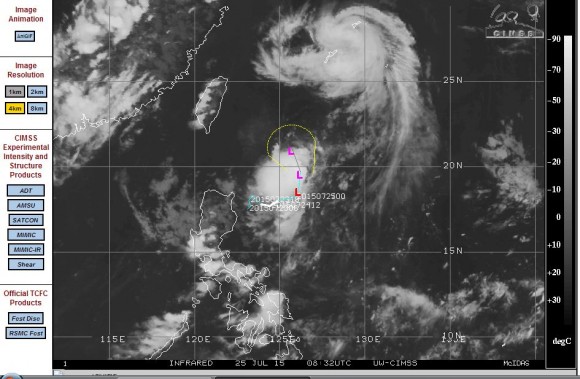 Over the past few days, two tropical storm events have been within the vicinity of Japan and northern Luzon Island Philippines.
One of these is now ex Typhoon Halola which has almost reached southern Japan (Kyushu Island). Typhoon Halola has now weakened into a tropical storm and will continue to weaken into a rain depression as it tracks north. This storm is no longer a significant threat and wind speeds near the core have dropped to 40 knots. It is interesting to note that this storm has had a life span approaching 16 days since forming on July 10.
The other tropical storm formed over northern Luzon Island (Philippines) before moving off the coast. It sustained tropical storm strength for three days before breaking apart over open ocean. The storm was named Tropical Storm 12 during its life time and is now only a low pressure area. The storm brought heavy rain to parts of northern Luzon Island including areas off the coast.
This shows a busy few days within the region for tropical storm events.
The images of the storms are provided acquired from CIMSS and dated 25 July 2015. The detailed image of Tropical Storm 12 (The second image) is acquired from MODIS (NASA 25 July 2015).
Related Terms: