As shown in the CIMSS model dated 18/1/2021, Tropical storm Kimi has developed off the Queensland coast and is presently travelling south / south west and almost parallel to the coast.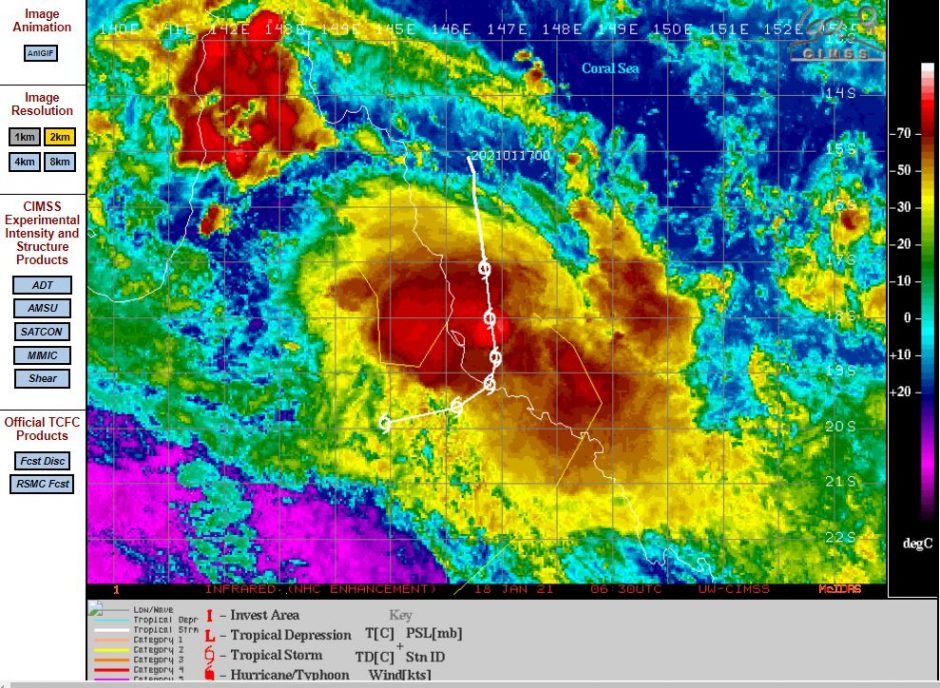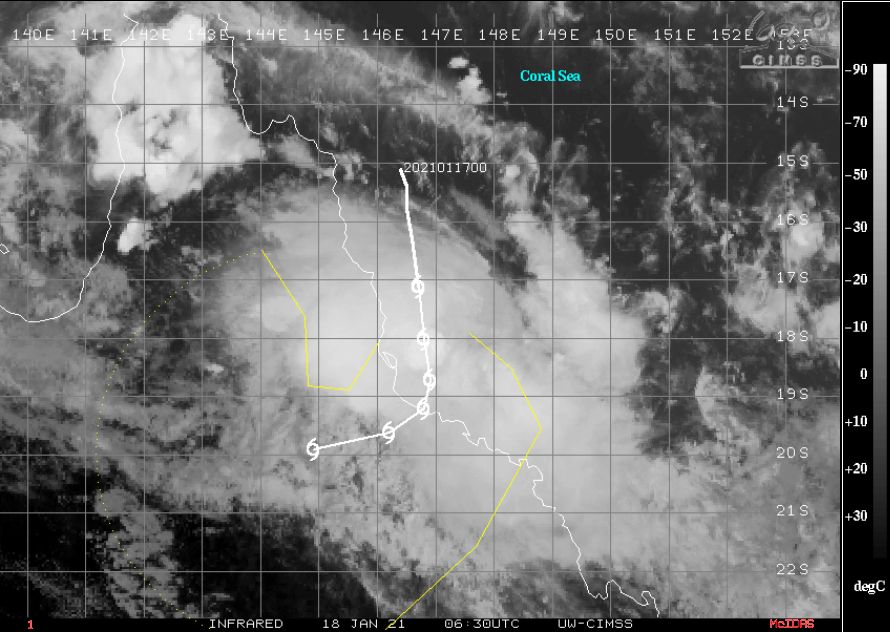 Media reports have suggested that this storm has strengthened into a Category 1, then a Category 2 tropical cyclone on the Saffir Simpson Scale however the CIMSS model is presently only suggesting a tropical storm with maximum peak wind gust of 60 knots (Approximately 111 km/h).
The CIMSS model is showing the storm being just below the threshold of a Category 1 Tropical cyclone until landfall. The storm is forecast to track more south westerly before crossing the coast near Townville just below the threshold of a tropical cyclone with maximum peak wind gusts of 55 knots (Approximately 102 km/h).
This storm has passed near two weather stations and as such its strength to date has been below the strength of a Category 1 tropical cyclone. The storm has passed near the Arlington Reef Weather Station which reported maximum wind gusts of 85 km/h at 8.09 am on the 18/1/2021 and Flinders Reef Weather Station which reported maximum peak wind gusts of 80 km/h between 11.55 am and 12 noon on the 18/1/2021.
The storm has formed close to the Queensland Coast and appears to be too close to land to be able to organize into a much stronger storm system. Sea surface water temperatures are in the range of 28C / 29C and given location, this storm is expected to remain reasonably weak.
The storm has produced rainfall of 100 mm to 184 mm around Innisfail with Saltwater Creek receiving the highest total for the 24 hour period to 9 am 18/1/2021 but such rainfalls are localized to small areas.
The models attached to this post are from the CIMSS 18/1/2021 showing is forecast track and expected strength at landfall during Tuesday 19/1/2021.
Addendum:- This storm weakened overnight 19/1/2021 into a tropical system and remained off the coast. This storm is generally no longer a threat to the Queensland coast following its downgrade.
Related Terms: