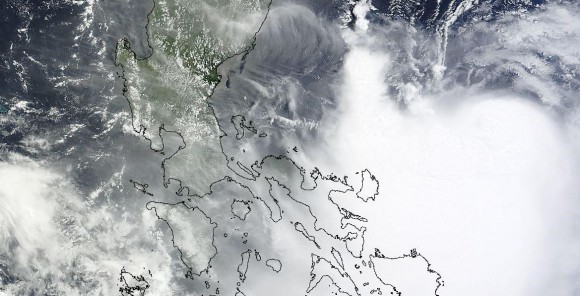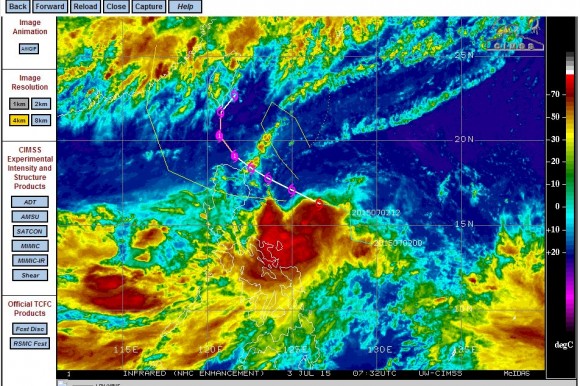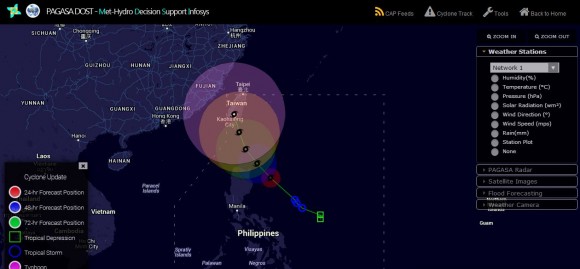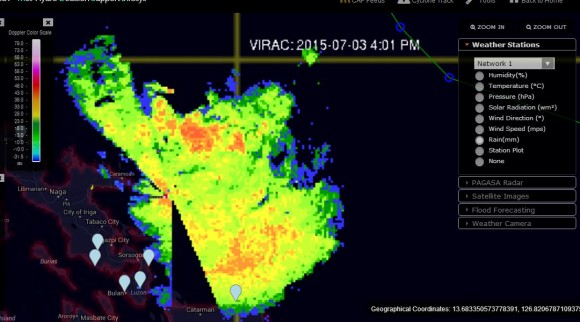 On the 2 July 2015, a tropical storm developed rapidly 520 km east of Virac (Philippines). The storm has rapidly intensified and is now starting to approach the threshold of a typhoon. The storm has been named Egay (Lindfa). A weather report of the 2 July identified moderate to heavy rain falling across its diameter that approached 300 km in width and with wind speeds of 45 km/h at its centre.
According to the CIMSS, the storm is projected to travel parallel to the coast of Luzon Island and north westwards towards Taiwan with possible or partial landfall at the far north east tip of Luzon Island during its travel.
The satellite photo attached and acquired from NASA (Terra MODIS) and dated 3 July 2015 shows the storm impacting the far south east coast of Luzon Island and a number of smaller islands although most of the storm remains out to sea. The map of the Philippines has been superimposed onto the satellite photo to demonstrate the size of the storm relative to the islands. The storm has no eye but convection is occurring and thunderstorm cells can be identified. The photo is at a resolution of 1 km.
The CIMSS forecast model suggests the storm taking a north west track and likely to be a typhoon within 36 hours. However, it has been identified by forecasters that the storm has slowed down and has moved closer to Luzon Island than anticipated. At 4 pm 3 July, its centre lies 445 km east of Baler and at latitude 15.3 degrees north and 125.7 degrees east.
Winds are now estimated at 75 km/h near its centre with possible gusts to 90 km/h. The satellite photo and images suggests that the storm is going to come closer to the Philippines and Luzon Island.
A radar image (Virac) is showing moderate to heavy rain barely off the coast of Luzon Island with population centres such as Legaski City and Sorsogon City potentially being affected by rainfall.
The model by PAGASA suggests a typhoon tracking north west over coming days towards Taiwan however given that the storm has moved closer to Luzon Island than anticipated, the question remains as to whether the storm will directly affect the country or pass north along its eastern coastline. This storm is certainly one to watch over coming days to see what it does.
Related Terms: