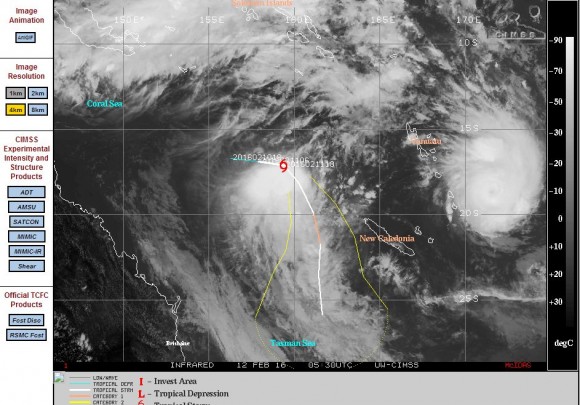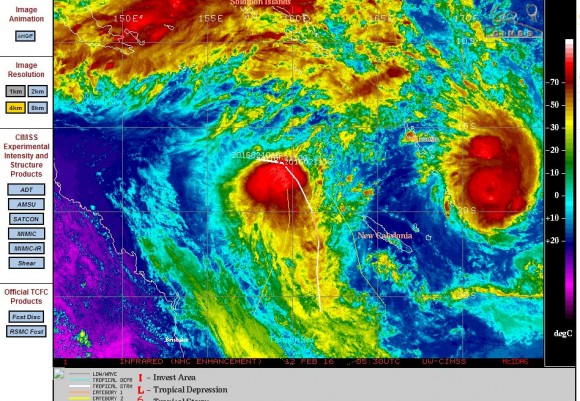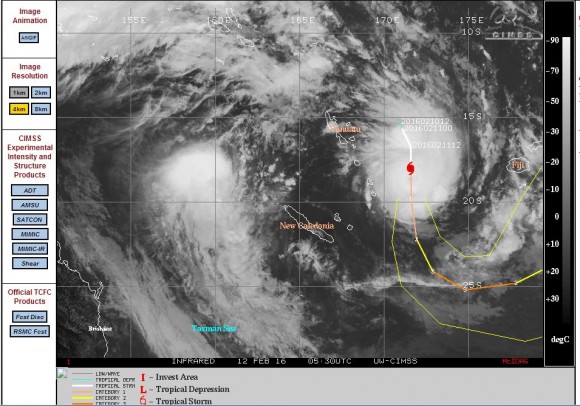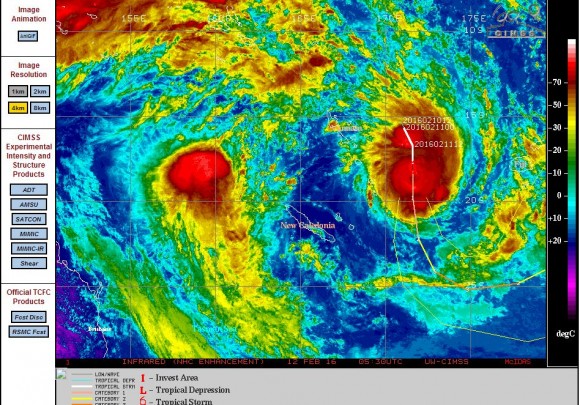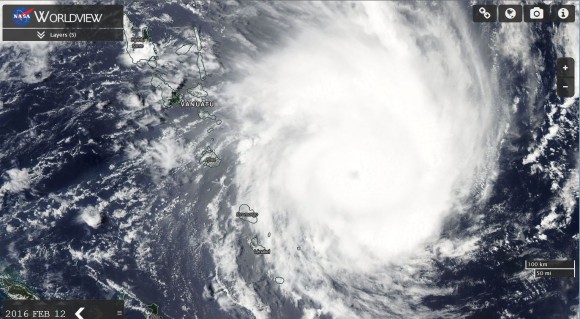 Over the past 24 hours two tropical storms have developed well off the Queensland coast with one of these developing into a Tropical Cyclone and the other one expected to transition into a tropical cyclone shortly.
Both storms have been given names as:-
1 - Tatiana (The westernmost storm closest to the Queensland coastline).
2 - Winston (The easternmost storm south east of Vanuatu.
Both named storms are expected to remain over open ocean for the duration of their life spans.
It is unusual to have two named storms so close to one another as seen on the CIMSS forecast models. Tropical Storm Tatiana is the first storm to form in Australian waters off the Queensland coast for the summer season 2015 / 2016.
Tropical storm / Tropical Cyclone Tatiana
The storm is situated approximately 750 km off the Central Queensland coast at latitude 20.28 degrees south and 158.79 degrees east. The forecast model by CIMSS suggests the storm remaining off the coast and not making landfall. While this is presently a tropical storm, it may transition into a weak Category 1 tropical cyclone. Winds close to the core are estimated at 55 knots (Approximately 102 km/h). Winds may increase to 65 knots or 120 km/h over coming hours. Should the storm transition into a tropical cyclone, then its lifespan as a tropical cyclone may be short lived. The storm does not have a developed eye but it is clear that it has an intense core.
Tropical Cyclone Winston
This is the stronger of the two storms and it is currently positioned south east of Vanuatu. The storm features strong convection and a developed eye. The storm may impact some of the outlying islands of Vanuatu such as Erromango and Lenakel but should remain mostly out to sea.
This is a category 1 storm on the Saffir Simpson Scale and may intensify to a Category 2 storm over coming hours. The storm presently sustains wind speeds of 65 knots or 120 km/h near the core. The storm transitioned into a tropical cyclone at latitude 18 degrees south and 171.6 degrees east.
As seen in the NASA Worldview image, the storm is circular in shape but cumulonimbus clouds are visible as a spiral surrounding the northern and eastern quadrant of the storm. The core is ringed by deep convection and cumulonimbus clouds.
The storm formed over waters of 30C to 31C but likely to weaken as it heads further south towards cooler waters.
CREDITS
1 - CIMSS (Forecast plots and infra red images) acquired 12 February 2016.
2 - NASA (MODIS Worldview of TC Winston ) acquired 12 February 2016.
Related Terms: