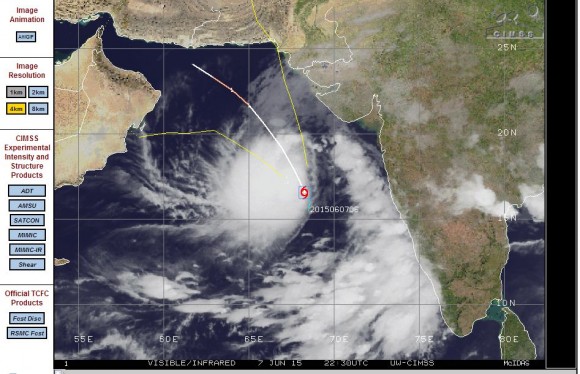 Over the past few days, a cluster of thunderstorms have developed off the west coast of India within the central Arabian Sea (Northern Indian Ocean). The cluster of thunderstorms have slowly developed to a point where CIMSS and NOAA placed the cluster under greater investigation. During Sunday, wind speeds near the centre of the cluster increased steadily from 25 knots and by early Monday, the wind speeds had reached 40 knots.
As a result of favourable conditions, the cloud formation is under greater watch and a tropical storm - Tropical Storm One is named.
The forecast model by CIMSS suggests the cloud developing further off the coast of western India into a weak tropical cyclone or a Category One tropical cyclone in coming days as it tracks north towards the coast of Pakistan. It is suggested that the storm may attain a Category One tropical cyclone before weakening.
The current location of the storm as it forms is Latitude 16.6 degrees north and 68.3 degrees east placing it approximately 500 to 600 km west south west of Mumbai (India).
The forecast model prepared by CIMSS is attached showing the possible trajectory for this storm.
Related Terms: