Climate of Southern California
The climate of southern California ranges from Mediterranean to arid depending on location and proximity to the Pacific coastline. Summers are generally warm to hot and dry becoming hot to very hot and exceptionally dry the further inland one travels east from the coastline.
In addition, the waters off the coast of California are cold and as a result, rainfall is low.
Heatwave Impacts Southern California
The summer of 2022 has been dry punctuated by regular heatwaves. A recent heatwave has resulted in temperatures topping 46.7C at Sacramento (California) which appears to be a new high since records commenced in 1877 (Source NASA and National Weather Service).
A JEPEG image (NASA GEOS) of Tuesday 6 September 2022 shows the peak temperature at 2 metres above the natural ground level for southern California taken at 2 pm. The darkest reds indicate a peak temperature of 40C (104F) or more. The strongest heat lies inland with the Central Valley of California (North), Death Valley and the deserts east of Los Angeles (East) being worst affected.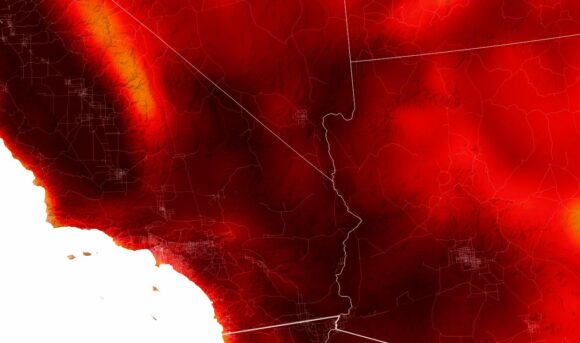 Tropical Storm Kay
Over recent days, a tropical storm named "Tropical Storm Kay" moved north alongside the coast of Baja California reaching the coastline of Southern California. The storm then curved back out to sea where it dissipated.
Tropical Storm Kay ended the most recent heatwave and has brought rare rainfall to desert regions and mountainous areas. Coastal rainfall was light but in the mountains to the east of San Diego, rainfall at isolated locations reached 100 mm.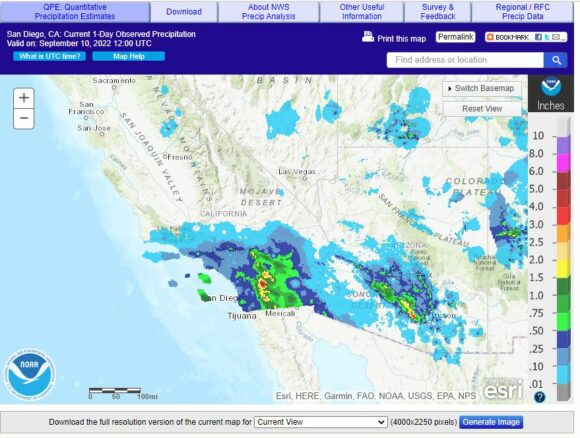 The heaviest coastal rainfall was around 2 mm to 15 mm across San Diego but increasing along the escarpment of the Coastal Ranges including the Santa Ana Mountains and the Cleveland National Forest. Further east and inland across the Sonoran Desert, it remained dry.
The event lowered temperatures, helped fire fighters to extinguish a major brush fire and brought welcome rain to areas usually starved of rain.
As shown in the incredible image taken by NAS, Tropical Storm Kay is clearly visible with a clear circulation but no eye just off the coast of Baja California. Thunderstorm cells are identified and areas of convection are visible.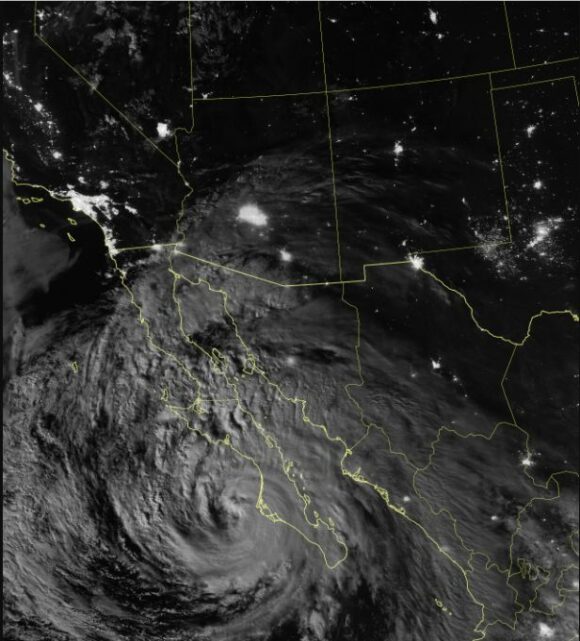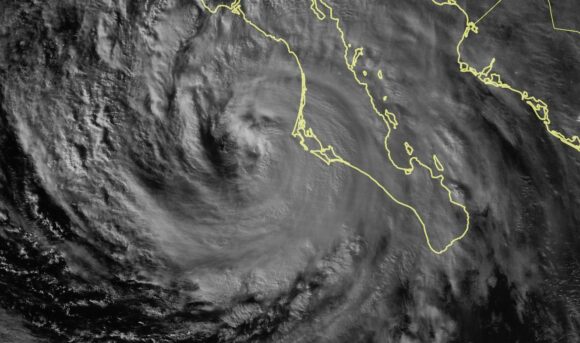 The National Weather Service has issued flood warnings for mountainous areas but to date, major flooding events do not appear to have occurred. However, the potential does exist for flash floods in mountainous areas.
The storm provides more benefits than adverse conditions
It appears to date, the storm has brought more benefits and relief rather than adverse conditions which characterizes so many storm events. In this regard:
a) A heatwave has ended.
b) It has brought relief to tired fire fighters battling major fires across the region and it is known one large fire was extinguished.
c) Brought welcome rain to an area impacted by major drought.
Source
a) National Weather Service (Rainfall plot).
b) NASA (Earth Observatory) VIIRS on the Suomi NPP.
c) NASA (Earth Observatory - JPEG image Goddard Earth Observing System (GEOS) for September 6 2022.
Related Terms: