During Tuesday 17 August 2021, a tropical storm formed south east of Haiti and was named Tropical Storm Grace. The storm impacted southern Haiti including the area that was recently hit by the earthquake. The rains from the storm has compounded the issues and recovery effort within the earthquake impact zone with flooding and landslides occurring as the storm passed by.
The storm passed back out to sea and continued to travel west. During Wednesday and Thursday 18 and 19 August 2021, the storm intensified further to a category 1 Hurricane under the Saffir Simpson Scale and as it approached the Yucatan Peninsula of Mexico, the storm remained small but compact and without an eye. However, the storm sustained peak wind gusts to 70 knots (130 km/h) at its core.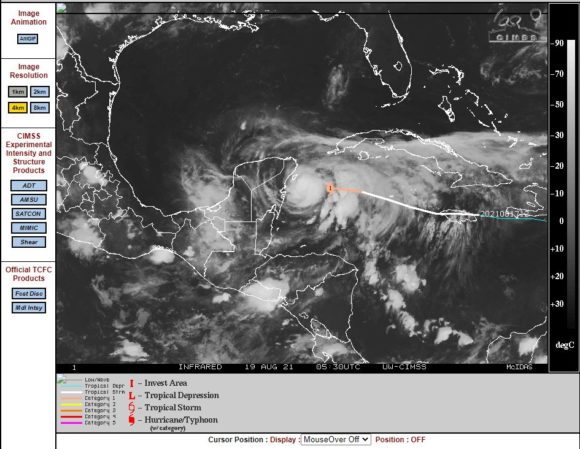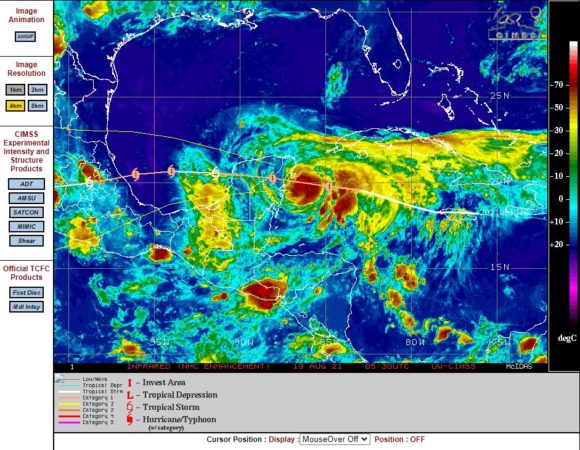 At the time of writing, the storm had crossed over the central part of the Yucatan Peninsular before crossing back out to sea as a tropical storm below hurricane strength.
Forecast models from CIMSS now show the storm approaching the east coast of Mexico and making landfall over Veracruz State as a small compact storm with peak wind gusts to 75 knots (139 km/h) at the core. It appears that landfall will occur in the vicinity of a town called Papantla De Olarte. The storm is expected to weaken rapidly upon final landfall.
Despite passing over waters of 30C to 31C, the development of the storm has been restricted due to the storm passing too close to land masses. One feature is that the storm would have made two coastal landfall crossings of Mexico during its lifespan.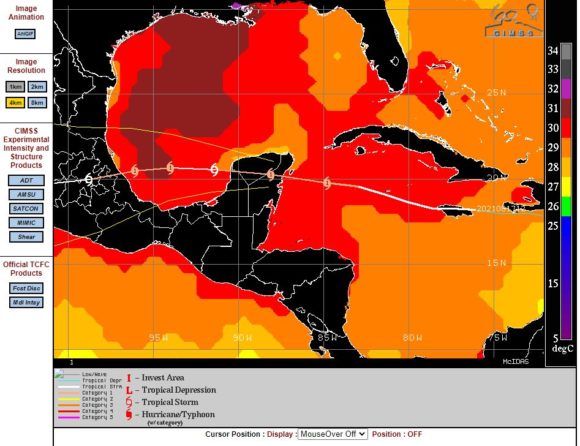 To date, the hurricane season in this part of the world has been relatively benign and there have been no major storms to date this season within the Gulf of Mexico.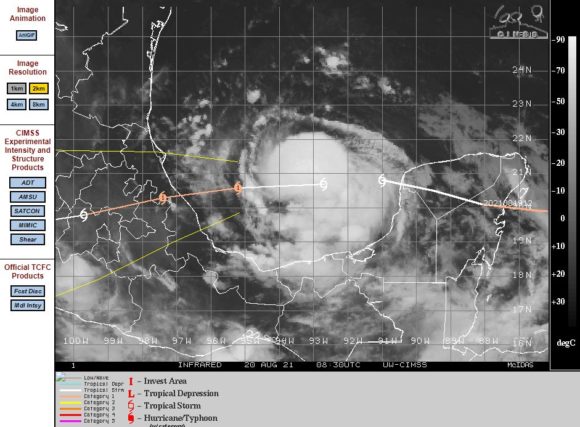 Hurricane Grace will likely cause coastal gales and flooding at landfall but its impact will be localized because the storm is small and compact in size.
Addendum
Hurricane Grace has made landfall as expected as per the forecast Friday / Saturday 20 and 21 August 2021. The only matter to note at landfall is that the storm has briefly intensified further to a low range Category 2 system on the Saffir Simpson Scale with peak wind gusts to 90 knots (167 km/h at the core. The storm is now expected to weaken following its landfall.
Related Terms: