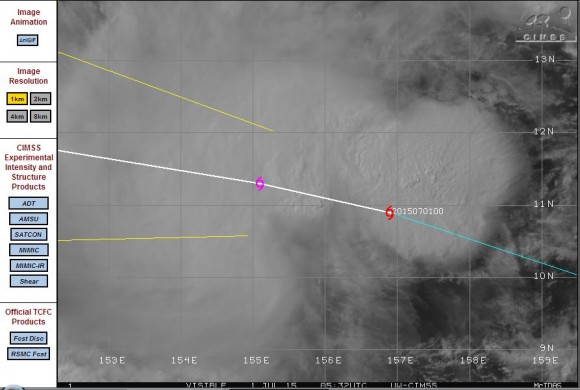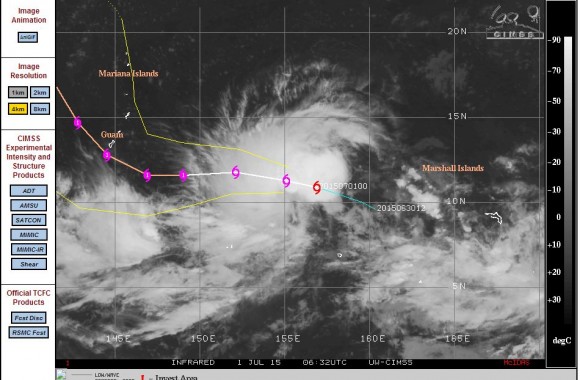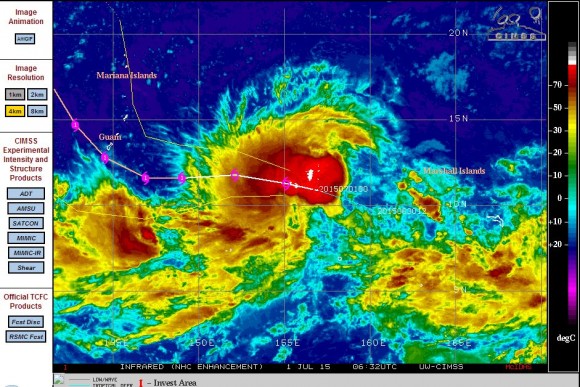 As identified in the previous post concerning this storm, close surveillance was being conducted due to its rapid development. In the space of 24 hours, this storm has intensified rapidly to a tropical storm and could form into a Western Pacific Ocean typhoon over the next 12 to 24 hours. Its development has been rapid. It has been given the name - Chan Hom.
As shown in the models from CIMSS (Acquired 1 July 2015 from CIMSS), the storm is clearly expected to take a north west track towards the Philippines although later in the period it is suggested that it may turn more northwards. This storm is currently located at latitude 10.9 degrees north and 156.9 degrees east. Winds at the centre have intensified to 45 knots although there is evidence showing wind gusts already reaching 50 knots.
The storm may have wind gusts to 65 knots in as little as 12 hours taking it closer to the threshold of a typhoon (Hurricane or Tropical cyclone). The CIMSS model suggests a fully fledged typhoon in 36 hours being a Category 1 system.
As the storm moves north west, it will move over warmer waters of 30C to 31C whereas it has formed in waters of 29C temperature. The model suggests the storm tracking just south of Guam in 72 hours.
The longer run model of 96 hours suggests wind gusts to 80 knots and a location SW of the Mariana Islands. It is even suggested by this stage the storm may sustain wind gusts of 100 knots.
The close view satellite photo clearly shows a storm system with significant convective activity comprising cumulonimbus clouds. This is clearly a storm to watch over coming days as it takes a north west track towards the Philippines. The system does not threaten any population centre at the present time but that could change in coming days as it moves further north west towards South East Asia.
Related Terms: